Cosey Fanni Tutti showed us around her home, an old school house in Norfolk
Full of vintage toys, positive nostalgia and a two headed dog called Douglas
Past what feels like the same flat field a hundred times over, into Norfolk and almost out the other side to the sea, we look for an old schooling house that's been converted into the home of artist, musician and writer Cosey Fanni Tutti and her partner and collaborator Chris Carter.
Cosey and Chris (or Chris & Cosey as their names appear on twelve of their records together) escaped London thirty-two years ago for somewhere near King's Lynn, to the school house that we do find, almost isolated but not quite. When they arrived from Tottenham the builders Artexed around them and their two-year-old son. One of the school's classrooms was converted into what is now a lounge and kitchen, the other an impressive home studio. In the garden (kept immaculately by Cosey and featuring a "cat graveyard") the old toilet block remains, a row of cubicle doors facing the house.
But to escape Tottenham first they had to escape Hackney; in the late '70s a crooked and industrial area of London so perfect for Cosey's and Chris' pioneering work in Throbbing Gristle, alongside Genesis P-Orridge and Peter 'Sleazy' Christopherson. In speaking, Cosey always shortens the band's name to "TG", and likewise hers and Chris' more recent collaboration with Factory Floor's Nik Void, Carter Tutti Void, to CTV. Discussing her previous home, she says: "I love the London that I knew, but that London isn't there anymore."
To some extent or other the same applies to Hull where Cosey was born and grew up – the place from her life that is directly referenced across her first solo album since her 1982 debut. Simply titled 'TUTTI' (and conceived while Cosey wrote her autobiography Art Sex Music), it's a record that was originally commissioned by Hull City of Culture in 2017 as a live soundtrack to an installation about Cosey's early life, featuring family photographs taken in and around the port city. For its album release (out now via Conspiracy International), the eight instrumental tracks – slow, cloudy numbers that are brooding and warm on 'Drone' and eventually techno-propelled on 'Moe' and the album's title track – have been adapted and enhanced for release without their visual element.
As Cosey welcomes us into her home full of books, vintage toys, musical equipment and ancient symbols that represent the power of woman, I ask her if she's a nostalgic person. "I am a little bit, yeah. There's nothing wrong with nostalgia for me because I don't want to be back there, I just appreciate having been there."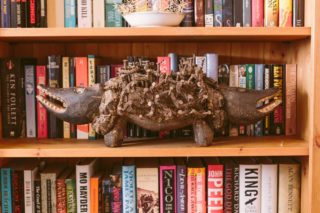 Two headed dog
My two headed dog is from Congo. It's called a kozo and it's a ritual fetish object that people use for protection against thieving or lying, or that kind of thing. They would burn herbs in it and then hammer a nail in, and the nails are connected by rope. It was a means of asking the other world for protection and wellbeing. A friend of mine who was really interested in these objects got this one and he came to visit and said: "I held this and I felt immediately that this should be yours. Place him where he's happy." So he's here. And he's missing an ear so I've called him Lugless Douglas.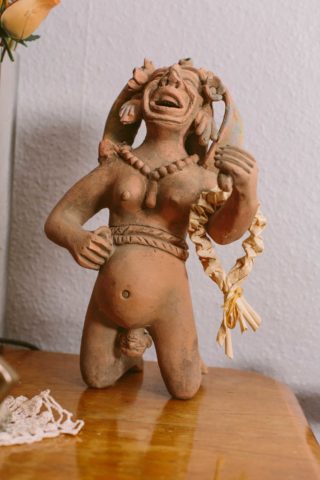 Woman giving birth
The woman giving birth is from Mexico. I put the corn row on – it's all part of Pagan rituals and particular rituals that various cultures have, really. I kind of embrace all of that. I'm not into organised religion at all; I just like things that come from the culture itself and deal with the world. Our tour manager on a Chris & Cosey tour in the '80s bought me the woman giving birth, I think because we had our son Nick with us then – he was four.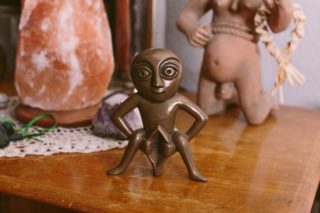 Sheela-na-gig
There's a brass Sheela-na-gig as well, which a friend of mine gave me. I wear her around my neck [Cosey shows me a smaller figure on her chain] – she's very beautiful. Very empowering for woman. It was a symbol that was on a lot of stone work on churches going way, way back [and has subsequently been adopted by feminists as a symbol of empowerment]. I've got no crosses, you'll notice.
This is a little female table when I think about it… And the fossil was given to me on my 60th birthday, so I don't quite know what that means.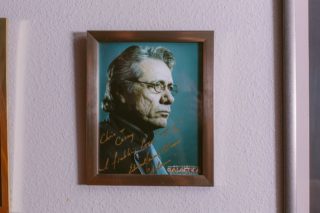 Signed picture of Edward James Olmos
That's Adama from Battlestar Galactica. It says, 'Chris & Cosey, I freaking love TG.' A friend of ours went to Comic Con and he was there. We were really big on Battlestar Galactica. When it was there, it was great.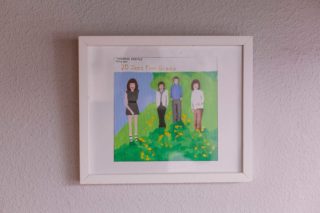 20 Jazz Funk Greats painting
The girl that did this, we met her through Twitter. She did a painting of '20 Jazz Funk Greats' and was going to put it on mugs. She did these as well so we were like, 'yeah, we'll buy one off you.' We have a mug as well, and bought a few for friends for Christmas. I think it's really nice. It felt like a really honest, genuine appreciation of TG, rather than a bootleg just to get a load of money off the back of us, y'know? She declared it immediately: "I've done this picture of all of you." And that's really nice. I know bootleggers and I know people that are doing something for the right reasons.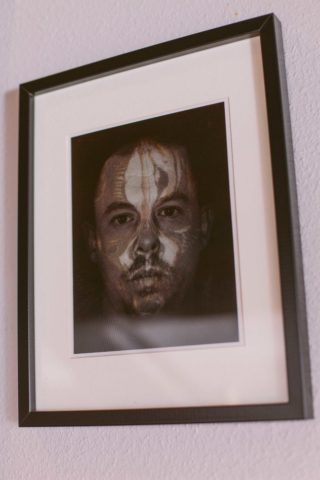 Lenitcular image of Alexander McQueen
We never knew it, but Alexander McQueen used to design while listening to TG. So we went to see the exhibition at the V&A. Did you see it? It was unbelievable. Something else. I'm not into fashion at all but he was an artist. The intensity of his passion was just palpable in that exhibition. They had this there, designed by his nephew, I think [as you move left and right McQueen's face fades to a skull], and we bought it and framed it in memory of someone who had worked outside of everything and then became consumed. Which is sad.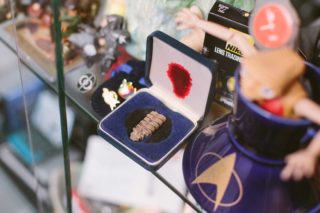 Rattle from a rattle snake
I would have gotten this in the late '70s, for a birthday, because we used to have birthday parties at Martello Street [Hackney]. Everyone used to get together from all areas of our life. Stan Bingo gave it to me [one of Throbbing Gristle's roadies, who, in 1982, release the two-track album 'What's History' with the band's Genesis P-Orridge]. The blood is fake – for menstruation, probably.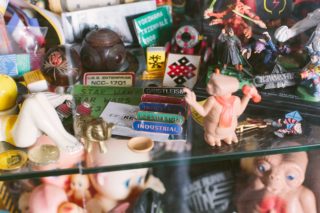 Cabinet of vintage toys and figures
We've told ourselves that that's it now, we won't buy anymore toys, although Chris did buy those 2001 figures for himself for Christmas. But this cabinet is full of things we've pick up along the way. There's some original Planet of The Apes figures sat down – I really loved Planet of The Apes – a lot of E.T., considering I didn't really like E.T., but I watched it with my son and we cried… That's a freaky one – you see the one sat on top of the little radio, I think he's from Germany. Looks nasty, doesn't he?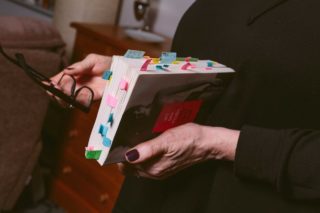 Art Sex Music
This is the copy that I use for readings. So it's got all of these tabs in it for different sections, because I'll try to choose a part to read that relates to where I am.
Writing it was one of those things – at times it was really enjoyable, and at others there were real moments of constipation. It's just like making music, really.
It feels cathartic now, but it didn't at the time because I wasn't in a cathartic mood when I wrote it. I was just writing about what had happened in my life so I wasn't trying to get anything off my shoulders because I'd already done it in one form or another – through music, art or in my diaries. But it was something that I needed to do because I've had a few brushes with death and I've lost people recently, and I thought I need to document what's happened in my life so far and then I can carry on with my life. It was important to me because there's so much rubbish written about me and the things I've been involved with.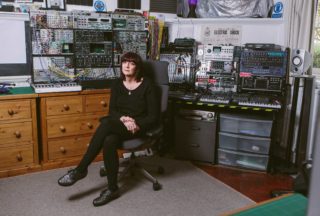 Home studio
We record all of our music here, and have since we moved here 32 years ago. We went from Hackney to Stoke Newington, to Tottenham, to here. London just became too much. And then the 1980s were really summery, colourful days, through the eyes of our child, because Nick was two and a half. So you're starting every day through the eyes of your child. We'd record here, and then when it got to the final stages I'd take Nick off to the woods or somewhere for a day out and Chris would get on with the essentials. We've always worked very well as a team like that.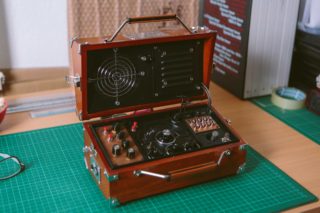 Tutti Box
Chris build me this. There's an engraved plate on it that says 'Tutti Box' and the year – 2010. That happened to be the end of the regrouping of TG, when I used it the first and only time. What we'd done is design a little 'gristleism' machine [a small music box that you can still find to buy online], which had TG loops in it, and we were going to do a sound installation of loads of gristleisms. We said that we'd each take it and make it into something else, because we encourage that – people to hack it and do something with it – so Chris and I did ours but Sleazy and Gen didn't do it. This one has been built in one of those horrible, fake radios that's been made to look old. But it had a built in speaker so it lent itself instantly to something we could use.
Loud And Quiet needs your help
The COVID-19 crisis has cut off our advertising revenue stream, which is how we've always funded how we promoted new independent artists.
Now we must ask for your help.
If you enjoy our articles, photography and podcasts, please consider becoming a subscribing member. It works out to just £1 per week, to receive our next 6 issues, our 15-year anniversary zine, access to our digital editions, the L&Q brass pin, exclusive playlists, the L&Q bookmark and loads of other extras.