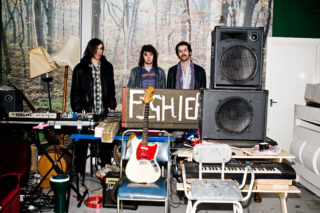 Crystal Fighters – rave operas from the Basque country
So Guillermo del Toro sits down to pitch Pans Labyrinth 2: "Whilst staying with her decrepit Grandfather in the Basque countryside, a young girl discovers a mysterious notebook. A rich, beautiful opera spills from the pages and, full of inspiration, the inquisitive girl vows to continue the unfinished work of her treasured beloved. She travels to London, starts a wild, visceral dance-punk outfit and signs to Kitsune!" Alright so there's no movie in production, but there is a band and that's just how they started.
Inspired by an operatic notebook, Crystal Fighters have taken the musical touchstones and heritage of the Basque area and shaped them into a completely original sound. Band member Laure holds the key; returning from Spain she displayed the prophetic book to her four English friends and together they swore to finish her Grandfather's story. "Once we looked beyond the rhythmic and melodic thing they do and examined the history of Basque music, which is mainly folk, it made us want to find out more and develop it," explains knob-twiddler Gilbert, relaxing in the spacious Hackney squat that doubles as a studio for the band.
Opera and folk aren't your regular influences for bass-crushing, synth-smashing dance music, but on a conceptual level the two worlds collide with a natural ease. The high impact sound came to the attention of Kitsune pretty sharpish and the two seem to be made for each other. "If you'd ask us what label we'd like to be on when we first started we would have said Kitsune," says front man Sebastian; a sentiment that seems to be shared around the room. "In terms of new music and European artists that they cover, it's just a great label, with great remixes and great art work," enthuses Gilbert.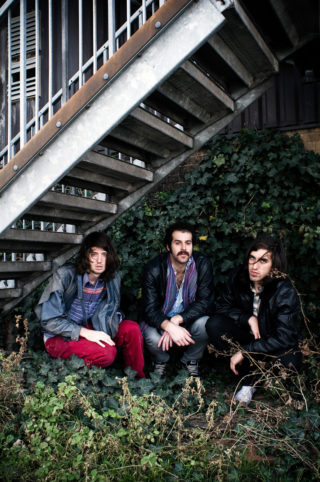 The love-in
must
have begun at a live venue – Crystal Fighters reputation has rocketed in 2009, perhaps due to their uncanny ability to create carnage at practically every performance. "The records are very dancey, very DJ-friendly, but live the theme works into a grander performance," Gilbert passionately explains. "There is a real spirit to the live show and a real energy. It takes it beyond what we do on record.
"We had a gig at the London club Egg the other weekend and it was all really heavy," continues Graham. "We tailor the set to how the crowd reacts and what they are into."
Together Gilbert and Graham form the backbone of Crystal Fighters' live set, each proficient on a laptop and of course a Txalaparta (huge wooden slabs of a Basque instrument that dominates the on stage setup to create a rolling syncopated sound). "We play the Txalaparta's facing each other so it's very dramatic," says Gilbert proudly. "It works well in small rooms as you don't have to play very hard…"
"But we do!" laughs Graham.
This adaptable live show and willingness to embrace different genres underpins Crystal Fighters' spirit. Coming from a theatrical background, the band are keen to develop the ideals of opera and transfer them to the underground clubs of London. "Normal gigs are very 2D," Sebastian suggests with some frustration "we want it to have depth. When we first played we had signs up like an opera explaining the story, it was much more like a play."
It may sound like a hard line of eclecticism to go with your Saturday night out but despite the group's precise outlook they know how to let loose too. First release, 'I love London', is a floor-pounding thrill, their live calling card and what the term 'killer single' was designed for. Reaction to the track has been remarkable and not just in London – "We have been getting loads of radio play from Radio 1, but Roger Sanchez played our house remixes as well, and Sinden's played the original," beams Gilbert.
Inspired by the band's tenure, housed down Brick Lane, 'I Love London' is more about an outsider's love of a foreign place than the bricks and mortar that fill our capital. "It's been described as the sound of Spanish tourists, which is hilarious although it's got the Spanish rhythm and bass. It's about people coming to stay and being really happy, whether it's a bar off Brick Lane or a party in Willesden," says Gilbert.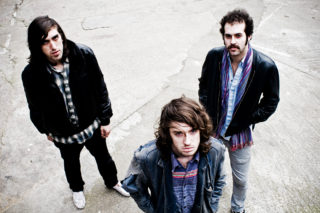 Not content with making every Londoner shake their bones, Crystal Fighters also want to revolutionise both the live and recording process, promising to play something new at every show – "We want the people that come and see us more than once to experience something new," Gilbert shares to nods from his band mates. And then Crystal Fighters race on to the matter of deconstructing the album, "we had lots of ideas for movements of music, representations of what we do live and breaking down the structure of the album…" they buzz. But slow down chaps, plenty of time for that in Act 2.
Please support Loud And Quiet if you can
If you're a fan of what we do, please consider subscribing to L&Q to help fund our support of new musicians and independent labels
You can make a big difference for a few pounds per month, and in return we'll send you our magazines, exclusive flexi discs, and other subscriber bonus bits and pieces
Try for a month and cancel anytime