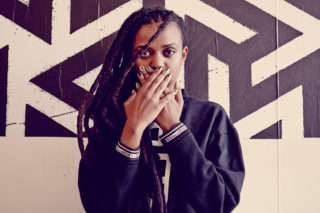 Kelela is LA's only child responsible for the year's best mixtape
Cut 4 us
"It's…" Kelela Mizanekristos sits in a Dalston café grappling with her next line. I've asked if she's been surprised by the unanimous acclaim that her debut mixtape, 'Cut 4 Me', has received and she's making absolutely sure she doesn't leave herself open to misinterpretation. With a glint in her huge brown eyes she signals that she's ready. "OK. I did my best work. It's doing what I wanted to do, if you know what I mean. So it's not an absolute, 'Oh my God, I can't believe you like this.'"
While her unshakeable confidence means that success hasn't come as a total shock, Kelela admits that the whole experience has been a little overwhelming. Having already passed her thirtieth birthday and eclipsed the likes of Cobain, Hendrix, Joplin and Morrison by a full three years, Mizanekristos was hurtling towards musical pensionership. The relief at simply getting the release out there is obvious. "I've had this dream my whole life and I haven't actualised it until now so yes, it's this immense gratefulness, this feeling of accomplishment. Beyond the reception, once I got it out and it was this body of work – that moment, you can't really fuck with me now because that's happened. It was this thing on the outside of me and if you listened to it you would know who I am. Everything on it is the most honest experience. And before anyone liked it I thought it was cute." If, like me, you're not accustomed to the parlance, 'cute' appears to mean very, very good indeed.
And what an entrance it has been. Early on Kelela declared that she wanted to "disrupt" the musical landscape rather than find an existing nook in which to fit. Since then she has teamed up with a host of producers from experimental electronic labels Night Slugs and Fade To Mind and by setting her vocals to the sparse, booming grime production of the likes of Bok Bok, Nguzunguzu, Girl Unit, and Kingdom, she has created a sound that you'll struggle to draw parallels with. At once alluring and devastating, it's a disorientating concoction. Fortunately, through multiple interviews, she's managed to nail her description, and she assures me it's a Loud And Quiet exclusive. "The vision is this Faith Evans vocal, but take out everything and put Faith Evans over this grime track and then we have exactly what I'm talking about. If I were to be very simple, that's how I would put it."
The sound is a synthesis of a kaleidoscopic range of influences, from straightforward '90s soul and RnB ("The first voice I fell in love with was probably Whitney Houston.") to the outer reaches of electronica. Even UK garage gets a mention and she's not ashamed to admit to her excitement at discovering The Artful Dodger via Napster. "When Napster came out, I remember going over to my friend's house and they said, 'OK, tell me any song right now.' I was like, 'What do you mean?'" It gave satiety to an appetite for music that's always been voracious. "When I first downloaded Napster with that black background and green text I would download all this music before going to sleep. I would just click on it all. Like the remix of 'Say My Name'; I'd never heard the remix!" Kelela would wake up in the morning with a hard drive full of new experiences waiting to happen. "Sometimes even a partial file was mindblowing! That was my first experience of electronic music. So there was music me and my friends would listen to and then there we these alone-in-your-room tracks."
The obsession with finding new sounds was born partially out of her status as an only child and a need to fill those empty hours. "I had a lot of cousins who felt like siblings but I also spent a lot of time by myself. There was a lot of Kelela time and that was spent with Erykah Badu and D'Angelo and Mariah." The story is far from a sad one, however, and those adoptive siblings nourished her musical development. "That's how I fell into a lot of music as a young adult. Stuck in my room or on my way to school. Driving in the morning, getting the most hyped before school. Listening to like…" The café is empty, but I doubt that it matters as she delivers a chorus of 'Get on up and shake that booty!' before collapsing back into the couch in shrieks of laughter. "These things all sort of happened by myself in cars and in my room."
The daughter of Ethiopian immigrants to Rockville, Maryland, that dichotomous background was another factor that shaped her as an artist, "because of the experience of getting comfortable with being othered, getting comfortable with making the best of that," she says. "That dual cultural experience; going home and it's one way and then going to school and it's another. Having to be in between cultures. There are so many things. Like, my mom didn't have any grip of what sleepovers meant. She was like, 'Why do you have to sleep over in their house though?'"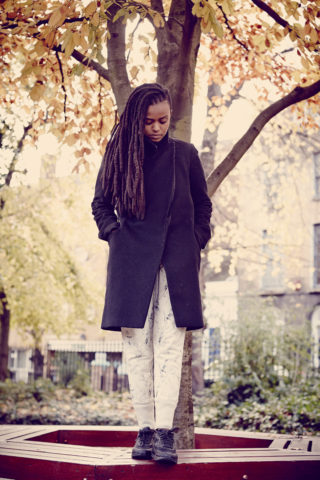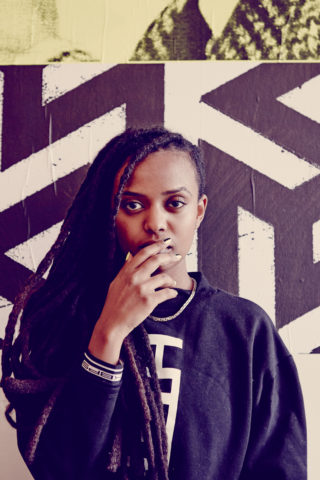 I have to admit that, come to think of it, it's actually a very good question.
"It's a really good question, but when you're eight you don't want to go that deep!" She raises her voice in mock plea as she acts out the scene. "You're like, 'Damn, mom, we just – I don't know – there isn't something special that we do there that we can't do at home. It's just we do it together and it's cute!' You have to liaise. You have to survive in your household and be functional with your family, and you also have to be functional and survive in your school. It really did make a huge difference."
After various dalliances with work and education during her twenties, the big opportunity came through a chance meeting with Ashland Mines, aka Fade To Mind producer and founding member, Total Freedom. "I did a song with Teengirl Fantasy and Total Freedom was in the room when I was recording that song. He basically connected with that and was like, 'Wait. Who is this girl? You need to sing with my friends.'" Things snowballed and before she knew it Prince William, another key Fade To Mind player, arrived at her house with a bounty of 50 instrumentals as a birthday present. It was, Kelela's pleased to announce, the best birthday present ever. "I was like, 'Fucking fuck! This is exactly what I've been looking for my whole life!'"
The synergy was born and they never looked back. "It's not airy – the default, with electronic music where you take the production seriously, usually there's this default, weaker, airy vocal," she says. "It's such a rarity and it was palpable that they got RnB vocals in the way that I get RnB vocals."
'Cut 4 Me' isn't only striking for its up-front, widescreen musical style, however. Lyrically, it doesn't shy away and the themes that bind it are sexual desire and carnal fulfilment. When it isn't ruminating on the feel of skin on skin, it's exploring the depths of the psychology of attraction. The tantalising feeling of a lover's breath is a repeated motif and eyes seem to perpetually wander and lock across rooms. Recently she was asked by Rap Genius to put her words online. She complied immediately, again tying in with her determination not to be misrepresented; to write her own narrative. "They asked me if I'd like to post my lyrics on their site. I felt like it made sense to be like, 'I wrote these. They're not interpretations of the lyrics.'"
From the title track's refrain (it's 'Cum For Me,' despite its title) to 'Do It Again''s scenes of twilight lust, even Kelela's producers weren't completely sure about the dark, sensual content of her poetry.
"Prince Will was like, 'Wait. Oh God. 'Cut 4 Me', maybe that should be the title," she says. "But I like that ambiguity. I had to hide a bit because I put my ass out there, basically. In this digital age, if you can create some journey of some sort then that's amazing."
Before I know it, she has gone off on another spellbinding tangent, this time about the impossibility of surprise in the digital age.
"Like white labels," she ponders, "the fun about that is that nobody has it so even hearing it is a blessed, valuable experience. Then on the flipside, with everything available all of the time it makes it hard to make something obscure or hard to get a hold of or to create value. I wanted to make a secret track and I was thinking of digital ways. I was thinking maybe you get the folder, it's a zip and then in that folder it says 'Virus'. Or like, another folder that says something and then it opens another hundred folders and you need to open them a hundred times to get the secret track."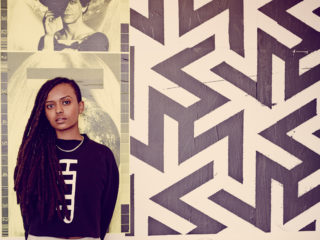 As fully-formed as 'Cut 4 Me' is, it has been carefully pushed as a debut mixtape as opposed to an album outright. I never quite understand what the difference is, but though it may be subtle, Kelela sees it as an important distinction. For a start, it's helped her reach an audience that might not necessarily have shelled out for the pleasure. "It's a mixtape. Because a) it's introductory and b) it's free. But that's the reason I wanted it to be free, so that it would be pervasive and to make sure it would be successful." As one of my highlights of 2013, I'm surprised to learn that she feels it's underdeveloped. "The melodic ideas on the mixtape…" She trails off, again loath to utter a word she isn't fully bought in to. "I didn't take every song to the most epic degree. You can hear that on the mixtape. There are beautiful, interesting loops. And I'll still keep the minimalism for the album, but I want to play with pop structure and make sure that it's even more resonant. I want to grab somebody who does not listen to electronic music. That's my goal. 'Floor Show' is probably one of the only ones with all of the elements; verse, chorus and break – that flow."
As she discusses the making of 'Cut 4 Me', it becomes evermore clear that the standards she sets for herself are significantly higher than the average. She recalls an encounter with Night Slugs producer Bok Bok, who had come to her with an intro he had been working on for the mixtape. The idea was to invoke the feeling of getting into a car and putting a record on but it wasn't quite to Kelela's taste. "I was like, 'Yeah, but can you make it so that the windows go down and then the door closes?'" Accepting her criticism but admitting defeat, he handed the reins over to the singer. "He was like, 'Here's the site. You can make the intro yourself but that's the idea.' I spent the next four days lost in freesound.org. I wanted to articulate this moment of being in your car and feeling like absolute shit. You put your car in park and then this really beautiful day happens but you're so sad. That's some LA shit. 'This fucking beautiful day. This sun. God damn it. Fuck this day.'"
If she really has, as she says, left some creative juices in reserve, that first fully-fledged LP is set to be something very special, and the good news is that we won't have to wait very long to hear it. "I'm working on it right now," she says. "It will include production beyond the Night Slugs and Fade To Mind scope, but include that as well." Her eyes grow bigger still as she waxes lyrical about the project at hand. "I'd like it to be a bigger statement of the mixtape. More pervasive and with all the people I dreamed of working with four years ago, who I'm now working with." She stops and bares each and every one of her gleaming white teeth in a smile that seems impossibly wide. "I'm really excited to share it."
Help keep Loud And Quiet going
As an independent title, it's become harder than ever to make the numbers add up.
We never want to charge artists and labels for our content so are asking our readers and listeners if they can help.
If you enjoy L&Q, please consider signing up to one of our membership plans to receive our magazines, playlists, podcasts, full site access, record discounts and more. Pay per month to try it out and see how you feel.