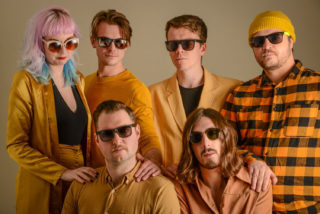 Shy-Talk's debut single comes with a free pair of sunglasses – yep!
Listen, it makes complete sense
In 2017, Tyneside indie label Box Records (from Pigs Pigs Pigs Pigs Pigs Pigs Pigs' Matt Baty) gave us one of our Albums of The Year – Lower Slaughter's  'What Big Eyes', which showed us all that it's still ok to dig sludge riffs inspired by 'Bleach'-era Nirvana.
Lower Slaughter are fun, but they did not distribute their debut single with branded sunglasses. Not like Shy-Talk (also happy purveyors of grungy noise), who will release 'Warlord of The Dance' as a digital single this Friday (Jan 26th) via Box. You'll be able to download it from the label's site, but also by buying a pair of the band's shade, which will come with a download code.
Are Shy-Talk taking the piss? Probably. But they're a lot of fun, and some musicians really do still wear sunglasses indoors, un-ironically.
New monthly memberships available
Here's a new thing: our membership scheme now has a pay-monthly option, plus a load of exciting new digital stuff for people who support what we do. It's actually excellent value, honest, and will help us continue to promote new independent artists and labels.
Sign up and you'll receive our physical magazines delivered to your door, our digital editions, exclusive podcasts and playlists and access to our EXTREMELY glamorous Members Lounge. You'll be the envy of all your friends.