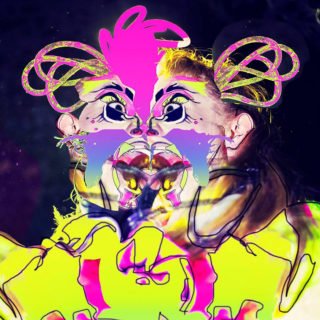 Aja's noise-based music is often built upon blistering compositions, topped with her own intense screams. She's become somewhat renowned in the underground, for live shows that fall somewhere between beautiful and terrifying. They are a twisted amalgamation of goth and drag performance, and shaded with an industrial filter. Aligning with artists that fall under the umbrella of 'New Weird Britain', like Lone Taxidermist and Phantom Chips, Aja has is proving to be one of the most exciting musicians in the country right now. But, simply calling her a musician – or performer for that matter – feels somewhat reductive. Her work spreads through a vast array of mediums; collaborating with designer Lu La Loop on her costumes, designing her own album art, holding field recording and Ableton workshops for young girls, and getting ready to venture into the realms of VR.
Aja's music itself is as much a visual and a sensory experience as it is an auditory one. This self-titled debut on Opal Tapes is an attempt to channel her intense artistry into something purely sonic. The tape compiles some of the most unique, full frontal, formidable electronic music you'll hear this year, comprised of field recordings, power electronics, aggressive percussion and vocal deliveries that verge on being distraught screams.
You'd be forgiven for being perturbed by most tracks. 'Charge' is crafted around a mutated synth line, and Aja's vocals are just as twisted. Barely distinguishable lyrics writhe below the noise (a key theme in this record), creating a quaint sense of ambiguity.
The vastness of the project can, at times, be almost overwhelming. The first half 'XLR' serves as an outlier within the track list. Not only is it more restrained than the rest of the album, but in being so sheds light on Aja's skill as a traditionally talented vocalist – as well as being confrontational, Aja's presence is always somewhere between foreboding and alluring. Her music adds a much needed vibrancy to the realm of modern power electronics and the weirder corners of the UK's underground.