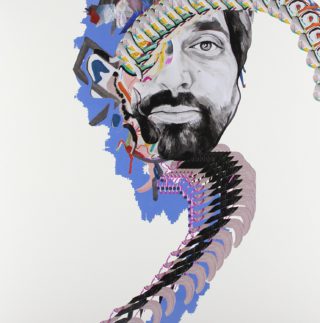 Animal Collective
Painting With
(Domino)
8/10
For all their inherent weirdness it should be noted that, in 2016, Animal Collective find themselves very much in the bracket of arena-sized indie rock. Long gone are those incongruous, half-genius-half-maddeningly-frustrating mid-2000s EPs and the accompanying rush to adorn each new category-flouting release with unbridled approval. Instead, we now have a reliable piece of psych-pop apparatus and a group who have settled into a relatively stable groove, with all the expectation that comes with it.
Recorded at Hollywood's EastWest Studios, the musical maternity unit where 'Pet Sounds' came to life, Brian Wilson's sunny melodic blueprint is drawn on in a similar manner to 2009's 'Merriweather Post Pavilion'. However, while that album was striking for its warmth, 'Painting With' embraces cooler temperatures. Far from clinical, it is a much sparser effort than previous albums, relying primarily on filtered vocals and electronic percussion, while modular synthesisers rasp and twist. Think a full LP inspired by Boards of Canada's 'Telephasic Workshop' (see 'Spilling Guts', 'Recycling'), or 'WIXIW'-era Liars writing and producing the new Ariel Pink album ('On Delay'). 'Hocus Pocus' and 'Lying In The Grass' – both standouts – are pure dub, relishing silence as much as noise. And they work.
This might be a band who have the commercial currency to put on Guggenheim installations and occupy mainstream American television airtime, but Animal Collective's quality control is more rigorous than ever. And as Panda Bear and his furry friends move into the back straight of their 30s, if 'Painting With' isn't a leap into the unknown, it is certainly a confident step forward.
New monthly memberships available
Here's a new thing: our membership scheme now has a pay-monthly option, plus a load of exciting new digital stuff for people who support what we do. It's actually excellent value, honest, and will help us continue to promote new independent artists and labels.
Sign up and you'll receive our physical magazines delivered to your door, our digital editions, exclusive podcasts and playlists and access to our EXTREMELY glamorous Members Lounge. You'll be the envy of all your friends.