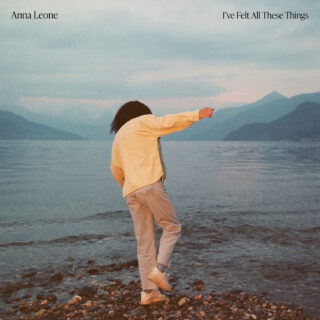 Anna Leone
I've Felt All These Things
8/10
Anna Leone is a reluctant public musician. A self-proclaimed introvert, the Stockholm singer-songwriter was signed after she was heard playing through her bedroom wall.
Her love of solitude and tendency towards eviscerating self-reflection is evident across her debut album. A marked progression from 2018's Wandered Away EP, which positioned her as an acoustic folk troubadour, it's defined by her determination to expand her sound-world. 
The move has paid off, with I've Felt All These Things being lyrically insular yet musically engaged with external sources. Its ten tracks are quietly embellished by ambient piano lines, subtle samples, and ethereal backing vocals. These are all to the fore on opening track 'Intro (I've Waited)', which is constructed around little more than the repeated title, and 'Wondering', on which slight distortion is used to create a sense of acceptance.
Other tracks place her finger-picked guitar playing and soulful, bruised voice centre stage. 'Your Light' has the '60s folk and soul-searching of Vashti Bunyan, while at the same time suggesting a meeting of minds with Haley Heynderickx. In contrast, 'Still I Wait' has a touch of the blues in her tone while she addresses the internal struggle of standing "in the shade / While I crave the light." 
It's a tussle with self-doubt and negativity that reaches a sense of release on the album's fitting closer, 'All That I Ever Did'. Sounding like she's singing to herself in her bedroom, Anna Leone brings hope as the sun "leads me out from my cage."
Subscribe now. Cancel anytime
Go on, give us a go
We love making Loud And Quiet – our magazines, this website, our podcasts and more – but it's become increasingly difficult for us to balance the books.
If you're a reader who'd like to help us keep the show on the road, please consider becoming a Loud And Quiet subscriber. There are options to receive our physical magazines and lots of other extras that are exclusive to our supporters.