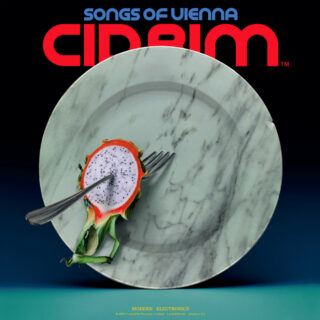 Always off-kilter and sometimes bewildering, Clemens Bacher's (aka CID RIM) Songs of Vienna is a constantly shifting record. One minute it has the lo-fi noodlings of early Metronomy, as in the latter half of 'Last Snow'; the next it combines maximalist melodies and bombastic rhythms with Bacher's fragile, autotuned vocals, bringing to mind The Age of Adz-era Sufjan Stevens.
While it is fun to try and latch onto some of the more outré hooks, especially with 'The Marrow' that really spotlights the "industrial" in IDM, the record can trip over into early 2010s EDM. All headache-y sugar rushes and grating autotune, such as on 'Purgatory'. 'We Drums Two', though quieter, feels like an off-cut from Bon Iver's 22, A Million in that same way.
The album's greatest successes arrive when it allows tracks breathe, rather than drowning them in glaringly bright synths. 'Rain' lets its synths roll gently alongside a gorgeous choral accompaniment, while both 'Friday' and album closer 'Blame' slowly unfurl themselves into cosmic wonders rather than diving straight into the deep end.
Songs of Vienna feels like an album of two halves: one of restraint and one of excess. The maximalist excesses have their place, especially when the tracks are allowed to grow into those moments. But, across the album, there are cacophonous tracks that are the very definition of "too much". That may be an accurate representation of Vienna, but it's where Bacher issues restraint that the most joy is found; those moments on which he lets you explore the Austrian capital at your own leisure, rather than ferrying you directly to the fireworks.
New monthly memberships available
Here's a new thing: our membership scheme now has a pay-monthly option, plus a load of exciting new digital stuff for people who support what we do. It's actually excellent value, honest, and will help us continue to promote new independent artists and labels.
Sign up and you'll receive our physical magazines delivered to your door, our digital editions, exclusive podcasts and playlists and access to our EXTREMELY glamorous Members Lounge. You'll be the envy of all your friends.