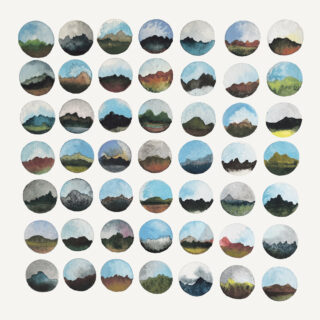 Complete Mountain Almanac
Complete Mountain Almanac
8/10
Four years ago off the banks of the River Spree at Berlin's Funkhaus, Shara Nova and the Women's Choir filled People Festival with the thundering sound of 'Saint Ageda'. The composition – named after the patron saint of breast cancer patients – was written for poet and multimedia artist Jessica Dessner, who danced a ritual on the runway of Saal One in gold sequins, barely breaking eye contact with the singers. Months into processing her own breast cancer diagnosis, the conflation of voices and standing drums became a breathtaking support system against the onset of danger. 
Complete Mountain Almanac had been conceived years before this performance as a collaboration about climate grief between Dessner and her friend, Norwegian singer-composer Rebekka Karijord. But as Dessner made a habit of drawing a different tree on each day of the year – sharing seasons' worth of shapes and colours online, refined for the album's artwork – her world grew infinitely bigger. The pair's lament on the finite cycles of life, death and rebirth overlapped with Dessner's mastectomy, and Complete Mountain Almanac became a means of greeting even the smallest, most passing experience with importance.
The force that through the green fuse drives the flower drives the album in its entirety. Enlisting Jessica's younger brothers, Aaron and Bryce Dessner – the twin pairing at the heart of indie stalwarts The National – a spectrum of chamber-folk and baroque guitar cocoons the record's twelve tracks, each named after a month of the year. Karijord's vocals waft and dissolve with each composition: they sink into the ambient drone of 'March' ruminating love and motherhood – "thank you beautiful breast for a life I've found through you" – before lifting the quasi-americana 'August', deftly pirouetting though fingerpicked triumphalism. Always, nature wins. 
'May' is the album's standout with its pained address to the earth and indirect submission to St. Agatha ("I can give all of this back"), whilst the outro of 'June' evokes 'The Long Count,' a Mesoamerican favourite of Aaron and Bryce's numerous side-projects about resetting the Mayan calendar. Pining guitars pile upon one another with the inevitability of falling leaves, as the Malmo Symphony Orchestra thatch a softened string landing beneath them. It's easy to praise an album's humanity, but it's made more powerful here by Complete Mountain Almanac's commitment to uncertainty. That this album never falls into melodrama is testament to its creators. You can read Jessica Dessner's scars and bruises, feel them in Rebekka Karijord's vocalisations, but what's left is a resolute gratitude for all we have.