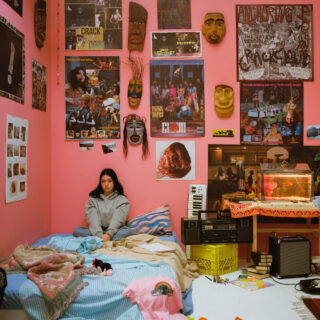 Crack Cloud
Tough Baby
7/10
Tough Baby is a chaotic melting pot of influences and genres entwined together as if by magic. The sophomore album from Crack Cloud sees pop culture as an altar at which to worship; thrusting us into a mosh pit of noise, the record is incredibly sonically agitated as it bounces in multiple directions. 
The record's opening message is a recording from frontman Zach Chou's father Danny. He tries to give some honest inspiration, nonchalant description of how music can be the outlet of your dreams if you make it. Those dreams come true with a cinematic Disney break in the middle of Danny's monologue. As his Canadian tones slip back through, the album's loose, cacophonic tone is set. This magical quality, sparkling with tambourines and xylophone, is found again in 'Costly Engineered Illusion'. 
Too many cooks don't spoil the broth on Tough Baby. You can feel that grandiose influences have been brought to the table. Springsteen's brass, The B-52s' tremulous singing and Bowie's performativity work their way in, as bars of heavy rock are pushed into the realm of '90s dance music (featuring kazoo) in the transition from 'Criminal' to 'Afterthought'.
Crack Cloud can't sit still, and for good reason. This record is aggressively cathartic and sees this collective pushed to its limit. Alternative rock, pop and indie push their way to the front; once you get into the rhythm, get ready to be thrown into another whirlpool of sound.