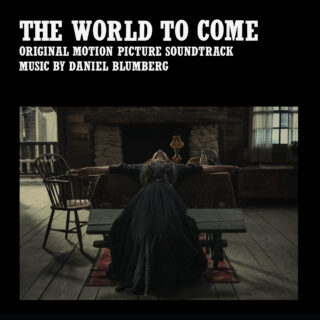 Daniel Blumberg
The World To Come (Original Soundtrack)
(Mute)
7/10
Confidence may not be the characteristic one most readily associates with the introspective, withdrawn public figure of Daniel Blumberg, but look a little closer and it's the perhaps the central quality of his career so far. From his days as the skinny teenage frontman of the spiky Cajun Dance Party, through his decision to leave noisy indie group Yuck after a single, rapturously-received album, all the way up to the uncompromising experimentation of his recent solo work, his conduct is clearly driven by a single-minded trust in his own ability to push forward into new terrain. Though certain constants remain audible throughout his work – his earnest tenor and ear for incisive melody in particular – Blumberg has never been one to retreat into his comfort zone. His is not the catalogue of a retiring or insecure artist. 
His new soundtrack for Mona Fastvold's new film The World To Come is another bold step. It's his first score for a feature-length release, a companion to Fastvold's depiction of romantic love between two married women in the cold isolation of 19th century upstate New York. For it, Blumberg and his ensemble of revered avant-garde musicians have created a strikingly rich tapestry of contrasting timbres and shades, evoking the film's by turns icy and passionate movements with enough precision to douse the listener in its atmosphere without entirely smothering them. Strings and woodwind dogfight and divebomb above shivering bass and percussion, the tension only occasionally neutralised by bursts of warm vocal or relatively conventional harmony. It's yet another rewardingly confident new venture for Daniel Blumberg.
Loud And Quiet could do with your help
We love making Loud And Quiet – our magazines, this website, our podcasts and more – but it's become increasingly difficult for us to balance the books.
If you're a reader who'd like to help us keep the show on the road, please consider becoming a Loud And Quiet member. There are options to receive our physical magazines and lots of other extras that are exclusive to our supporters.