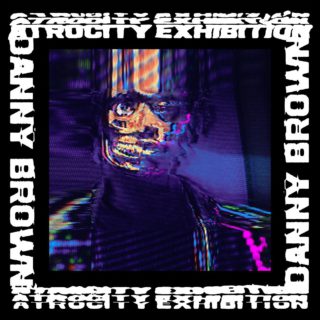 Danny Brown
Atrocity Exhibition
(Warp)
8/10
If this was anyone else, you might say that the pressure is on. But for Danny Brown, an artist who only came to mainstream attention at the age of 30, you get the sense that he's taking each step with a sizeable pinch of salt. Having followed 2011's 'XXX' – a second LP that saw him step up as the poet laureate of Detroit's ugly underbelly – with 2013's excellent 'Old', a record that grappled with the chemical-fuelled highs and crushing hangover lows of the ageing process from the perspective of a famous rapper, Brown has earned his stripes as an artist who can do things on his own terms. Not that he would likely do anything else anyway. After all, this is a man who was reportedly set to sign to G-Unit Records back in 2009, having ticked every box on 50 Cent's list of hiring requirements but for his jeans. Danny Brown likes his denims skinny, in case you didn't know, and he wasn't willing to bend, not even for that elusive record contract.
If you're wondering where you've heard the phrase before, the album takes its title from the opening track of Joy Division's classic 'Closer'. More than just a beard-stroking nod to post-punk, however, that cold, bleak slab of isolation sets the tone well for Brown's latest collection. Sparse is a word that's used anything but sparsely, but this LP seems held together by silence. There's an early '90s ethic to the production, with thin keyboard melodies, eerie synths and ghostly vocal samples weaving in and out, and while he wheels out the festival-scale dance he honed on 'Old' to good effect ('When It Rain' is a case in point, while 'Ain't It Funny' is as close to disco as he's likely to tread), 'Atrocity Exhibition' sees Brown lay himself more bare than ever.
As with 'Old', he seems here to have two personalities, with a pair of completely contrasting voices to accompany them, and the record is split between the manic chutzpah of the high-pitched rasp Brown has made his name with and a more natural delivery closer to his own voice. When he relies on the former, he can still create some absolute crackers ('Really Doe', featuring the royal triumvirate of Kendrick Lamar, Ab-Soul and Earl Sweatshirt, is even more than the sum of its parts), but it's when he chooses to deploy the latter, as on 'Tell Me What I Don't Know' and the Kelela-featuring hip hop ballad 'From The Ground,' that the results are notched up a level, giving the feeling that Brown is being even more candid than he has been before; finally letting the mask slip.
With 'XXX' we wondered if it was a fluke, and on 'Old' he proved that it wasn't. With 'Atrocity Exhibition,' Danny Brown cements himself as a hip hop great.
Please support Loud And Quiet if you can
If you're a fan of what we do, please consider subscribing to L&Q to help fund our support of new musicians and independent labels
You can make a big difference for a few pounds per month, and in return we'll send you our magazines, exclusive flexi discs, and other subscriber bonus bits and pieces
Try for a month and cancel anytime