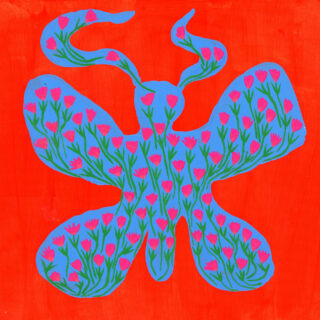 From Frankie Knuckles to Horsegirl, the Chicago sound has always been rooted in music at its breaking point – sonically both urgent and bigger than itself, yet locked in an experimental, clandestine culture of the warehouse underground. Dehd are a trio very much in their city's lineage – a band who have been 'bursting' onto the local scene for the whole seven years they've been active, and many of the years before that in previous bands – soldering the junctions of garage rock, no wave and shoegaze, indie rock and maximalist surf, while sounding like the whole studio's power supply is jacked from a single socket. 
Their debut self-titled album in 2016 was a quiet triumph – quiet still, even in the face of the band's recent successes. Electric and deadpan, Dehd is an obscured observation deck from which the band's trajectory can be neatly sketched. It marked the start of bassist/ vocalist Emily Kempf and guitarist/vocalist Jason Balla's relationship, deeply in love and lyrically smitten. In some songs, their two voices weave together, dryly and teasingly fanatical ("I can tell that loving you is going to take a while"), but joking over a somewhat surreal realism from past attempts ("Your love was like a sunburn, warmed my face but now it hurts"). There are no choruses nor reasons to dance, but Kempf's vocals start to shapeshift – dour in 'Tune Out', mouthing over each syllable in 'Twenty' and leaping alongside Eric McGrady's Jesus and Mary Chain-like drums in 'Horses' to relative highs.
Perhaps because their introduction was so good, it was little surprise that their follow-up Water became one of modern rock music's most compelling break-up albums, jinxed by its predecessor's happiness, raw in working out how to preserve the band. Kempf and Balla still shared songwriting duties, red-eyed and articulating their grief metres from one another ("Lucky to have people in my life with the power to break my heart.") A year later, Flower of Devotion had the perfect formula, steadying a very human ship of contradictions between carefree rock music and political activism, friendship, heartbreak and reconciliation. Kempf described her voice in multiple interviews to be a closet from which she'd take out different outfits, wavering impassive in 'Flood' to orbital in smash hit 'Loner'.

The critical acclaim from album number three gave Dehd many things, not least a record deal with Mississippi mainstays Fat Possum. With the extra time and resource afforded, their label debut Blue Skies is predictably more polished, with the addition of Grammy Award-winning mixing engineer Craig Silvey (Rolling Stones, Arcade Fire) and mastering engineer Heba Kadry (Slowdive, Cate Le Bon). And while it was recorded in the same space as Flower of Devotion, it's peppered with fewer brow-raising musical surprises, lyrical oddities and moments of Dehd-like exultation. The Chicago sound is still there, but the band's garage rock aesthetic is stretched, covered with gum tape and scribbled on. 
Instruments that once tumbled around themselves with a maximalist's restraint – frenetic in their own space like rooms upon rooms of gas particles – sound muted to metronome. Kempf's tenacious, out-of-body vocals too are replaced by a more two-dimensional sound, dragged by Balla's dirge-like entry in album opener 'Control'. The exceptions are brilliant, from the dark Told Slant-esque lo-fi of 'Waterfall' to Kempf's sinister multitracked sprawl on early standout 'Bop'. "I know, I know," she says, spread out like an arm over a battered couch in an intonation that sounds like its own meme format, before Balla tantalisingly embodies The Magnetic Fields on the album's most deceptively straight-edged ballad, reiterating the hook "When I hold you up, it's love" just enough times for the message to carry. The delivery is succinctly unpatronizing with an unaffected sincerity worthy of Stephin Merritt's 70th love song. 
It unravels when the trio allow a little space for soul mining, even when the exploration covers all of saying "Memories are good now they're gone." As far as another staple in an alarmingly consistent catalogue goes, Blue Skies offers more than enough mouth-watering musicality to satisfy the taste buds. But across songs like 'Clear', 'Dream On' and 'Empty In My Mind', Dehd sound mostly free from their baggage and internal divergences to distinct and nostalgic echoes of dreampop and saccharine shoegaze. The latter even recalls Congratulations-era MGMT far more readily than their once-upon-a-time DIY rock contemporaries. When Kempf shouts "This is all we get, best to take the risk" on the final two lines of the album, it's both hard to begrudge them a shot at stardom and hard to fully comprehend what that risk is.
Please support Loud And Quiet if you can
If you're a fan of what we do, please consider subscribing to L&Q to help fund our support of new musicians and independent labels
You can make a big difference for a few pounds per month, and in return we'll send you our magazines, exclusive flexi discs, and other subscriber bonus bits and pieces
Try for a month and cancel anytime