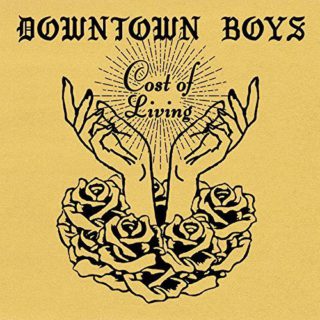 Downtown Boys
Cost of Living
(Sub Pop)
8/10
If you're particularly invested in harmonic vocals and gentle soundscapes, turn away now. Otherwise, strap in. Providence's Downtown Boys are back with their third album, and 'Cost of Living' is a fierce offering that takes aim at fascism, queerphobia, capitalism, and racism in a howl of cathartic energy. On the surface, the record seems to be straightforward meat-and-potatoes DIY punk. But let's revise our understanding of 'melody'. It's there. The guitar riffs and arrangements on 'Violent Complicity' and the shimmering, Joy Division-style 'Lips That Bite' are proof of that, and worth the price of admission on their own.
Elsewhere, the band pick up the trail left by punk and hardcore greats before them. They cite influences including The Clash and Wire, but on tracks like 'It Can't Wait' producer Guy Picciotto's Fugazi heritage shines through.
Underneath the wailing, split-lip vocals is a crispness that defines the record, turning the frenzy into something more than just musical rebellion. That said, 'Cost of Living' still manages to push back against the status quo at every turn. By the Downtown Boys' own admission they're aiming to topple 'white-cis-het-hegemony' using Chicana, queer and latinx voices. This is never clearer than on the anguished, Spanish language 'Tonta' that, with its frantic sax section, is entirely unlike anything else other records this year have to offer.
Free Protomartyr flexi disc with this month's magazine
Subscribers to Loud And Quiet now receive a limited edition flexi disc of a rare track with their copy of the magazine
This month's disc is from Detroit punk band Protomartyr