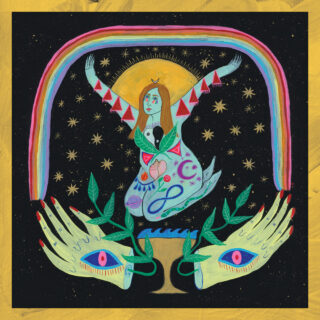 Emma-Jean Thackray
Yellow
7/10
A crucial component of Emma-Jean Thackray's artistry is duality. This encompasses her deft soundscapes (an unconventional combination of dancefloor-ready beats and free jazz), lyrics that meet at the intersection of cosmic ideology and awakened inner-consciousness, and, most importantly, how the Yorkshire-born multi-instrumentalist, vocalist, and producer operates as a solo artist alongside an ensemble. The cohabitation of such variants in the confines of an hour-long record could culminate in a disjointed vision; however, Thackray's leadership highlights that, with the right approach, you can achieve equilibrium amongst contrasting ideals.
In doing so, the importance of community has been integral to Thackray's musical trajectory ever since she took cornet lessons whilst attending primary school. From there, big bands and opera orchestras laid the foundations for her to develop a distinct sound. Despite espousing the worth of collaboration, she has also demonstrated her capabilities of going it alone, as she did with recording her 2018 debut record, Ley Lines. For that release, she played every instrument herself. A few years and two EPs later, the London-based musician is once again in the company of collaborators for her brilliantly vibrant second LP, Yellow. 
Released via her own Movementt label (an imprint of Warp), the record, as prefaced by Thackray, is unified by togetherness: "The oneness of all things in the universe, showing love and kindness, human connection." Opening the record, 'Mercury' proceeds with an assault of cymbals that are gradually soothed by a tumbling Rhodes piano melody, heralding the softer moments of Alice Coltrane and Miles Davis' respective repertoires. In the final moments of the commanding composition, Thackray's voice emerges: "To speak, to hear, to know, to love / Our communities are bound by words, by listening." The influence of the aforementioned Davis, in particular, is abundant across the record. The celestial presence of the Rhodes, a key player on Yellow, lends a tonal sophistication to the theatricality of 'Green Funk' and the Steely Dan-like ramblings woven throughout 'Rahu Ketu.' While the majority of the arrangements are indebted to the psychedelic sensibilities of the 1970s, the listener is justified in considering the application of such motifs by a variety of contemporary artists. Namely, Thundercat and his synonymous chaotic flare on 'Golden Green', while To Pimp a Butterfly-era Kendrick Lamar is an obvious touchstone on 'About That'.
In recent years, free jazz has enjoyed a fruitful resurgence amongst a younger generation of artists. Alfa Mist, BadBadNotGood, Kamasi Washington, and Ezra Collective have been rightfully praised for their accomplished expressions within the genre. What makes Thackray's contribution to this flourishing new wave noteworthy is her decision to fuse jazz and P-funk-inspired improvisational instrumentation with a strand of dance music usually reserved for dimly-lit bars in boutique hotels. This union only occurs a handful of times. By limiting this unlikely sonic palette to the joyous 'Say Something' and 'Sun', Thackray refrains from exhausting this idiosyncratic soundscape. When it does appear, the pulsating beats contribute to some of the record's more visceral moments. In the case of 'Sun', it's impossible not to envision a venue merging as one, creating a force that mirrors the exuberance of the contagious percussion and choral parts. Being selective in this way means that the sumptuous production that characterises the album is never contradicted, nor is the cohesion of the work compromised. Thackray, instead, strikes a perfect balance between the two worlds. 
At first glance, Yellow's resplendent artwork looks like a tarot card. Surrounded by stars sheltered by a rainbow, a blue woman decorated with symbols depicting nature and the solar system spreads her arms to embrace a rising sun. The image conjures the illusion of a fortuitous omen. In the tracklist, song titles like 'Venus', 'Third Eye', 'Rahu Ketu', along with 'Mercury in Retrograde', further strengthen the album's spiritual grounding. This otherworldliness transcends its aesthetic with the implementation of prayer bowls on 'May There Be Peace'. Situated at the midpoint, the intense interval takes us into the latter half of the record, where flickers of magic continue to spark.
While there's plenty of freedom to be enjoyed across the arrangements here, there are moments where certain compositions feel fenced in by an invisible wire. 'Spectre' provides a shift in mood, a rare instance of tonal introspection. The steady melody creates a solid base for the lush swirling textures. Here, Thackray and her collaborators forge a comfortable and reassuring atmosphere with the arrangement. However, an opportunity to expand the breadth of the piece and become momentarily enveloped by a wildness was missed. In spite of the abundance of energy and innovation flowing throughout Yellow, it can feel as though the reins are held too firmly across certain movements that would benefit from more ferociousness. 
Speaking to Loud And Quiet last year, Thackray hoped Movementt would become a label that puts out music which "people feel is a secret they're being let in on." Yellow has the hallmarks of a record you might happen upon after hours of thumbing through miscellaneous LPs at a flea market, whose tonal poise and propensity for experimentation are too invigorating and interesting to keep to yourself. It's a record best shared in the company of others; a record with which to build a community.
Please support Loud And Quiet if you can
If you're a fan of what we do, please consider subscribing to L&Q to help fund our support of new musicians and independent labels
You can make a big difference for a few pounds per month, and in return we'll send you our magazines, exclusive flexi discs, and other subscriber bonus bits and pieces
Try for a month and cancel anytime