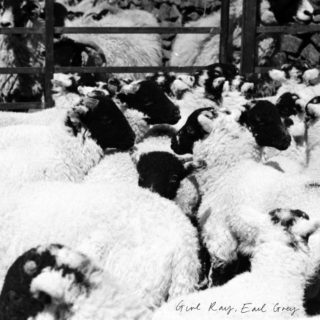 What's already become clear about Girl Ray in the few months since they really began to catch people's attention is that it's one thing to form a band over a shared love of certain influences, but another entirely to be able to meld them together in a way that suggests an almost telepathic manner of intra-band communication. Everything we were shown of this debut record ahead of time suggested as much. 'Stupid Things' channelled both the timelessness of Carole King and the very singular sonic palette of C86 at the same time. This should, on paper, mean that 'Earl Grey' isn't an especially original album, but the way in which the Brighton-based trio have taken their cues from their favourite records feels genuinely fresh. Perhaps even vital.
'Preacher' is a great case in point, sounding every inch the classic pop love song, all undulating acoustic guitars and flighty vocals. 'Where Am I Now' follows a similar tack, albeit with the addition of twinkly synths that hint at a psych-ier direction without ever going all the way down that particular rabbit hole. That sort of experimentation is instead kept in wholesale reserve for the likes of the epic title track, which clocks in at thirteen (count em) minutes and glides glacially from minimalist pop at the outset to an increasingly eclectic outro, with trumpets signalling the start of a descent into a messy-feedback laden outro. 'A Few Months' is deceptively off-kilter, too, flitting between sunny guitars and foreboding synths.
Also striking about 'Earl Grey' is that you suspect that Girl Ray – who, stupefyingly, released their first single whilst they were studying for their A-levels – are young enough that they might not just be referencing classic inspirations here, but also bands new enough to be their contemporaries. The weirdness of the sugary 'Ghosty' recalls the first Veronica Falls album, whilst the lyrical approach that singer Poppy Hankin takes is striking in both its precocity (she talks about love and romance with a cynicism that belies her nineteen years) and its appetite for tackling those issues with tongue often firmly in cheek.
In truth, though, the thing that'll really hit you about 'Earl Grey' right across the board is how assured it sounds, even if the band weren't so terrifyingly young. That they are, and that they've carved their own niche out of their influences so quickly, should guarantee a very bright future ahead of them. The only caveat is this – you wonder, listening to 'Earl Grey', whether this is one of those debuts they'll spend the rest of their career trying to top.