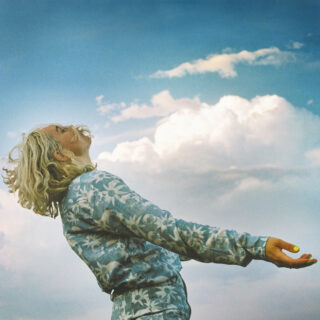 HAAi
Baby, We're Ascending
(Mute)
8/10
Though only just on the brink of a debut album, Australian DJ/producer HAAi has already racked up a career's worth of things to brag about. First turning heads with her versatile and genre-busting production, her short but impressive repertoire of an EP and recent Radio One collaborative favourite 'Lights Out' with Fred Again and Romy has cemented hers as a regular near the top of festival bills and countless 'best new music' columns. Her aptly-titled Baby, We're Ascending feels like an album of building tension as HAAi looks to personify her journey as one of electronic music's fastest-rising young talents. 
Managing to pull off an impressive line-up of contributing artists including the likes of Jon Hopkins and Alexis Taylor, HAAi more than holds her own in such esteemed company. Her effortless merging of techno, house, drum and bass, downtempo and pop-leaning electro is a masterful exhibition of unlikely combinations, with enough twists and turns to leave any would-be late-night raver scratching their head on exactly where to place her. 
Choosing character over consistency, what her music may lack in cohesion is compensated for by stark personality. These many twitching identities seem to writhe and collide, violently coexisting in some paradoxical cesspit that's both unceasing and immune to the rules of usual convention. Making sure to offer something for everyone, HAAi is making a convincing transition from breakout talent to fabled club icon.

Free Protomartyr flexi disc with this month's magazine
Subscribers to Loud And Quiet now receive a limited edition flexi disc of a rare track with their copy of the magazine
This month's disc is from Detroit punk band Protomartyr