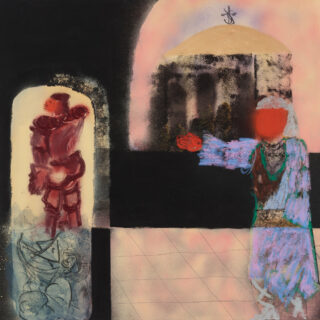 When the pandemic forced the world to stop, Meg Duffy (aka Hand Habits) found themselves for the first time in a long while without attachments, and ended up stopping to consider everything that happened in their relentless life over the last few years. This led the singer-songwriter to start going to therapy, and the results of these moments of introspection became part of their creative process.  
Duffy lives with producer Sasami Ashworth and musician Kyle Thomas, better known as King Tuff, and they convinced Duffy to record all the new material and entrust it to their housemates to be produced and engineered. The result is Fun House, Hand Habits' most refined and complex album to date. Keeping their signature Americana sound in the vocals, the arrangements of each track move away from all the country reminiscences of the previous albums and float towards a unique mix of different pop inspirations, perfectly evoking Los Angeles, where it was written. A serial collaborator, Duffy is joined by Perfume Genius' Mike Hadreas for a couple of tracks in the album, including 'Just to Hear You', which has the potential become an iconic duet. Confessional and cathartic at the same time, Fun House raises the bar for an already incredibly talented and interesting singer-songwriter.
Loud And Quiet could do with your help
We love making Loud And Quiet – our magazines, this website, our podcasts and more – but it's become increasingly difficult for us to balance the books.
If you're a reader who'd like to help us keep the show on the road, please consider becoming a Loud And Quiet member. There are options to receive our physical magazines and lots of other extras that are exclusive to our supporters.