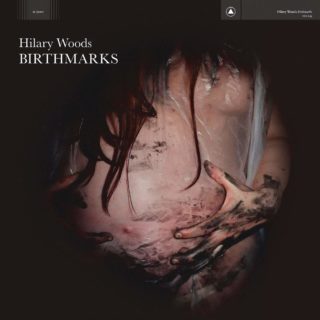 Hilary Woods
Birthmarks
8/10
For all the hard work Dublin-based composer Hilary Woods has done over the last few years, she's yet to produce an album that ably straddles her twin sensibilities – as a mood-driven producer of tone poems, and a tantalisingly elliptical storyteller. Birthmarks, an LP two years in the making and a meditation on future uncertainty and childbirth, comes close to essential – but, recalling a black metal version of Cocteau Twins' verdant collaboration with Harold Budd on The Moon and the Melodies, it also flexes the skill of its producer-collaborator, frequent dabbler in noise music and extreme metal, Lasse Marhaug.
Where 2018's Colt aped a little too much of Julee Cruise and Grouper's obscured detachment – with songs like vague shapes suspended in moorland fog – Birthmarks not only denotes a figurative step forward but an almost literal one. The shape was a feral beast all along, and it's sizing up the listener, every last blood-mottled hair now hyperreal, every yellow tooth sharp and hungry – see pseudo-instrumentals 'Lay Bare' or 'Mud and Stones', seamlessly folding into the resplendent folk-industrial stop of 'The Mouth', or the genuinely terrifying squall of 'Cleansing Ritual'; the cellos and horns across Birthmarks don't coo or lull. They drool. They snarl.
But with all the exorcism comes a sort of ghostly release with the austere closer 'There Is No Moon', a fitting demonstration of Woods' keen sense of pacing. "My dreams, they try and read between these lines," she mutters, and all the tumult of the preceding seven tracks are granted a disquieting, if ultimately satisfying, ending.