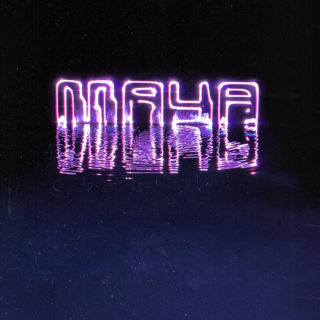 Is there a more unsung musical nomad than John Frusciante? 
After the guitarist abruptly left the Red Hot Chili Peppers (the first time) in 1992 due to the overwhelming popularity they attracted following the success of Blood Sugar Sex Magik, Frusciante went on to live an indescribably chaotic drug-filled life. Somehow during this period, he released two solo albums which to this day baffle with their outlandishness – 1997's Smile from the Streets You Hold even managing to score an impressively rare 0.0 in Pitchfork.
Frusciante thankfully got clean in 1998, joined the Red Hot Chili Peppers again, later left them again and released some absorbing and cerebral solo avant-garde albums during the 2000s and 2010s – most notably 2004's Shadows Collide with People. 
It should then come as no surprise that Frusciante's 11th solo album, Maya, dedicated to his recently deceased cat, is an unapologetic love-letter to '90s UK jungle music.
Maya is a tight, delightfully restrained and almost straightforward jungle record. However, like all Frusciante's work, it's touched by a disposition to stray into recondite areas and uncover chords, riffs and here, breakbeats that run along the edge of familiarity but tease falling into the marvelous pool of the unknown. 
This is best exemplified by 'Amethblowl' which throbs with a rhythmic bass that systematically buffers itself into a paranoid frenzy and 'Reach out' which tunnels through glitchy jungle terrain to find an almost archetypal sense of calm.
While for many jungle aficionados it may sound more familiar than unknown, Maya is still an enjoyable, occasionally affecting tribute to jungle from the unlikeliest of sources.
New monthly memberships available
Here's a new thing: our membership scheme now has a pay-monthly option, plus a load of exciting new digital stuff for people who support what we do. It's actually excellent value, honest, and will help us continue to promote new independent artists and labels.
Sign up and you'll receive our physical magazines delivered to your door, our digital editions, exclusive podcasts and playlists and access to our EXTREMELY glamorous Members Lounge. You'll be the envy of all your friends.