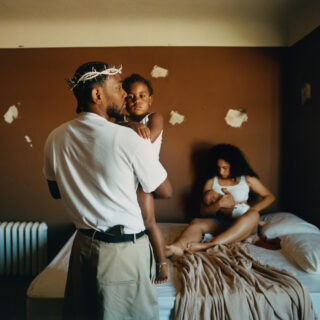 Kendrick Lamar
Mr Morale & The Big Steppers
8/10
There's a secret underpinning Mr. Morale & The Big Steppers. "Tell them the truth," Kendrick Lamar's fiancée Whitney Alford says in its opening moments. The fallout of that secret touches every song that follows, from the self-doubt of 'Die Hard' to the despondent posturing of 'Rich Spirit', through to the misogyny and relationship turmoil of 'We Cry Together'. It's a knotted self-portrait that wrestles with inner demons and cycles of abuse, and it asks the listener to wrestle with these ideas just as much. And while the record does widen the scope to a societal scale, it more often pleads with the audience to simply see the humanity in its creator. 
The dizzying spectacle of 'The Heart Part 5' (the customary standalone single that preceded the release of Mr. Morales a week earlier) couldn't have prepared us for what would follow, but within its layered lyrics sits a couplet that sums up this record: "In a land where hurt people hurt more people / Fuck callin' it culture." Kendrick is in pain. The weight of the world watching him only exacerbates it. Rather than channelling that pain into performative villainy and superstar-worthy hits as he did on DAMN., he pivots to a new sound. 
These are skeletal inversions of the blockbuster beats you might expect, coloured by bright piano chords and theatrical string embellishments. 'United in Grief' is a white-knuckle opener, a pummelling drum break keeping time as Kendrick unpicks his unhealthy coping mechanisms in the face of loss. 'World Steppers' opts for tense sub-bass. Soul samples flash through before we're submerged once again. On 'Father Time', a highlight of disc one, Sampha provides a rare cathartic chorus to cool Kendrick's tense bars about his relationship with his father. 
Vocally, Kendrick moves from showy and technical to understated and direct. His cousin Baby Keem makes frequent contributions, and his zany delivery is a clear influence on Kendrick's most eccentric flows. 'N95', 'Silent Hill' and 'Rich Spirit' are the rare moments where he sounds like he's having fun doing it. Elsewhere, this is a heavy record that doesn't offer instant hooks or easy answers. 
Every Kendrick Lamar record is a high-wire act. He's an artist who calls for empathy above all, even when that means going against the grain. On To Pimp A Butterfly, he artfully underlined the connections between institutionalised racism and intra-community violence, knowing he might catch flak from his own peers as a result. Now, he explores toxic masculinity, the unspoken sexual exploitation of Black people, and widespread homophobia and transphobia. 
These explorations are messy, contradictory and occasionally frustrating, but they're also raw and full of heart. 'Auntie Diaries' is dedicated to two trans family members, that honours them while flippantly using slurs. Many queer listeners rightly find this inexcusable. It's stunningly real, but also places Kendrick at the centre of the story, on a song begging for a feature from a trans artist, rather than just patting itself on the back for trying. There are many trans rappers that would have met the moment (Chloe Hotline, Backxwash and Censored Dialogue are just a few).

'We Cry Together' is just as bold – a modernised take on RZA's 'Domestic Violence' that's heightened by an incredible performance from Taylour Paige. It also emphasises how a feature from the demographic you're representing can make your message even more stark and powerful. 
Elsewhere, Kodak Black's inclusion sours what are otherwise thoughtful examinations of toxic masculinity in practice. Kodak's features are hard to stomach given his history. There's asking for empathy, and then there's absolving an abuser – one who doesn't seem to seek repentance. It wasn't clever when Kanye did it, and it's not now. 
This is a complicated album that's unsafe at every turn. What ties it together, and allows us to largely empathise with Kendrick's point of view, is its framing as a journey towards healing. Kendrick is untangling his flaws in front of us. On 'Crown' and 'Savior' he rejects his position as rap deity out of self-preservation. By the closer, 'Mirror', he sounds as if he might step away from rap completely and choose himself.
Before then, the penultimate 'Mother I Sober' acts as the emotional apex of the record. It clicks all themes into place. His voice fried, he recalls his mother's mistaken belief that he had been abused by his cousin as a child, a paranoia stemming from her own familial abuse. Despite never experiencing this abuse first-hand, its generational effects latch onto Kendrick. Beth Gibbons of Portishead colours the song with her commanding vocal on a haunting chorus: "I wish I was somebody / Anybody but myself."
Unlike the cycles of abuse on 'We Cry Together', which sees Kendrick studying RZA and Eminem's 'Kim' for inspiration, 'Mother I Sober' paves a way out. It's a brave new sound for Lamar and for mainstream rap releases in general. 
Mr. Morale & the Big Steppers is a record that reaches out halfway and asks you to do the rest of the work, and it's deeply rewarding as a result.
Free Protomartyr flexi disc with this month's magazine
Subscribers to Loud And Quiet now receive a limited edition flexi disc of a rare track with their copy of the magazine
This month's disc is from Detroit punk band Protomartyr