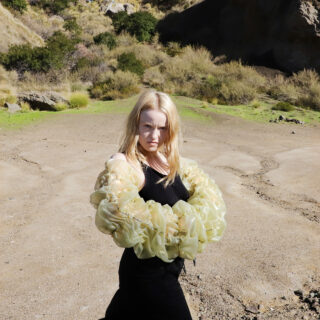 Much has been made about the geographic mobility that has come to define this self-produced debut LP by LA-based electropop songwriter KUČKA – she grew up between the north of England and Australia, before relocating to Los Angeles as an adult – but the more obvious influences shaping her on Wrestling are musical ones: the spirit of past collaborator SOPHIE is palpable throughout, as is the shape-shifting approach to electronica of Flume. Across twelve tracks, she slaloms through a variety of electropop lanes – the downtempo, contemplative 'Drowning' is crying out to be sampled on a hip hop record, whilst the fluttering, increasingly distorted synth line that winds it way through 'Afterparty', as well as a meandering spoken-word vocal towards the close, provide clear evidence of a willingness to experiment with the electropop blueprint. 
Elsewhere, the quietly colourful chaos of 'Joyride' feels like a nod to hyperpop, whilst 'Your World' takes the opposite tack, shooting for stadium-sized anthemics. There are a lot of ideas being thrown at the wall here and not everything sticks (the hybrid of trap-driven hip hop and synthpop that 'Eternity' attempts is a case in point) but it's not often that debut LPs emerge feeling as fully-realised as this. The myriad different directions in which KUČKA heads across the course of Wrestling add up to what feels like a carefully-crafted sonic aesthetic. A beguiling start.
New monthly memberships available
Here's a new thing: our membership scheme now has a pay-monthly option, plus a load of exciting new digital stuff for people who support what we do. It's actually excellent value, honest, and will help us continue to promote new independent artists and labels.
Sign up and you'll receive our physical magazines delivered to your door, our digital editions, exclusive podcasts and playlists and access to our EXTREMELY glamorous Members Lounge. You'll be the envy of all your friends.