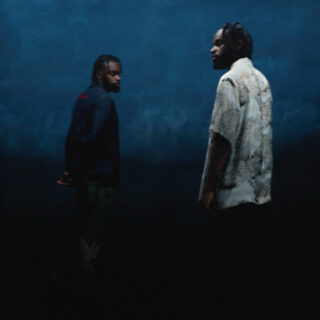 Mansur Brown
NAQI
(AMAI)
5/10
Mansur Brown is another of your south London jazzer types, this time a conservatoire-trained guitarist with a clear predilection for flamenco flourishes and early-'00s hip-hop beats. His debut long-player, NAQI, is very much a record of two halves: the first is all club bubblers cut from the same Timbaland cloth, full of swaggering syncopation and throbbing bass pads with elegant shifts in movement driven by ornate nylon-string guitar figures, while the back half comprises 20 minutes of explorations into and beyond multitracked solo guitar, heavily processed and looped to create a suite of sort of ambient/funk/new-age soup.
There's good stuff to be found in both of Brown's incarnations: on side A, the unusual chord voicings and progressions on 'No Way' inject a yearning that elevates the piece beyond a mere exercise in tasteful production, and 'Rise', with its glassy keyboards and synthetic flutes, is pleasingly uncanny. 'Path', on side B, meanwhile, has Princely nods towards emotional funk, and ten-minute finale 'Meikai' is chaotic but impressively cinematic when it eventually works out what it's doing.
Unfortunately, though, there's not enough variety or persuasiveness on either half to encourage more than a handful of repeat plays: once you understand the idioms in which Brown is working, a sense of the inevitable descends, leaving most of NAQI as a parade through the predictable. Game attempts are made at binding the two disparate halves through timbral pairings, but it's difficult to escape the feeling that this is an expertly played, performed and produced trudge.
Free Protomartyr flexi disc with this month's magazine
Subscribers to Loud And Quiet now receive a limited edition flexi disc of a rare track with their copy of the magazine
This month's disc is from Detroit punk band Protomartyr