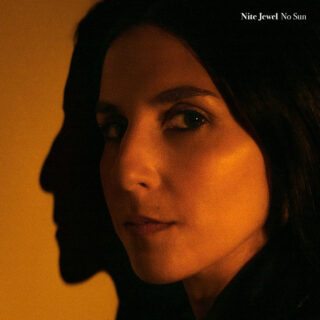 For Ramona Gonzalez, aka Nite Jewel, 2018 brought the end of one long-term love and the blossoming of another. Splitting from her husband, Gonzalez started a musicology PhD at UCLA within the year, focusing on female lament; on her fourth album No Sun she takes on the role of creative crier, a professional mourner of her own world of loss. Nite Jewel is completely in control of her own pained image and she uses electronic soundscapes to encapsulate raw emotion. 
Nite Jewel's fourth album carries itself as if it were a sound installation at an alternative art gallery. It is intricate but sometimes difficult to grasp. Each track moves unpredictably within its space; the synth production drips with loneliness and grief. Gonzalez's vocals run parallel to the aching tones of pain and her lyrics relay how lost she feels as she drifts in a whirlpool of negative feelings. What grounds No Sun is the cathartic energy that propels each track. Nite Jewel doesn't reach for a healing touch, instead finding a redemptive thread in electronic music. 
No Sun is a no-holds-barred record. Open and unguarded, Nite Jewel has rewired her bruised heart through a Moog sequencer. She captures pain via a lamenting soundtrack that groans in its mourning and reaches high levels of beatific appeal for respite. A wounded album, No Sun has moments where its sound is unrefined and rough. However, these instances add to Nite Jewel's forceful lamentation. One rush of melancholy after another, this record speaks for the lowest emotions possible, enlarging and honouring female pain in a hyper-modern way.
Subscribe now. Cancel anytime
Go on, give us a go
We love making Loud And Quiet – our magazines, this website, our podcasts and more – but it's become increasingly difficult for us to balance the books.
If you're a reader who'd like to help us keep the show on the road, please consider becoming a Loud And Quiet subscriber. There are options to receive our physical magazines and lots of other extras that are exclusive to our supporters.