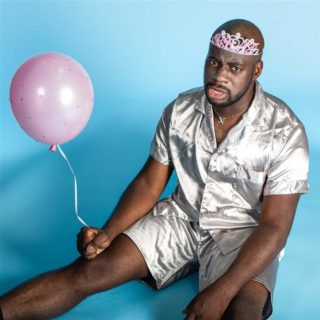 That Nnamdï Ogbonnaya has chosen to shorten his stage name for the release of this latest record should not be mistaken as emblematic of a streamlining process more generally. Those familiar with the modern-day renaissance man, and specifically his 2017 LP Drool, can attest to the fact that he has a thrilling disdain for genre boundaries and does not set self-limiting parameters; accordingly, Brat, his first album as simply NNAMDÏ, takes in everything from hip-hop to low-key synthpop, via the occasional jazz freakout. 
This is an album more indebted to his native Chicago than Drool, which took its cues from West African stylings in places, and the sense of greater musical cohesion that lends to proceedings is matched by a more singular thematic throughline than previously. Brat is an introspective collection, with opener 'Flowers to My Demons' – on which Ogbonnaya makes a pledge of self-care – setting the tone.
There's still room for eccentricity, not least on the avant garde-meets-industrial throwdown of 'Perfect in My Mind' or the nervy minimalism of 'Really Don't', but the palette is largely one more clearly defined than on Drool. Woozy, late-night R&B reminiscent of Frank Ocean or Sampha provides the backbone, in a manner that runs from the playful ('Semantics') to the profound (see 'Glass Casket', which provides the emotional axis for the rest of the record to revolve around). Like all of Ogbonnaya's output, there's a frantic energy to Brat that might prove a bit much for some, but there's also evidence of a control to the chaos that makes this his most compelling solo release yet.
New monthly memberships available
Here's a new thing: our membership scheme now has a pay-monthly option, plus a load of exciting new digital stuff for people who support what we do. It's actually excellent value, honest, and will help us continue to promote new independent artists and labels.
Sign up and you'll receive our physical magazines delivered to your door, our digital editions, exclusive podcasts and playlists and access to our EXTREMELY glamorous Members Lounge. You'll be the envy of all your friends.