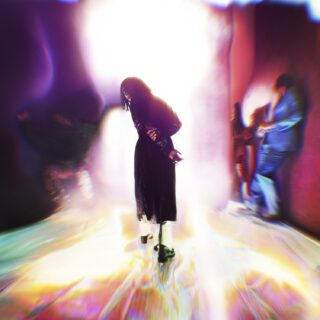 Obongjayar
Some Nights I Dream of Doors
8/10
"I know myself / I'm in charge of my own destiny," Obongjayar affirms on his long-awaited debut record, Some Nights I Dream of Doors. The mantra of the song, 'New Man', hears the London-based artist sing with quiet resolution, "Chasing perfection, no other option / No room for error". It serves as a declaration of intent that aptly encapsulates Obongjayar's trajectory towards this instantly captivating body of work. Across a career that's taken him from lowkey Soundcloud uploads to collecting high praise from critics and revered cultural institutions (his song 'God's Own Children' won Best Song Musically and Lyrically at last year's Ivor Novello Awards), Obongjayar increasingly appears to be among the most engaging voices of his generation. 
Even if you're not in the know of leading Soundcloud stars, there's still every possibility you've encountered Obongjayar's voice (although it must be said that more than one iteration of Obongjayar inhabits his material). He's front and centre delivering the silky hook permeating the irresistible 'Point and Kill' from Little Simz's critically acclaimed 2021 offering, Sometimes I Might Be Introvert. The reach of that song, in particular, is outstanding given the steady rise to the top for these two exhilarating forces in music. At the time of writing, 'Point and Kill' is creeping towards eight million streams, while the music video has clocked up three million views on YouTube. Elsewhere, Obongjayar is a thrilling presence across two tracks on Danny Brown's 2019 LP, uknowwhatimsayin. On that release via Warp, he was in good company, with the likes of Run The Jewels, Blood Orange and JPEGMAFIA also featuring on the tracklist. Before we continue to map Obongjayar's career, let's take a second to soak in the fact that these incredible opportunities predated the arrival of his debut record. For the six years leading up to this moment, and long before that, too, Obongjayar had been hard at work establishing himself as an authentically unique and vital artist.
Born in Nigeria, Obongjayar grew up in Calabar, Cross River State, a port city in the south of the country, close to the border with Cameroon. There, his grandmother raised him and his younger brother, before they moved to London and were reunited with their mother, who had lived there for a number of years. It was 2010, he was 17, and still Steven Umoh. Music was already an important outlet for him and something Umoh had a natural aptitude for. As he began to develop his talent, he also landed upon a moniker for his work, drawn from a combination of both his essence and his aspirations. Sharing his father's name, Umoh previously adopted 'Jayar', meaning junior. Not quite right, he added 'Obong' which translates as 'King' or 'God' as a prefix, and thus Obongjayar was ready to rule his destiny. 
Listening material for Umoh, before relocating to the U.K., mostly consisted of U.S. hip hop like  Kanye West, Usher and Nelly. Already aware of his vocal abilities, Umoh emulated the rap stylings of the transatlantic stars he admired. However, rapping as a primary medium of expression wasn't working. He was determined to find a style that felt natural to him. This desire to be distinct, but still true to his artistic vision, culminated in a dynamic vocal arsenal of gorgeous falsetto, gravelly-toned spoken cadence and honeyed tones in his singing. These are all abundantly displayed across Sometimes I Dream of Doors' equally diverse tracklist. Regardless of his cadence, one of the LP's most endearing aspects, intentional or not, is how Obongjayar often seems to be in conversation with himself. "Stop trying to please everyone else / Stop trying to fix everything," he gently coaxes himself on the uptempo 'Wrong For It'. Similarly, he builds himself up with more sage advice on the titular track, "I think it's time I stop running from myself". Meanwhile, 'All The Difference' and 'Tinko Tinko (Don't Play Me For A Fool)' vibe well off each other as a couplet exploring the throes and woes of young love.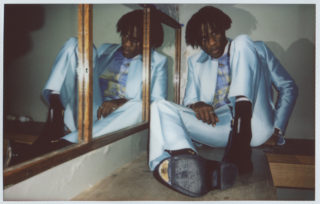 The variety in Obongjayar's cadence does well to separate the different characteristics of his lyricism. He utilises the scratchier vocal style in more impassioned moments, notably 'Parasite' where he criticises the Conservative government: "Politician pointin' fingers callin' me a leech / When they do all the leechin'". In those instances where his timbre snarls, as well as emphasising his emotion, there's a weight of age and experience beyond his years in those performances. In contrast, great warmth and tenderness emanate from Obongjayar on one of the standout moments of the record, 'I Wish It Was Me'. Heralding an introspective end to Some Nights I Dream of Doors, the song is a heartfelt text to his younger brother, "I pray that you never lose your star / I'm so proud of everything you are". Umoh's chameleonic nature in this regard is vastly impressive across the record. 
Having found his voice, Umoh needed a sonic base to fit his artistic vision. While still in his early 20s, Umoh left London and moved to Norwich for a brief period. Time away from the city was, as it turns out, just what he needed to craft his style. Discussing his musical influences and departure from London in an interview from 2019, Umoh said, 'If I hadn't gone, I'd be making drill or rap now…I met DJs who listened to soul, afrobeats, all this Detroit cool shit; I listened to Radiohead, Billy Bragg, Fela Kuti; I fell in love with musicianship." This breadth of reference is applied economically across his music. Umoh's appreciation for melody has been apparent since his 2016 debut EP, Home and grew stronger on Which Way is Forward from 2020. Obongjayar's greatest artistic asset in building his material begins with a confidence to make his words the central feature with subtly complex instrumentation simultaneously cementing all of the components together and providing interesting embellishments to the final product. 
From the outset, Some Nights I Dream of Doors presents itself as a texturally intricate work. One that the closer you allow yourself to get to, reveals many layers of subtle but effective touches within the arrangements. Lingering within the enveloping luminous synths on opening track 'Try' is a pervading air of melancholy passing like a cloud through the infectious chorus. The album's title track also thrives on minimalism. The reverb on the tempered keys lures you into the track before being replaced by a sinister drone which becomes the sole sonic component to Obongjayar's falsetto. Elsewhere the combination of whistle-solo with sophisticated sax on the buoyant 'Wrong For It' continues to loop around your mind long after hearing it. It makes for a really successful contemporary take on a pop ballad. As is the case, also, on the aforementioned reflective highlight, 'I Wish It Was Me'. The deft synth line sounds as though it's been submerged underwater and in the distance is a faraway quickened melody rippling steadily throughout, gradually entering the foreground before transforming into a truly  spectacular central motif as the song progresses and reaches its end.
Fela Kuti is often cited by Obongjayar as an important influence; in the past, he has partly described his music as being post-afro. Merging the unrelenting pulse of afrobeat rhythms with contemporary electronic textures and effects, as he does with great results on the claustrophobic 'Message in a Hammer' and 'Sugar', a denser offering to counter the sparser moments on the record, 'Sugar'. Elsewhere, Obongjayar follows a typically afrobeat-like cascading meter to establish the hook on 'New Man', a track which also incorporates lighter drill beats for a thoroughly gripping instrumentation.
Some Nights I Dream of Doors has all the trappings of an excellent debut. Crucially, it's a thorough, earnest and endlessly endearing introduction to the artist. Musically, the songs offer a range of soundscapes that exist like siblings. Born from the same source, but each with their own distinguishing feature to make for a dynamic yet cohesive listening experience from start to finish. Lyrically, too, Obongjayar shares immensely personal experiences and anxieties with such skill that the listener is able to recognise themself in his words. With this assured debut, Obongjayar declares himself as an important artist; you don't want to sleep on this guy.
Please support Loud And Quiet if you can
If you're a fan of what we do, please consider subscribing to L&Q to help fund our support of new musicians and independent labels
You can make a big difference for a few pounds per month, and in return we'll send you our magazines, exclusive flexi discs, and other subscriber bonus bits and pieces
Try for a month and cancel anytime