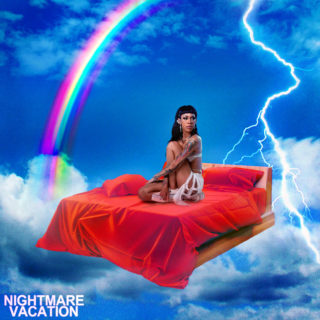 Rico Nasty
Nightmare Vacation
(Atlantic)
7/10
Rico Nasty is one of modern pop's last great shapeshifters. Citing only three people as her inspiration – David Bowie, Tyler the Creator and Nicki Minaj – since emerging from relative obscurity back in 2017, the rapper has made it her business to rage against any attempts to categorise or brand her work.
Until recently, the speed of Nasty's output has simply been too fast for most people to get a good grip on it. Dropping three mixtapes in as many years, 2020 had been curiously quiet by Rico standards, offering only a smattering of singles to tide the fans over – despite having an album ready to drop since last year. In September, she told the NME that the delay had been down to self-doubt over her creative process more than anything, explaining how she "made Nasty and Sugar Trap in around three months, and Tales Of Tacobella in a month. I made this album in a year… I hope that I'm not one of the people that over-perfected it and took away what [the fans] enjoyed."
The real Rico Nasty might have some very human doubts about her output, but the Rico Nasty on Nightmare Vacation certainly doesn't. From opener 'Candy' onwards, this album sees Nasty carving out her niche. Past releases may have bounced between rock, hard brutal rap and cutesy, kawaii-style pop, but the 14 songs here feel like Rico Nasty songs and nothing else. Even when she's teaming up Gucci Mane on 'Don't Like Me' or collaborating with 100 gecs on single 'OHFR', her intense delivery and hook-laden flows make sure she always stands out as the real star.
Basically, Nightmare Vacation is the soundtrack to Rico Nasty's graduation. It's short, aggressive and about as in-your-face as a Slipknot record, and it leaves you with the feeling that it could be the record that will finally cement Nasty as one of the most essential, vital voices in rap's current pantheon. I just hope the rest of the world is ready.