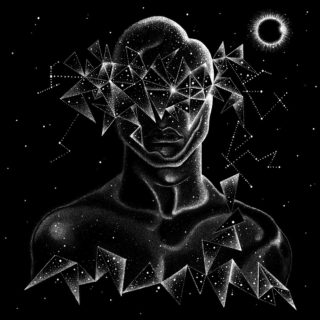 Shabazz Palaces
Quazarz: Born On A Gangster Star / Quazarz vs. The Jealous Machines
(Sub Pop)
9/10
"Who or what is Quazarz?" I hear you ask. Quazarz, of course, is, "a sentient being from somewhere else, an observer sent to 'Amurderca' as a musical emissary." So say Shabazz Palaces, and who am I to disagree? After a pair of superb, genre-bending LPs and a couple of equally fantastic extended plays, Ishmael Butler and Tendai Maraire have pushed the hip-hop envelope into a whole new galaxy and earned the right to do as they please, even if that does mean simultaneously releasing two albums with a sci-fi narrative that can be described, at best, as initially a little challenging.
'Quazarz: Born on a Gangster Star' and 'Quazarz vs. The Jealous Machines' are the product of what the pair describe as a sudden burst of energy. Rather than existing as a double album, though, the former functions as an introduction to Quazarz as he arrives in 'Amurderca' (I think it's a pun) to discover its brutality and lies, while the latter is the "extra-spacial twin" to its sibling, and sees the hero chronicle Amurderca's citizens' obsession with technology; a fixation that borders on the sensual.
But are they any good? The answer is a decisive 'Yes!' Shabazz Palaces have a tendency towards the overblown, sure, but they are extraordinarily original and that should be cherished. And while the narrative might be a little overwrought, it is built around a kernel of socio-political insight that lampoons modern day America's economic imbalance and inherent racism with quite a bit of success. Throw in the fact that these albums contain some of Butler and Maraire's outright catchiest work, and the 'Quazarz' suite is an unequivocal triumph.
'Eel Dreams', for example, a word association workout with a sumptuously fuzzy bass line and sweeping bands of spacey synths, is the pair at their playful neo-jazz best, while the wonderfully-named 'Fine Ass Hairdresser' pulls off its jarring triplets ("I've got my money / I've got my honey / I've got my gunny") by virtue of not taking itself too seriously.
Elsewhere, 'Moon Whip Quäz' functions as the albums' team anthem, a four-to-the-floor house tune based around 8 simple notes that will have you chanting, "Quazarz born on a gangster star," as though you know what it means. Album number two sees the pair indulge their penchant for free jazz more thoroughly than before, revolving around another superb title in the shape of 'Love In The Time of Kanye'. Drenched in reverb, it's an altogether rockier ride but all the more rewarding as its repeated chants reveal themselves with listens. I can't wait to see what Quazarz does next.