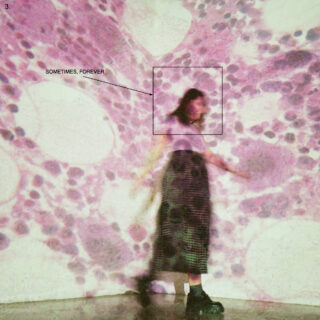 Soccer Mommy
Sometimes, Forever
7/10
If there's one thing the music industry is oversaturated with right now, it's prolific young female solo artists making confessional indie rock. As the exact target audience of this genre, I'm not complaining, but it can be hard for these artists to stave off the 'sad girl' tag and Phoebe Bridgers comparisons, and carve out a place for themselves as individuals.
On her third album, 24-year-old Sophie Allison, aka Soccer Mommy, makes a valiant effort to hone the grungy style which won her plenty of fans on her previous two releases, 2018's Clean and 2020's Color Theory, and in doing so proves she can hold her own against Bridgers, Snail Mail, Julien Baker, et al. 

Allison enlisted Daniel Lopatin, aka Oneohtrix Point Never, to produce Sometimes, Forever, and his behind-the-decks wizardry brings an added depth and sleekness to this record which is particularly evident on 'newdemo' and 'Darkness Forever'. These tracks' glitching synths and ethereal vocals call to mind Lopatin's excellent Alex G collab 'Babylon', yet still feel true to the DNA Allison has created for Soccer Mommy – intelligent, well-constructed rock songs which are as vulnerable as they are detached. 'Unholy Affliction' epitomises this sound while introducing an almost trip-hop drum beat, with Allison's vocal reminiscent of Massive Attack-era Liz Fraser.
There are lighter, poppier moments on the album too; recent single 'Shotgun' is a Cranberries-esque ode to summer romance, all catchy riffs and sweet 'ooh's. The more lackadaisical 'Following Eyes' is equally drenched in hazy nostalgia, and could almost be a cut from My Bloody Valentine's Loveless. But although it's easy to reel off the comparisons and potential references on Sometimes, Forever, Soccer Mommy has undoubtedly found a voice which is very much her own, and is only getting more accomplished with it.