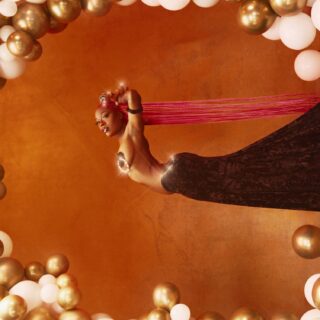 Sudan Archives
Natural Brown Prom Queen
5/10
Back in 2019, Brittney Parks, better known as Sudan Archives, had a big breakthrough. A violinist since an early age, she became famous for her live-recorded looped strings, and confirmed her talent with her debut album, Athena, written from the point of view of a divine creature floating above the world. 
Now, back with her sophomore work Natural Brown Prom Queen, Parks leaves the supernatural powers behind to become Britt, a not-so-fictional alter-ego, described as "the girl next door from Cincinnati who drives around the city with the top down and shows up to high-school prom in a pink furry bikini with her thong hanging out her denim skirt." And more, "Natural Brown Prom Queen is about discovering your worth, and manifesting a life around that understanding. It's about making progress – as a Black woman, as a partner, and as an individual."

The call for a strong change, though, hasn't been quite enough to make an equally strong album. Although there are tracks that mix impeccable production with a powerful message – as the title track, 'Selfish Soul', or 'Homesick (Gorgeous & Arrogance)' – there are some, like 'Ciara', which fail to convey their meaning and turn into preposterous, almost caricatural fictions. And it's a pity, because where lyrics are weak, the solid sound and superbly-crafted beats that distinguish this album and mark a significant step forward from Athena feel like a lost opportunity for Sudan Archives.