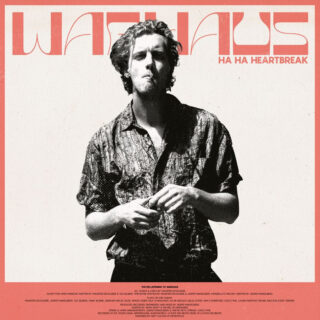 Warhaus
Ha Ha Heartbreak
(PIAS)
7/10
Since his 2016 debut album, We Fucked a Flame Into Being, Belgian singer-songwriter Warhaus' sound has nestled in the hazy realms of romantic melancholy. His first two albums, the aforementioned and his 2017 self-titled follow-up Warhaus, are undeniably for the night-time romantic – slow, sentimental, and cinematic. Best paired with cracked cups of red wine.
However, if his first two records revelled in the intoxicating presence of love, then his latest Ha Ha Heartbreak is a record reeling in its absence. His collaborator and ex-partner Sylvie Kreusch, whose smokey-noir vocals lit up the dark passages of the first two albums like a lunar presence, has parted ways. The challenge of Ha Ha Heartbreak therefore becomes how to cope in her absence, both emotionally and musically. 
Warhaus' strength in his previous albums was opening up alleyways of sound to inject his dynamic kitchen sink approach to music within – and on opener 'Open Window', not much is noticeably different. The track's brittle existence is a cathedral of mist, built upon simple guitar chords to line the path for an infusion of strings, piano, and vocals that prelude a slow-motion evaporation with its mightily extended outro. It embodies the trademark Warhaus sound: a sort of lounge music you'd hear in purgatory.
From there-on in, it's more a case of trial and error to see what works. 'I'll Miss You Baby' is a strange new venture that has The Bends-era Radiohead sound coupled with snatches of Donna Summer disco tempo vocals that mostly works. Closer 'Best I Ever Had' goes beyond the early Nick Cave and the Bad Seeds influence that is ubiquitous in Warhaus' first two records, and instead connects with the atmospheric intrigue of his later releases, in particular Ghosteen.
However, it's the Belgian rock influences that creep in that are the most resounding successes. The temporal and stylistic shifting genius of severely-underheard Belgian group dEUS is notable in 'Shadow Play' and 'Time Bomb' – with a passing resemblance to the Antwerp group's late-stage masterpiece Pocket Revolution. 
Vocally, there appears to be a tonal shift too. While the booze-drenched vocals of Tom Waits, Leonard Cohen, and the aforementioned Nick Cave were previously used to describe Warhaus' surly vocal style, in Ha Ha Heartbreak it's the battle-scarred optimism of the late, great Belgian singer Arno that fits better. With a lighter inflection added to Warhaus' arsenal, it allows the record to unlock a brighter register of sound on tracks such as 'Batteries & Toys'.
For fans of Warhaus' traditional loose, ramshackle, and cinematic sound, there's a lot to dig into here, but it's in the dark absence of Sylvie Kreusch where the real intrigue of Ha Ha Heartbreak lies. It's in those uncomfortable silences and transitions that this album really beats. That being said -you get the sense that Warhaus hasn't quite got it figured out yet – that Ha Ha Heartbreak isn't the fully-formed next iteration of Warhaus, and more a necessary post-break-up night of the soul where it all falls apart before being put back together again.
Please support Loud And Quiet if you can
If you're a fan of what we do, please consider subscribing to L&Q to help fund our support of new musicians and independent labels
You can make a big difference for a few pounds per month, and in return we'll send you our magazines, exclusive flexi discs, and other subscriber bonus bits and pieces
Try for a month and cancel anytime