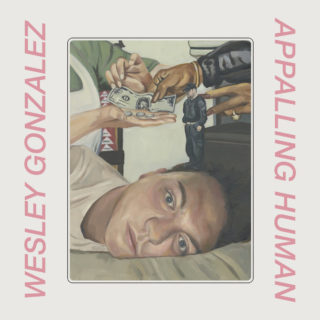 Wesley Gonzalez
Appalling Human
7/10
A NOTE: LOUD AND QUIET IS IN DANGER OF CLOSING. PLEASE CONSIDER SUBSCRIBING TO OUR MAGAZINE OR MAKING A SMALL DONATION HERE. THANK YOU.
Should you run from the past, or celebrate it? Appalling Human, the second solo effort from Wesley Gonzalez, attempts to answer this question, one bassline at a time. 
As counterintuitive as it might sound, the former Let's Wrestle man has attempted to distance himself from his scratchy indie past by delivering an album full of funky pop. We're talking walking basslines, synthetic squelches and straight-up jams. The whole shebang. There are no half measures here. 
Opener 'Tried To Tell Me Something' swims in nostalgic 1980s shimmer. At first things seem a bit odd, but as soon as the synth-plucked sunshine breaks through, you're carried along for the ride. A ride away from the dreary English present to a much more welcoming, carefree future. 
This funky feeling is spread throughout the record. Comparisons to Metronomy's later output might feel obvious, but are hard to avoid. 'Friend At First' And 'Fault In Your Design' could have been plucked right out of Joe Mount's technicolour songbook. The former saunters along like a warped night in the local, while the latter takes things one step further with the sort of groovy disco reflection that hits the heart as much as the dancefloor.
By the time things reach a climax on 'Did Get What You Paid For?', the transformation is complete. Wesley Gonzalez is his own man now, and he's much the better for it.
So the next time someone tells you you've got to face up to your past, point them in the direction of Appalling Human, a record that makes a convincing argument that a good bassline can solve most of life's big problems.
New monthly memberships available
Here's a new thing: our membership scheme now has a pay-monthly option, plus a load of exciting new digital stuff for people who support what we do. It's actually excellent value, honest, and will help us continue to promote new independent artists and labels.
Sign up and you'll receive our physical magazines delivered to your door, our digital editions, exclusive podcasts and playlists and access to our EXTREMELY glamorous Members Lounge. You'll be the envy of all your friends.