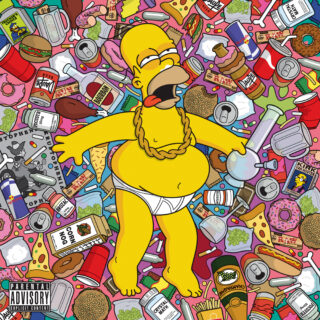 White Girl Wasted
White Girl Wasted
(Daupe!)
8/10
It doesn't matter what you're flogging, scarcity creates value. Just ask Brighton's Daupe! Media. Known for its physical-only releases, with artists maintaining full ownership of their music, the label's unofficial 'quality not quantity' slogan has cultivated a cult-like community of hip hop heads who have become synonymous with crashing Bandcamp each time the latest limited vinyl or cassette drop hits its digital shelves. 
Label boss Lawrence Lord, aka The Purist, is a musical conservationist of sorts. In the age of all-you-can-eat streaming, the knowledge that hordes of fans are still flocking to cough up 20 quid for an album is good news for the preservation of value in music. His belief that music should go beyond what is expected to look, feel, and sound special is what distinguishes Daupe! apart from Spotify's monthly £9.99 subscription fee. 
Responsible for some of the most recognisable tracks by Action Bronson, Danny Brown, CASisDEAD, Freddie Gibbs and Loyle Carner, Lord returns to the production desk alongside underground Birmingham rapper Sonnyjim for one of Daupe!'s most anticipated projects to date. Enter, the powdered nose of White Girl Wasted. 

Just a quick glance over some of the featured artists is enough to steal your attention. The pair's debut moniker calls in beat-making reinforcements from Madlib on the trip-inducing 'Does Mushrooms Once', and even some posthumous bars from the late MF DOOM on 'Barz Simpson'. Lord's lo-fi, sample-hungry production is riddled with slick, baggy beats and stories of 4AM debauchery as he weaves together a selection of well-referenced internet memes that reminisce over Leo Dicaprio's Wolf Of Wall Street penchant for top-of-the-range quaaludes and Paris Hilton's sheepish court confession over cocaine possession.    
It shouldn't come as any surprise, Daupe! is known to wear a wry smile around drug use – one of The Purist's previous LP drops featured a Pyrex kitchenware-inspired cover with a home cook's instructional recipe on how to knock up crack cocaine detailed on the inner sleeve. Similarly brazen easter eggs litter the lyric sheet on White Girl Wasted. Be warned, copies usually sell out in minutes, so count yourself lucky to get your hands on this one.