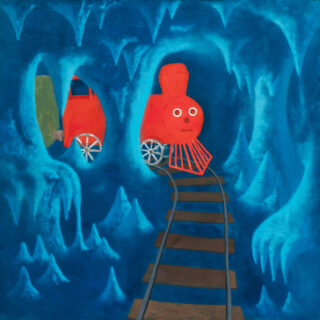 From the moment its brief opening track 'Find An Hour' bowls into earshot, its spiralling vocal sample wrapping snake-like around a drum groove that sounds as brittle as it does effortlessly in-the-pocket, it's clear that with their second album Wilma Vritra have made a hip-hop record quite unlike any other you'll hear this year. Utterly self-assured yet audibly vulnerable, meticulously constructed yet compellingly naturalistic, their second project together is an incredibly rich, knotty piece of work, dense with invention and intrigue. These two artists – Newcastle-via-London producer Wilma Archer, whose production and composition credits include work with pop-focused heavy hitters like Jessie Ware and Celeste, and LA-based Odd Future affiliate Vritra (aka Pyramid Vritra or Hal Donell Williams Jr.) – have blended their disparate styles and backgrounds almost seamlessly, without losing any of the eccentricities that make their separate work so appealing. 
'Double Vision' is astonishingly good, slinky drum machines and a suggestive, melancholy bassline giving ample breathing space to Vritra's steady, laidback flow. His vocal approach is a wonder all of its own, melodic and graceful without ever losing its conversational heart; even when he speeds up or weaves a complex rhythm into a tight bar, it sounds entirely natural, as if he's lighting up at the sight of an old friend walking unexpectedly into the room.
It's not all perfect, and lags a bit in the mostly instrumental final third, although evenly-spaced highlights like 'One Under', 'If Possible' and 'Safe Passage' ensure we're never far from something exciting. This is a truly fruitful, satisfying linkup – long may it continue.
New monthly memberships available
Here's a new thing: our membership scheme now has a pay-monthly option, plus a load of exciting new digital stuff for people who support what we do. It's actually excellent value, honest, and will help us continue to promote new independent artists and labels.
Sign up and you'll receive our physical magazines delivered to your door, our digital editions, exclusive podcasts and playlists and access to our EXTREMELY glamorous Members Lounge. You'll be the envy of all your friends.