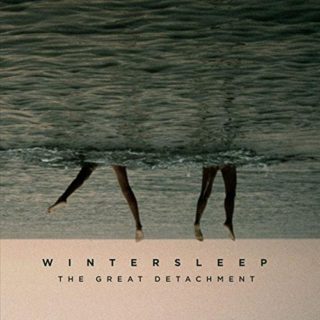 Wintersleep
The Great Detachment
6/10
Wintersleep have often felt like the also-rans of the early-00s Canadian indie invasion. But despite an influence that hasn't resonated far beyond their home nation – in the same way as, say, Arcade Fire – they've continued to walk a steady and reliable path, with five pleasant if somewhat indistinguishable albums released over the last fifteen years, and a Juno Award along the way for their troubles.
Album number six has three main gears – anthemic stadium sing-alongs that will play well live ('Amerika' and 'Spirit'), tracks with a little more bite, which play well on record ('Santa Fe' and 'Love Lies'), and songs like 'Shadowless', with its whirring, hypnotic denouement, that nudge them closer to esoteric territories. There's enough here to keep established fans involved, while being accessible for people new to their expressive indie-rock hybrid, even if, no, 'The Great Detachment' will not see Wintersleep suddenly rule the world. Still, in adding a layer of freshness to their sound, and a rousing new collection of songs to their catalogue, they feel like a band invigorated.
We're not being funny...
… but can you become a member please?
It's actually excellent value, and will help us continue to promote new independent artists and labels.
Sign up and you'll receive our physical magazines delivered to your door, our digital editions, exclusive podcasts and playlists and an actual bookmark, as if printing a magazine in 2021 wasn't old fashioned enough.
6-month and full year memberships are available now. Fancy it?