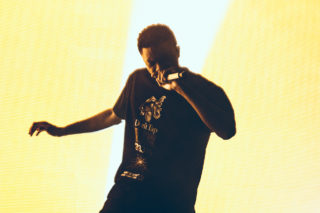 Primavera Sound 2018: Come watch these 14 artists with us in Barcelona this week
Nerding out at this year's line-up
Glastonbury has the wizards, Coachella has the palm trees, but year after year Primavera Sound has THE BILL. The Spanish festival has gone big with the headliners this year. There will be Nick Cave and the Bad Seeds returning to the Parc Forum, Björk performing one of her first shows in support of 2017's 'Utopia' and Lorde will (hopefully) bring her transparent tilting box.
Just weeks after the release of 'Tranquility Base Hotel + Casino' well, we'll see what Arctic Monkeys can do with that.
We're going to be there from Wednesday – here's our pick of the stuff a bit further down the bill that'll help you navigate one of the most exciting and diverse programmes the festival has ever put together.
Who: Spiritualized
What: Jason Pierce – AKA J Spaceman – the sole permeant member of Spiritualized backed by an orchestra and a choir at this opening night indoor show.
Where: Auditori Rockdelux
When: Wednesday, 20.00
Who: Delorean present… Mikel Laboa
What: For their latest project the electronic-pop foursome present their take on the music of the influential Basque folk artist.
Where: Auditori Rockdelux
When: Thursday, 16.00
Who: Shellac
What: The only band to have played almost every edition of the festival. Missing them is like not wearing your Kanye shutter shades to Wireless.
Where: Adidas Originals
When: Friday, 21.50
Who: Anna von Hausswolff
What: 'Dead Magic', AvH's recently released fourth album, is a classical-anarcho-intergalactic-drone-punk-noise album played on a fucking massive church organ. Bring earplugs. Wear black.
Where: Adidas Originals
When: Thursday, 2145
Who: Vince Staples (pictured)
What: The Long Beach rapper's live shows rely on one thing: his natural charisma. After Björk's main stage set, this is where party starts, probably with Staples doing it all himself.
Where: Pitchfork
When: Thursday (into Friday), 00.40
Who: Nils Frahm
What: Nils Frahm has so many synths and pianos on stage with him it looks like he's opening a shop – he'll bring his trance-like live show into a festival setting to make sure we're all behaving ourselves.
Where: Primavera
When: Thursday (into Friday), 01.45
Who: The Internet
What: A rare European live show from our current magazine cover stars – Syd, Steve Lacy and co. playing material from their forthcoming new album 'Hive Mind'. Funky.
Where: Pitchfork
When: Friday (into Saturday), 00.20
Who: Idles
What: This'll be an absolute smash-up. Material from 'Brutalism' played against Primavera's brutalist architectural backdrop.
Where: Adidas Originals
When: Friday (into Saturday), 01.25
Who: Ross From Friends
What: Those going hard on the first night, the glitch-dance vibes from Felix Weatherall is the best place to end up. Get down there and shout 'How you doin" to others. It's funny because it wasn't Ross who said that. It was Chandler.
Where: Pitchfork
When: Thursday (into Friday) 04.10
Who: John Maus
What: Outsider pop philosopher John Maus will no doubt be violently twisting himself through a set of his 80s darkwave, these days accompanied by a band.
Where: Pitckfork
When: Friday, 19.15
Who: ARCA
What: Alejandro Ghersi's live shows are performances. Expect the costume changes of a pop star and blasts of sound like a jet engine. It'll also be super weird.
Where: Pitchfork
When: Friday (into Saturday), 02.15
Who: Peter Perrett
What: In 2017 The Only Ones singer re-emerged from 20 years of drug-fuelled exile to make music again – he'll be playing material from the solo album it took him 40 years to make.
Where: Ray-Ban
When: Saturday, 18.30
Who: Jane Birkin
What: Singing songs from her homage record to Serge Gainsbourg accompanied by a 50-piece orchestra. Don't get that at Rize festival.
Where: SEAT
When: Saturday, 19.50
Who: Gaika
What: Part of the Warp Records showcase taking place in Primavera's new 'Warehouse' area, expect combative, distorted dancehall from the London experimentalist.
Where: Warehouse
When: Saturday, 23.30
Who: DJ Coco
What: This is where you end your Primavera weekend. It's the law.
Where: Ray-Ban
When: Saturday (into Sunday), 04.15
New monthly memberships available
Here's a new thing: our membership scheme now has a pay-monthly option, plus a load of exciting new digital stuff for people who support what we do. It's actually excellent value, honest, and will help us continue to promote new independent artists and labels.
Sign up and you'll receive our physical magazines delivered to your door, our digital editions, exclusive podcasts and playlists and access to our EXTREMELY glamorous Members Lounge. You'll be the envy of all your friends.