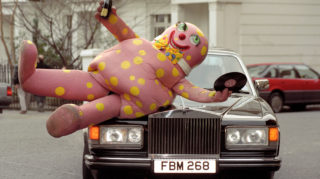 Slade set the trend for good, honest music videos for Christmas songs… and then Mr Blobby shat on it
A brief history of festive clips
In Iceland they read books. In Australia they go to the beach. In Britain, we celebrate the birth of Jesus Christ by betting on which shit song will sell the most copies. It's this kind of behaviour that makes us international leaders in culture.
As a UK native I am deeply conflicted by this tradition. On the one hand, I loathe Christmas songs and all the drivel, dross and twaddle they come with. For me, hell would be soundtracked by a continuous loop of Radio 2's Christmas programming. On the other hand, my inbuilt passion for self-sabotage means that I can't help but enjoy the fact that we come together to celebrate not faith, family or hope for humanity, but truly tasteless music. It is one of the few things that unites us as a nation.
But we haven't always had Noddy Holder and his exceptionally ugly elves to help us out in this cause; there was a time when we harmonised to 'Deck the Halls' rather than screaming "IT'S CHRISTMAS!" into our friends' faces. So how did this crass custom come about, and is it still going strong? Let's turn to the archangel YouTube to find out.
Merry Xmas Everybody – Slade
As Christmas heroes go, Noddy Holder is a pretty unlikely one. A gurn-faced, sideburn-toting rocker from the Black Country, he's hardly an angel you'd stick on top of a Christmas tree – switching on the Blackpool lights would be more his thing. But the lord works in mysterious ways, and so it is Holder's fanfare that announces the annual coming of fairy lights and credit card debt.
'Merry Xmas Everybody' was, in fact, the first Christmas number one in the modern sense. Released on 7 December 1973, it beat Wizard's 'I Wish it Could be Christmas Everyday' to the top spot, ushering in the era of novelty pop songs vying for sales supremacy.
Slade's Top of the Pops performance isn't a music video as such, but it captures the carefree spirit of the song. The band play in a getup that could best be described as 'clown-chic' for a vaguely enthused audience of teens and children. A brave few attempt to pump their fists in time to the music (they fail). Noddy wiggles his hips in the manner of a sherry-soaked septuagenarian (he's rubbish). Yes it's naff, but this is honest, irony-free entertainment.
Mr Blobby – Mr Blobby
At first, artists attempted to follow Slade's star by writing good songs and making honest videos. Sometimes they succeeded ('Lonely This Christmas', 'Do They Know It's Christmas?'), sometimes they failed ('Mistletoe and Wine', 'When a Child is Born'), but either way they made an effort.
Then came along came Mr Blobby, and everything changed. Set to a fart-based beat, it is a song that eschews all logic; the sort of sickness that could only have come from the demented head of Noel Edmonds. It's also – and it pains me to say this – rather brilliant.
For those that don't know, Mr Blobby was an obese Dalek with a skin disease, who terrorised the nation circa 1992-1997. This single heralded his coming through the prophetic lyric: "your influence will spread throughout the land."
The video begins with a rather well-realised space launch sequence, a portent of the meaningful three minutes and thirty seconds we are about to witness. Our saviour arrives not on a donkey, but in a pink convertible driven by Jeremy Clarkson (he was, lest we forget, a prick in the '90s as well). Children then swarm Blobby, who cavorts, careens and careers. Sexual acts are performed on his being. Carole Vorderman and Garth Crookes endorse him with their presence.
I endorse him too: nice one, Mr Blobby.
Perfect – Ed Sheeran
At the time of writing, it looks like Ed Sheeran is the best bet for a 2017 Christmas number 1 by a living artist. His habitual ugliness harks back to the Christmas acts of the '70s, but unlike Holder and Co. there is no innocence to what Sheeran does: he is a soulless song selling machine. In 'Perfect', we witness Sheeran on a skiing holiday with his attractive and insufferable friends. They drink beers, down shots and ski along dark slopes while wielding flares, all the action captured in crisp HD.
One of them is a pretty lady, who at first ignores poor Ed. He then plays her a song he's written and she starts crying, but not in pain – she's crying because she now loves Ed, and is drawn to his personality (and wallet) like a fly to a succulent turd. They dance under the moonlight in their pyjamas.
Conclusions:
The '70s was a golden age for Christmas. Not only did fashion dictate that you dress like a prat all year round (a shit jumper was for life) but also blackouts, race riots and the fact that the Internet hadn't been invented yet meant 25 December was a date people genuinely looked forward to. Novelty Christmas songs were an innocent affair.
However, we are now living in a Yuletide hinterland. Festive jumpers are no longer valued for their heat-trapping qualities, but instead as items of ironic projection. Families gather not for a sense of communion, but rather so they can watch television in separate rooms using Sky Multiscreen. Carole Vorderman and Jeremy Clarkson are still at large, only their faces and careers have been utterly distorted.
And yet, the fact is that Ed will probably not be number one this year. His song is too smooth, too American – a Tiffany ring rather than a plastic dog turd. When artists turn out dross like this we react by sending a totally inappropriate song to number one ('Killing in the Name', for example). Sheeran is – and I can't believe I'm writing this – not crap enough to be Christmas number one. So long as that holds true, all hope for Christmas is not lost.
Loud And Quiet needs your help
The COVID-19 crisis has cut off our advertising revenue stream, which is how we've always funded how we promoted new independent artists.
Now we must ask for your help.
If you enjoy our articles, photography and podcasts, please consider becoming a subscribing member. It works out to just £1 per week, to receive our next 6 issues, our 15-year anniversary zine, access to our digital editions, the L&Q brass pin, exclusive playlists, the L&Q bookmark and loads of other extras.