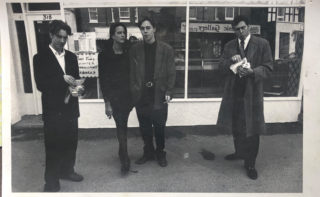 Sweet 16: Baxter Dury and his drug dealer nanny, the Sulphate Strangler
Baxter revisits his teenage self for our latest column
This photo was taken at a funeral in 1989, for a bloke whose real name was Pete Rush, but he was referred to as the Sulphate Strangler. He was this strange character that had worked for dad [Ian Dury] in various different capacities. He was a roadie by definition, and had worked with Led Zeppelin, but he was also a drug dealer really, who sold and took a lot of speed, so he became known as the Sulphate Strangler, because every now and then he'd strangle someone. I don't think he'd terminate them, but it was his speciality as an enforcer. He worked for Boy George and Freddie Mercury, and he was a colourful character who you wanted around – very funny. And dad liked to continue the stage act off stage, so he moved him into our house in the mid-80s, and he'd work for dad, driving him around and getting the shopping. At the same point, I was pretty chaotic. I'd been thrown out of a couple of schools and was a bit unscheduled, and as a bit of a brave social experiment dad decided it would be good if I just lived with the Strangler for a while, while I started a new private college. He kind of became my nanny, but I think my dad was trying to show me the edge so that I never fully jumped over it, because this guy was basically the most irresponsible person you could ever leave a child with.
In due course, we really bonded. He'd drive me to college in a tiny, white Nissan with a kamikaze sign on the front window that you could barely see out of, and he was so big you couldn't sit in the front with him. He'd drive me to school and freak everyone out.
Most of the kids at the college had been thrown out of top public schools – seriously wealthy people who I'd never come across before. For about a week I was disgruntled, and then I had a complete ball. They were the most radically lawless people I'd met, with access to houses and cars and drugs. It was incredible. And the teachers were amazing. The first one I met gave me one of her Rothmans. It was the first year of GCSEs and she cheated our first exam to give us a sign that she was on our side, and I thought, this is the best place I've ever been.
So the Strangler and I sort of coexisted relatively well. I mean, he was pretty nuts. Every now and then he'd drive me to school and someone might carve him up in a lane of traffic and then he wouldn't actually drive me to school anymore, he'd spend 40 minutes chasing that person.
He died in a police cell in Bournemouth, which is where he was from. They all knew him there, but he must have died of a heart attack or something in the night. I mean, he was an insanely unhealthy bloke. So the funeral was in Bournemouth, and barely anyone was there, which was really unfitting for a man who was best friends with people like Phil Lynott and Lemmy. They'd always said that at the Strangler's funeral he was going to have this big glass coffin and everyone was going to do lines of speed off of it, but that didn't happen.
My sister drove my old man, and he made her wear a chauffer's hat. And this might be bullshit – because that happens with me, where I've got this great story and I still embellish it – but I've got a feeling we stopped at a pub on the way to meet someone that may have escaped from an open prison, and we met him because dad wanted to get the uniform off of him to wear to the funeral.
Over all, I was alright, though. I didn't leap into too much craziness. So maybe it worked.
As told to: Stuart Stubbs
Check out previous Sweet 16 columns with the likes of Anna Meredith, Wayne Coyne, Adam Green, Carly Rae Jepsen, Riz Ahmed, Johnny Marr, Shirley Manson, Matt Helders and many more. Or listen to our Sweet 16 live podcast series.
Please support Loud And Quiet if you can
If you're a fan of what we do, please consider subscribing to L&Q to help fund our support of new musicians and independent labels
You can make a big difference for a few pounds per month, and in return we'll send you our magazines, exclusive flexi discs, and other subscriber bonus bits and pieces
Try for a month and cancel anytime