AIR: After 20 years, is Nicolas Godin's and Jean-Benoît Dunckel's journey into space is over
"When we started our careers, we were at the party for a French singer who was celebrating his 40th birthday," remembers Nicolas Godin, sat in a sun-drenched garden opposite Air's swanky hotel in Barcelona. "I said, my God, how can he be celebrating that? How can it be funny, how can he laugh and dance? I would be so depressed! I was there at the bar, 26, drinking some champagne and then…" He clicks his fingers. "It goes so fast, you don't even know it."
Sat alongside the rakishly handsome Godin, now 46 years old but auburn locks still flowing, and his baby-faced bandmate Jean-Benoît Dunckel, a collective mid-life crisis for Air seems premature. But it's true that the band have been a going concern for over 20 years now, ever since that party in Paris. In that time the pair have done much to shape how the English-speaking world conceives of French music; a gateway to Gallic insouciance and cool from Jean Michel Jarre to Serge Gainsbourg.
Released back in 1998, debut LP 'Moon Safari' set the template and benchmark for all that would follow: sophisticated, downbeat electronic pop with a playful, sexual frisson. It's a landmark record that at once epitomised the Air concept (the band's name stems from an acronym, "Amour, Imagination, Rêve," or "love, imagination, dream") and one that perhaps even Godin and Dunckel would argue that they've never bettered. 'Moon Safari' also made an indelible impression on thousands of teenagers like yours truly, growing up and clumsily navigating the opposite sex.
Since then, the two have released eight further albums that have oscillated between pop-minded accessibility ('Talkie Walkie') and ambitious experimentalism ('10,000 Hz Legend'). The duo have also carved out solo careers for themselves. Less than a year ago, I was over in Paris speaking to Godin for Loud And Quiet about his own first album, the superb, Bach-inspired 'Contrepoint' (I'd like to consider Godin and I are best friends now but I'm afraid it might be a one-sided arrangement).
In celebration of reaching the 20-year milestone as a band, last month Air released the sensibly-titled compilation 'Twentyears' on Parlophone. "We wanted to go back on tour and to play live," Godin says. "We didn't want to make an album because if you do, it'll postpone the tour. So I think the compilation was a compromise."
To that end, 'Twentyears' has served its purpose. As we speak, Air are in Barcelona for a big stage, sundown slot at Primavera Sound and are touring Europe and beyond over the summer. Of course, there's a broader, almost philosophical question of whether so-called "greatest hits" LPs serve any purpose in the modern world of Spotify and self-curated playlists. All the same, the release takes in a smattering of the band's most popular tracks throughout their two-decade career that should satisfy casual fans, even if a bit more adventurism might have done better at showcasing their ambition.
"It was horrible," Godin says of putting the collection together. "We have different tastes, then there's the audience, there's the record company. I'll never do that again in my life!" He lets out what sounds like a genuinely pained sigh. "Making a compilation, you can't decide; it's like picking between your children. There are amazing songs that aren't on there. I mean, it would be like that for any band."
Still, the opportunity to tour their back catalogue is one that Godin and Dunckel aren't taking for granted. "It's kind of an achievement to be on stage and to be able to play a classic piece of music that you actually wrote," marvels the former. "It's a great feeling, truly. As soon as we picked up our instruments to practice [for the current tour], we said, wow, what good chords, what good melodies. The production of the records, the sound, the orchestrations…" He pauses for a moment to reflect, the sun glinting in his shades. "We did such a good job, you know. It's incredible to play."
Godin and Dunckel both grew up in Versailles but weren't yet friends in the Parisian suburb. In fact, the pair first met playing in an alternative band named Orange, in Paris. Dunckel had earlier joined the group, before a bandmate introduced Godin into the mix. Air actually began as Godin's own project: an architecture student at the time, the sometime amateur musician was asked by a childhood friend to write a song for a new compilation to be released by Source, the small independent French label. Having then contributed 'Modulor Mix' and seen this re-released on British label Mo' Wax in 1996, Godin asked Dunckel to join Air full-time soon afterwards.
Despite the auspicious start, Godin doubted the project would go anywhere. "I thought that we would never make a musical career because my own taste was so different from everything on the radio in the eighties and nineties," he recalls. "I really hated everything coming from the French music scene, it was pretty depressing. The sound of the sound engineers, the way the drums were played, the sound of the guitar players. It was just the worst thing!"
Nonetheless, following a series of maxi-singles for Source – which were ultimately gathered up and released on the excellent 'Premiers Symptomes' double EP in 1999 – Godin and Dunckel were asked to record a whole album. After working in a studio near Paris for several months with freelance engineer Stéphane Briat, the resulting retro-futuristic record, 'Moon Safari', was a near-instant classic. "Ever since I was a child, I'd dreamed of making a classic album – and I actually did," Godin said to The Guardian recently. "The night we did 'Sexy Boy', I knew my life would change."
He was right. 'All I Need', 'Kelly Watch the Stars' and 'Sexy Boy' – with its raunchy, drop-D bass riff – soon wound up in the charts and in heavy rotation on MTV. 'Moon Safari' went Platinum in the UK, Gold in France and positioned Air as figureheads for French pop music abroad, though the pair never felt fully accepted in their homeland. "When we first had success it was coming from England, actually," adds Dunckel, by far the shier of the two but finally weighing in with the same velvety soft accent as his bandmate. "We had English singing [from American vocalist Beth Hirsch] so it was perceived in France as something more Britannic."
Godin is typically far less diplomatic, putting it down to French taste in music instead – or lack thereof. "In England you are the aristocracy of rock and pop, you know? This is really something you're good at. In France we are very good for other stuff, like fashion, art and stuff like that. But for music… 'Moon Safari' was hard for us to even tour outside of Paris."
Regardless, the LP also served to differentiate Godin and Dunckel from the harder-edged, house-focused French Touch scene of the time, even if the pair were enjoying the stuff being put out by exponents like Daft Punk. "There was a good energy in the city between '94 and 2000," says Godin. "It was the best parties, the best DJs, we had this amazing house music scene, we were young, had a similar group of people; group of friends. It was crazy cool and it was the place to be for four or five years. It was something very Parisian with good moments; good memories."
From that point on though, he remembers when the scene began to sour. "After Daft Punk started to be successful, then the fun disappeared because everyone wanted to make money. Everyone started to change their style to try to make big singles like 'Around the World'. A lot of these cool guys – who were making underground dance music before – started to try to write a hit single. It was horrible! And then the record companies started to sign some of them."
Never truly belonging to the French Touch scene – and having enjoyed success of their own – Air weren't under the same pressure to commercialise as some of their Parisian peers in the wake of Daft Punk's chart-friendly 'Homework' LP. After touring, the duo followed up their own hit record with a soundtrack to Sofia Coppola film The Virgin Suicides – its gorgeous strings-and-piano-driven tracks, like 'Playground Love' and 'Dirty Trip', deserving of attention in their own right – before taking a complete left-turn with the darkly esoteric '10,000 Hz Legend'.
Some critics and fans struggled with the sharp change in tone from 'Moon Safari'. Even the band themselves admit that they might have strayed too far, too soon from their breakthrough debut ("It's much too complicated for me," Godin said when we spoke about it last year). Yet the release is symptomatic of the streak of individuality and daring that Air were conscious to maintain right from the start.
"We didn't move to London at the time, or LA. We kept our originality," Godin argues. "Otherwise we would have been part of a professional world and we never wanted to do that really. We wanted to be more like normal guys who do some crazy stuff in the studio with free spirit, you know?"
"It's about negativity and positivity," Dunckel says. "I could say that on 'Moon Safari' there are some really bad tracks, or '10,000 Hz Legend' is a boring album and has some horrible songs on it. I could say many things. But I think that all the tracks we released and we presented to the audience have their quality and are good, and each album has its own spirit."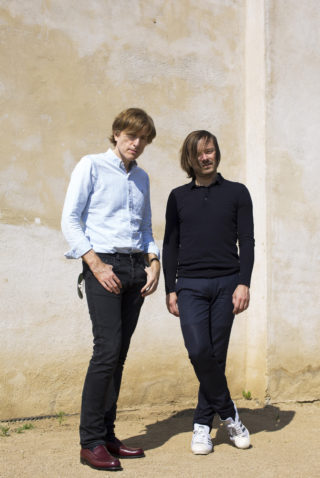 The last "conventional" record from Air – 'Love 2' – arrived in 2009, just over a decade after the first. 'Le voyage dans la lune' ('A Trip to the Moon') came out four years ago and was intended as an accompaniment to a restored version of the seminal 1902 Georges Méliès silent film of the same name, while 2014's 'Music for Museum' was a vinyl-only release recorded as a commission for the Palais des Beaux-Arts de Lille as part of their Open Museum project.
Sometimes, Godin in particular speaks in the past tense, as though we might have had the last music from Air as a pop band. "We kept this kind of freshness," he says of the band's discography. "Except at the end when we started to repeat ourselves."
I ask what he means. "I think any band at best has 10 glory years, then you start…" He trails off. "Whatever you try, it will be less interesting. Even if you make an incredible record, like if you were a newcomer, people will think, my God, this is amazing. But if it's you, because they know you, they don't want to hear something from you. I think bands are great for three, four albums, max."
In previous interviews, Godin has sounded almost pathologically opposed to bands like his own continuing to make music. When we spoke last year he even suggested that people over 40 shouldn't be releasing records, full stop – all the while promoting his own solo debut album. It's a curiously self-contradictory stance that doesn't exactly bode especially well for future Air material ever seeing the light of day.
"I think artists and audiences go through different phases," Dunckel responds, lightening the mood. "Take the Rolling Stones. They're old now and maybe it's not going to happen, but what if they found a new producer and put out some amazing new music, some incredible style of rock electro songs? We'd be so surprised by the quality but I think it can happen." He smiles. "You never know, maybe it depends on the drugs that you take!"
Godin laughs. "I think the Rolling Stones took all the drugs that were possible. We need to invent a new one!"
"Okay," Dunckel says. "They change their blood, take a new drug and release a new album in three days and it's great. I think it's possible!"
Whatever it takes, hopefully this isn't the last we'll be hearing from Air.
Please support Loud And Quiet if you can
If you're a fan of what we do, please consider subscribing to L&Q to help fund our support of new musicians and independent labels
You can make a big difference for a few pounds per month, and in return we'll send you our magazines, exclusive flexi discs, and other subscriber bonus bits and pieces
Try for a month and cancel anytime