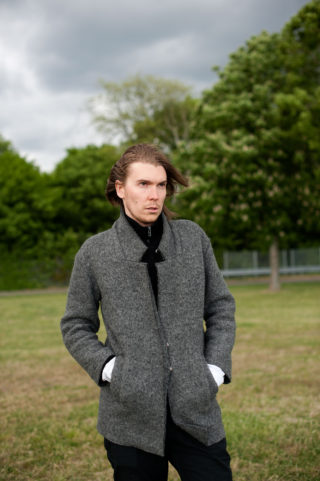 Alex Cameron: Australian sleaze pop from a guy who used to dress up as an old man
"My right ear is really hot"
"I haven't done many telephone interviews so I've had no time to develop any policies or pet peeves," Alex Cameron tells me from his balcony in Berlin.
This may sound odd but face-to-face Alex does have terms and conditions you see, and you can read them on his idiosyncratic web 2.0 home. Samples of which include, 'interviews with Alex Cameron (hereafter 'the artist') are to be held at AMF Bowling, Randwick,' or how about, 'under no circumstance should an interviewer mention Alex's teeth. His teeth, their size, and his gums are a very sensitive issue.'
I avoid all denture talk but do ask the Sydney-born Cameron if he's for real? "Well, I like talking on the telephone but there is a certain amount of time that I will allow a phone to be pressed up against my ear – I don't like to feel the heat of a phone. That's the only thing I can think of right now… oh and there is a slight delay on this call, which I am noting."
After a good while chatting, Alex eventually answer's my question but for the time being his wonderfully complex online and on-stage identity are all I have to go on – that and the dead pan voice still discussing telephones on the receiver.
Alex Cameron is a secret and he knows it. "Outside the committed few who have heard my album, 'Jumping The Shark', it's just industry who know me. I am known in show business but not by the general listening public," he proudly tells me.
"The strangest thing happened, I was getting these emails from a friend of mine, Henry, he was a sound engineer that I worked with in Australia and he was saying how he had a radio show, so I sent him my songs and I thought that's weird Henry has a radio show but it turned out later it was Henry Rollins and I had made a mistake. The songs ended up on KCRW in Los Angeles." I have no idea if Alex has a friend called Henry; it's the way he tells them, I think. Like you're waiting for the punch line.
'Jumping The Shark' is Alex's storybook of sadness; it's an intimate ensemble of his deepest thoughts that's strangely uplifting considering the dark lyrical content within, not too dissimilar to Mac Demarco's largely forgotten 'Rock and Roll Nightclub' EP. Whether you feel like dancing or pulling the curtains, it turns out a synth and drum machine are heavily potent weapons in his hands. "Well on the whole part, my songs are quite sad," he says. "There is a thread of sadness throughout the entire album and the record really hits you, it hits you for six, you know, it's a melancholy that makes you feel ecstatic."
Secretly Canadian obviously felt the same way. The label is now on board after witnessing Alex's much revered support shows for bands like Foxygen and UMO. It seems they have as much faith in Alex as Alex himself. "I wanted to be a musician and I figured that I am either successful and good at what I do…. and I know that one day I am going to be very successful and one day I will have my impact, or I am just very deluded and I might be mentally ill? There might be that potential and either way it's win, win. Secretly Canadian didn't seem like bullshit artists, they seemed like people who had earned what they got and they made a big impression on me and my saxophone player Roy Molloy."
We forgot to mention Roy Molloy. Roy is not just Alex's Saxophonist, he is his business partner (Alex's words, not mine). Without Roy, 'Jumping the Shark' might never have happened.
"We were next door neighbours as kids and we worked together, went to high school together, delivered pizzas together. He is just as much part of the project as I am. He's a tram conductor in Sydney. He actually won the southern hemisphere's best tram conductor of the year award. In Sydney everyone knows Roy from the trams because he is by far the best conductor."
It goes silent whilst I gather my thoughts; Alex continues anyway: "In all seriousness he is just one hell of a conductor, he really owns the tram. He's got fans, people come to our shows and they say look it's Roy from the trams, you know what I mean."
You can catch a glimpse of Roy in any number of captivating online films Alex has posted online, including a hypnotic trawl through SXSW, which reinforces the brand (again Alex's words) and captures Alex's passion on being the eternal support band.
"I take the utmost pride in supporting a band," he says, "it's an underrated job – it's something that has got shame in it. Most people I know, young in the music industry, would have a big discussion saying are we going to take this job? For me its not a matter of if we are going to take a job, it's a matter of how are we going to do this job well. Can we open for UMO? Can we work a Mac DeMarco crowd? As a support act you need to be able to shift and shape yourself – what are you doing on stage that makes you engaging and why do people want to watch your music? Can you work a crowd into one that is favourable? I think I can. I think I can get any crowd to work. Roy and I can turn any room to our favour and we have, every single room we have played."
It's heartening to hear Alex's self-belief and as the conversation continues I find myself at one turn baffled, another inspired.
"For a long time I would make myself older every day. I would do make up and I became an old man," he tells me. "The idea of doing that was so I could spread myself out across multiple identities and live as characters and I could peel my face off, that could be something I do, peel it off."
I knew he played with the sense of self but this still surprised me, so are we talking on stage or down the corner shop? "I would do it on stage but also on days where I didn't have a show. I just felt like doing it, it was odd. I would be on the train and I would catch my own reflection and I would notice that I was an old man. It was confronting and I think other people might have been confronted by it – it pushed the idea of identity really for me and also it helped me understand what it means to become a character. I made friends with an old person, they saw me one day without the make up on when I came back to town and they said I thought you were an old person!"
I decide to ask him for a second time, are you for real? "It's totally for real, everything I do is 100% realistic. I mean, I tell stories, I play with words and I turn my own personal experiences into microscopic tragedies, it can feel monumental and catastrophic. I am enhancing my own personal experiences but I am telling the truth. I know peoples first reaction will be to laugh and the second to wonder exactly what they laughed at. Eventually they will realise they laughed because they liked it and it was true and it made them feel something."
I am invested in Alex now – a believer. I tell him I laughed the first time I saw the video for 'She's Mine', Secretly Canadian's well chosen single to launch the album, and proof that melancholy can move you.
"I was terrified of dancing when I was in high school, there was nothing I wanted to dance to. Then I started making music and listening to records with grooves to them, especially anything that carries a strong human feel with it. I like grooves that make you want to move your arms as well as your legs. Bossa Nova rhythm is great as it's kind of like you move your whole body to it, which is how I am dancing in the 'She's Mine' video. I am really hustling and sweating the whole thing. That dance move I am doing on top of the car is something I like to think that I invented. I call it the Sydney Strobe. My good friend, Kirin J Callinan, in our discussions he doesn't agree, he seems to think that he came up with it. I am happy to share it around though. We call it the Sydney Strobe as it's more or less two movements and nothing in between. I am going to say I came up with the name as I feel I'd be doing myself a great disservice if I didn't.
"How many more questions have you got, I am going to change ears, my right ear is really hot."
Alex Cameron's debut LP 'Jumping the Shark' is out on 19 August.
We're not being funny...
… but can you become a member please?
It's actually excellent value, and will help us continue to promote new independent artists and labels.
Sign up and you'll receive our physical magazines delivered to your door, our digital editions, exclusive podcasts and playlists and an actual bookmark, as if printing a magazine in 2021 wasn't old fashioned enough.
6-month and full year memberships are available now. Fancy it?