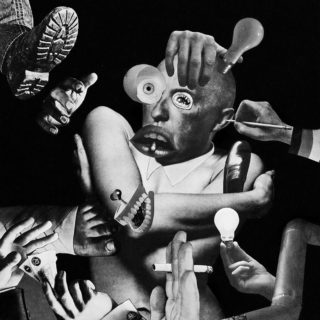 An A-Z of the most obscure acts on the infamous Nurse With Wound list
Need, Need, Need
"Sorry…I've got a couple of pet Vietnamese pot bellied pigs and they were just chased by a horse," says Nurse With Wound's Steven Stapleton, after he returns to the phone. He's speaking from his remote home in Ireland and the image of horses chasing pigs around his garden is entirely fitting with the kind of unique persona he's built up over the years.
40 years ago his band Nurse With Wound released their debut album, Chance Meeting on a Dissecting Table of a Sewing Machine and an Umbrella – a three-track album of hissing noise and throbbing industrial churns that came to be considered one of the pioneering avant-garde/industrial albums of the era. The artwork for the album was just as interesting and innovative, containing a huge list of 236 artists that had inspired the group in any way in the run up to their debut release. However, the artists where some of the most obscure and experimental of the era, spanning free jazz, prog, industrial and avant-garde – a general ragtag bunch of outsider artists. For the band's second album they update that list to 291. Some of the artists featured are more commonly known these days (Can, Nico, Throbbing Gristle, John Cage, Captain Beefheart, PiL, Yoko Ono) but the vast majority of them still remain as unusual and unheard to many all these decades on.
Teaming up with Finders Keepers records, the list is beginning to be released via multiple compilations. The first of which, Strain, Crack & Break, collects a selection of French artists that featured on the list, such as Pierre Henry, ZNR, Horrific Child and Lard Free. "It's been really exciting to get this thing together," Stapleton enthuses. "It's something that I always thought would be a good idea if I could do it but chasing up copyright and things like that is a nightmare. I would have liked to do it on my own label years ago but the sheer amount of effort involved in finding copyright from those obscure artists on now defunct labels was just ridiculous. But Finders Keepers are good at what they do and it's seemingly all coming together."
The list was inspired by the jazz artist Wolfgang Dauner and his 1969 album Für, on which he credited influences, and the band were also aware of Frank Zappa doing the same on Freak Out! three years earlier. "We wanted to say thank you to these artists that had inspired us to make our records," he says. "They had given us so much pleasure in the past. So we sat down and bashed out a list and then argued about it for 6 months." He's not exaggerating when he says the list was discussed for that period of time. "There were heated discussions over who should be in it and who shouldn't."
The list was made up of hours lost in record shops. "I was just totally into outlandish music," he recalls. "Stuff that was strange and unusual or peculiar and bizarre. I found the best place to find this stuff was second hand stores. London was fantastic for them at the time. I worked in Soho and there were a dozen within a 10 minute walk. So every lunchtime I would go and I got to know the people there and they would save anything that looked unusual. I built up a collection like that. I met John Fothergill [of early period Nurse With Wound] in a record store doing the same as what I was doing. We became best friends and started scouring for music together, basically – maybe over a five-year period before we put the list together."
The list has taken on a life of its own over the years. Becoming like a shopping list or a collectors dream for those in search of such oddities. It took time to have an impact though. "I started to notice it about fifteen to twenty years later," says Stapleton. "Nobody initially thought the list was of any interest at all, really. Then at record fairs and things you'd start to see stickers on albums saying part of the NWW List. Then weird things started happening, like reissues of artists that were featured on the list would have stickers on the front, or in the sleeve notes it would be saying it became known because of the list. It was like, wow, because of this little obscure thing we did stuff is really taking off. Then it went global. I've been in record shops in America that have sections just of albums featured in the Nurse With Wound list."
Some of the music was so rare or weird sounding that many thought some artists were simply made up. This is a myth that Stapleton happily toyed with for years. "I have done several interviews over the years and I've always said there's one or two names on there that are made up and, to be honest with you, there isn't. They all exist but I just wanted to throw a bit of intrigue into the mix. I will say though that there's one artist on the list who never made an album or a single – they just appeared on a compilation."
40 years on, the list still remains an immaculate collection of outsider music and the artists are still ones that Stapleton considers to be of extreme importance and significance. As for the record collection itself that inspired this list? Well, it turns out it literally paid for his house. "About 25 years ago I stopped playing vinyl and switched to CD. Then I sold most of them on eBay and basically swapped them for a house. I thought they might be worth £40/£50 each and I'd end up getting thousands for them."
The new compilations allow access to owning this music in a physical format that isn't at inflated prices aimed at collectors, but beyond that Stapleton hopes the music will have just as much of an impact now as it did then. "There was all this wonderful, brilliant, vibrant stuff," he says. "I think there's a wealth of stuff there that people should investigate. I feel really chuffed and feel really good about these releases. A lot of those records would have just been lost to obscurity otherwise."
As previously mentioned, some of the names on the list have become relatively well known and celebrated, but here's an A-Z guide of some of the acts that, for the most part, remain firmly on the undiscovered side of history all these years on.
A: Agitation Free
A German krautrock band from the early 1970s who have not quite been elevated to the status of peers such as Amon Düül, Can or Tangerine Dream. They lean more towards the unravelling full jam band approach more than tight focused hyper rhythms, and at times end up closer to Grateful Dead-esque wig outs.
B: Brainticket
When psychedelic krautrockers Brainticket released their 1971 debut, Cottonwoodhill, the album's sleeve notes warned: "After Listening to this record, your friends may not know you anymore. Only listen to this once a day. Your brain might be destroyed!" Tune into 'Brainticket, Pt 1' and you may get a sense of what they meant by that.
C: Chrome
A San Francisco post-punk outfit that sounds more like they may have come out of Sheffield in 1976. Merging wobbly tape hiss, sputtering electronics, harsh vocals, destroyed guitars and a punk meets industrial edge. Released in 1977, their debut, Alien Soundtracks, still sounds like a glorious chaotic assault but its place in history as a pivotal record of the time remains somewhat lost in the shadows of the usual CBGB crew.
D:  Dedalus
Listening to tracks such as 'Santiago' today and you'd be forgiven for thinking Dedalus was the latest signing to Flying Lotus' Brainfeeder label. It's jazz meets funk meets neo-soul; super smooth and rich and warm but also improvisational and unpredictable. They released two records by 1974 and broke up before reforming with new members in the '90s.
E: Etron Fou Leloublan
A French trio active between 1973 and 1986. Their first ever show was opening for prog giants Magma but their style is much more eclectic, shifting between folk, punk, rock, jazz and anything else they seemed to wish to glide into. The 18-minute 'L'amulette Et Le Petit Rabbin' perhaps most perfectly capturing this bonkers mix.
F: Floh de Cologne
Another German band who loosely get lumped in with the krautrock lot of the era but whose sound was at times more rickety and garage-like, as well as being more melodic and pop-like at others. They were also a fiercely political and satirical band, with their debut 1968 album Vietnam acting not only as a critique of the war but also seeing all album proceeds donated to a linked charity. You may need to speak German to get the humour but the groove of their sound lives on.
G: Group 1850
1960s Dutch psychedelic rock that struck a nerve in their own country but got lost a little outside of it. Initially beginning life as a fairly safe rock outfit – with whiffs of Hendrix and Floyd – they became increasingly more experimental as they plunged deeper into guitar-squealing psych rock and heady immersive prog.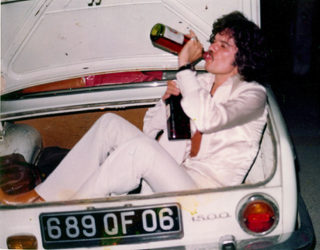 H: Horrific Child
The project of Jean-Pierre Bernard Massiera, the only album released under this moniker was released in 1976. The 2016 reissue aptly described it as: "A schizoid sonic sketchbook. A disturbing mix of dismembered tape samples, paranoid poetry and cosmic chaos."
I: International Harvester
Now known as Träd, Gräs & Stenar, this Swedish band released just one album as International Harvester in 1968 and before that they were Pärson Sound. It's almost like they were trying to work their way onto a future list of oddballs. Their album is a strange mix of low-key, almost folk-like, meditated ruminations alongside more lively psych rock-tinged eruptions. It captures a changing world of the time with its clashing styles, tempos and chants about Ho Chi Minh.
J: Jan Dukes de Grey
British psych/acid/prog folk from Leeds. Now considered something of a treasured act amongst heads in this world, their genre-hopping blend that mixes sax, flute, guitar, wild percussion and other restless sounds meant they never found a huge audience at the time despite supporting the likes of The Who and Pink Floyd. Their three-track 1971 album Mice and Rats in the Loft is still more likely to bring up rodent removal tips from a Google search than a link to a record, but it still sounds like little else of the time or even now.
K: Kluster
Not so much of an obscure rarity but the German outfit of Hans-Joachim Roedelius, Conrad Schnitzler and Dieter Moebius still remain hugely underappreciated. Only 300 hundred copies of their 1970 debut Klopfzeichen were initially printed but their drone-filled industrial hisses and crackling atmospheres laid a blueprint for many industrial bands to pick up years later, by which point they had become Cluster and already released some of the most deeply immersive, textural and pivotal ambient electronic space rock of the decade.
L: Lard Free
1970s avant French jazz-prog outfit led by multi-instrumentalist Gilbert Artman.  A group who strike a nice balance between groove and discordance, as displayed on tracks such as 'Warinobaril' which bounces along with rolling bass lines and is peppered with eruptions of skronking sax and screeching guitar.
M: Mahjun
More 1970s French prog but this time mixed with a touch more folk. The band merged intricate and innovative songs with strings and brass nestled up against the crashing drums, disruptive guitar and often pop-like vocals. They were originals on the pioneering Saravah record label.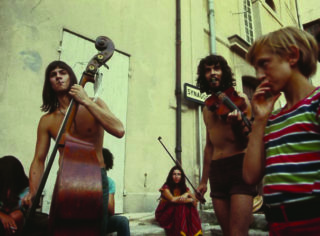 N: Nihilist Spasm Band
An outfit from Canada who embraced entirely homemade or modified instruments and set about improvising with them in a wild and unruly way. The result is a challenging mix of free jazz, riotous noise, demented shrieking and the general sound of insanity put to tape.
O: Opus Avantra
An Italian outfit that blended prog, classical and experimental. Their 1975 album Lord Cromwell Plays Suite For Seven Vices is a concept album about the seven deadly sins that, whilst ambitious and boundary pushing, is also pleasingly tranquil and delicate at times.
P: Poison Girls
A 1970s anarcho-punk band that were closely linked to Crass and released on their label. A fiercely political and issues-based band but also an eclectic one who jolted between taut post-punk, scrappy lo-fi, weirdo punk and, as on tracks such as 'The Offending Article', the occasional voyage into the melodic and well-produced.
R: Reform Art Unit
An Austrian free jazz group that formed in 1965 and who continue to be an ever-evolving ensemble that over the years has welcomed over 200 musicians. Avant-garde and continent-hopping explorations, along with wild improvisations have been constants in their work.
S: Smegma
Make sure you include the word 'band' after their name if you don't want to end up with something rather different than a US noise collective coming up from your Google search. They've remained active since the early 1970s, have collaborated with the likes of Merzbow and Wolf Eyes, and have generally traversed the spectrum of weirdo noise rock and back again.
T: Technical Space Composers Crew
A duo comprising of Can's Holger Czukay and Rolf Dammers. They released just one album in 1969 (the same year as Can's debut) called Canaxis 5. It's a mix of Stockhausen electronics (both studied under him) with Vietnamese vocals, immersive drones and a cinematic tone that sucks one into an equally bewildering and beguiling world.
U: Univers Zero
A Belgian prog outfit with a tendency to explore darker, deeper and denser textures in their work. 1979's Heresie is an album cloaked in strings and brass-led doom. Most perfectly captured by the stirring and brooding track 'Jack the Ripper'.
V: Vertø
A French outfit operating around the work of Gilles Goubin and Jean-Pierre Grasset who, in the mid 1970s, released albums such as Krig/Volubilis that sits neatly between prog and rock with some jazz-inflections and occasional overspills of electronics and waves of synth.
W: Woorden
A Dutch outfit that released one album in 1968 and combined poetry and political theatre with their musical explorations that took in psych, jazz, folk and esoteric rock.
X: Xhol Caravan
Another German outfit that often find themselves lumped in with the krautrock crew and, whilst influential in that world and certainly containing that key groove, they also incorporated a lot more jazz, blues and soul into their unique concoction.
Z: ZNR
A French duo of Hector Zazou and Joseph Racaille whose 1976 album Barricade 3 remains a truly indescribable release. Sometimes-mangled/sometimes-clean vocals sit on top of eerie woodwind, hissing synths, wonky pianos and occasionally beautiful soundscapes. The album also features artwork from another person who made the NWW list: Don Van Vliet (also known as Captain Beefheart).
Please support Loud And Quiet if you can
If you're a fan of what we do, please consider subscribing to L&Q to help fund our support of new musicians and independent labels
You can make a big difference for a few pounds per month, and in return we'll send you our magazines, exclusive flexi discs, and other subscriber bonus bits and pieces
Try for a month and cancel anytime