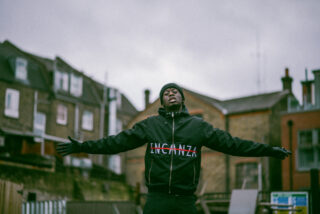 BackRoad Gee: Rising above the hardship
The fast-rising MC on mixing up genre, collaborating with Burna Boy, and why "we've gotta go through the struggle with a smiley face"
Beyond repeating the same, single word, BackRoad Gee is cagey on what's in his diary for 2021. It's perhaps understandable: with the pandemic having upended the music world, he finds himself in a position different to that faced by artists who had major ambitions for last year, many of whom were stuck in a kind of purgatory, best-laid plans put on hold, and then torn up. Gee, on the other hand, went ahead and released his latest EP – the explosive, seven-track Mukta vs Mukta – and watched it meet with rave reviews, as some critics suggested that he seemed to be rearranging the very fabric of grime. 
He then went on to work with a real hero of his, Burna Boy, after the Nigerian reached out to him personally, something he still sounds as if he's having trouble believing (the proof is in the pudding, though, in a thumping rework of WizKid's 'Ginger' that the pair put together). As the year has turned, he's watched as his close friend and collaborator Pa Salieu come out on top of the BBC's Sound of 2021 poll. And yet, in a country still ravaged by coronavirus, it's hard to see too far ahead.
Which is why he keeps his forecast brief. "Greatness, man," is the verdict as he lights his second joint of our Zoom call. "Greatness." That's precisely what he's had in mind for himself ever since he began to take the prospect of a career in music seriously; he's cleaved closely to a vision that places artistic success higher in importance than its commercial counterpart. "From the beginning, the whole time I've been coming up, I've always said we had a plan. I've stuck to it, and I'm executing it. I just feel like I'm ticking things off as I go."
To begin with, though, Gee had to be talked into thinking big. Growing up across London – moving between Tottenham, East Finchley, Stratford and more besides – his early musical aspirations were not something he readily shared: incidentally, the same is true of his real name. He was born to Congolese parents and exposed to the music of their homeland in his early years; before rap was even on his radar, he had aspirations of becoming a drummer in order to recreate the rhythms that floated through his childhood homes.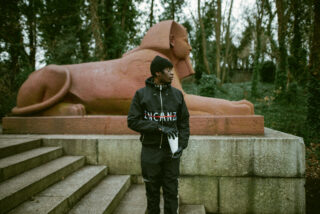 By the time he discovered hip hop – the same way any British teenager of his generation would have, through records like 50 Cent's Get Rich or Die Tryin' and DMX's Year of the Dog… Again – it was only one of a number of stylistic doors that were open to him. UK garage was speaking to him, too, as was afrobeat, and when he started to experiment with making music of his own – throwing together these disparate ideas and cooking up something genuinely new – he kept it to himself. "It was my friends who saw the potential in me," he recalls. "I was just doing it for my own enjoyment until other people told me I could do something with it. They got me together with my manager and it's just skyrocketed from there. And now, here I am, with you.
Gee's stage name is taken, as he tells it, from a dislike of "operating on the main road", something you could take any number of different ways. Musically speaking, it fits with the sonic blueprint he's mapped out over the course of a still-fledgling career that's taken in Mukta Wit Reason, an 18-track compilation that he insists is not a mixtape, as well as Mukta vs Mukta. If the main road would have been to pursue grime – and it could easily have been, he says, as he reels off a list of genre royalty that his uncles exposed him to, including D Double E, Ghetts, Giggs and Dot Rotten – then the back road is the route Gee has taken. 
Mukta Wit Reason marked him out as a drill rapper, although the indelible impression of early grime was palpable, particularly in the way he flowed: his bars were a kind of East London staccato, with a pace and bite that laid the groundwork for him to crossover into collaborating with the likes of JME and Lethal Bizzle on last November's 'Enough Is Enough'. It's tracks like that that have really had aficionados sitting up and taking notice; it's not often somebody comes along and breaks grime's mould to fit his own purpose, which is precisely what Gee seems to be doing in blending it with drill so effortlessly.
"The thing I keep stressing to people is that I can't be boxed in," he explains. "You're never going to get one type of sound from me; you're probably going to get every type of genre. It'll always have the same soul, but anything else about the sound could change." Despite this, though, he agrees with the view that he has subverted grime for his own musical ends. "They were right about that: that's what man did. I fabricated my own thing. That was the goal when I sat down with the producer; combine everything. Let's make it garagey, let's make it afrobeat-ish, let's make it…" He pauses. "Backroad-ish, you know? And people picked up on that, and I'm very appreciative of it. It's a good reflection on the work."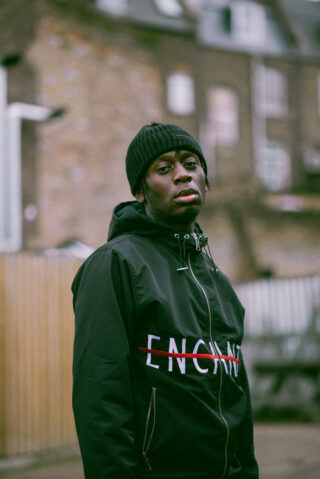 One thing Gee knows for sure about 2021 is that he'll drop his debut mixtape proper, tentatively titled Summer ina Da Winter. It will, he promises, be a departure from the high-energy chaos of Mukta vs Mukta. That EP was born out of his desire to knuckle down and take his career seriously after a stint in prison towards the end of 2019; the specifics are not something he'll readily go into, but they seem to have initiated a change in mindset that is likely to manifest itself on the mixtape, with Mukta vs Mukta representing a kind of sonic bloodletting. "Those are some very personal songs. I was in a dark place when that was coming out, but it was a good place for the music. A lot of people doubted the kid, and didn't think I could do this, and get to where we are. But we did it, man. There was definitely a split personality thing going on. The songs were hectic; it was like they were all fighting against each other. I don't know if it was a reflection of my mindset at the time. It might just be down to the fact that they were all bangers, crazy tracks – they make you want to jump, or dance, or whatever."
When it does arrive, Summer ina Da Winter will represent a shifting of gears (he dislikes the term 'change of pace'), both in terms of the medium and the message. Details are still thin on the ground, and Gee's manager interjects to keep him from providing a rundown of the record's producers and features; he'll only say that it'll involve "a lot of different people from different sides." There is an obvious restlessness in him when it comes to exploring different avenues, though, and possibly even a nagging sense that he's already over the comparisons with contemporaries in the grime scene. "That'll always be there," he says, "but I'm not just going to stay with that sound. I have an idea of what people expect from me now, and I'm still catering to my people, but I want to open their minds to other things, too. It's a whole different approach now."
That could be down, in part, to the importance of his work with both Burna Boy – who he confirms will appear on Summer ina Da Winter – and Pa Salieu. In closely meshing his own music with collaborators both alike and apart in terms of style, he's both flirting with the mainstream and making good on his talk of the mixtape representing the next stage of his creative journey. He remains stunned that Burna Boy sought him out; the significance of working with such a figurehead of what might prove to be a golden age of afrobeat and dancehall hasn't been lost on Gee. "He came to London, reached out to my people, and then I was talking to him, and quickly we were in the studio. I didn't know what to expect – usually, when I go into the booth, I know myself, and I know how I want things to sound: I know what I'm doing. And I can't lie, bro: it was very, very organic. We just went in and came out with some crazy stuff. God works in mysterious ways."
That particular pairing might have seemed like an unlikely hook-up; Gee's relationship with Pa Salieu, on the other hand, seems like an obvious confluence. The two men are cut from the same cloth; Brits in their mid-twenties who retain strong connections to their African heritage, both of whom seem hellbent on reinventing this country's rap language. Salieu's signing to Warner, constant rotation on 1Xtra and his Sound of 2021 triumph will open him up – and by turn Gee too – to a whole new audience, but the latter talks only of their deep kinship, sounding almost choked up in the process. "Some things are not explainable. That's my guy, man. I think, in life, everybody has somebody that their energy just bounces off, and that's who he is to me. He's my brother, you know? I love that boy with my heart."
With Gee featuring so prominently on 'My Family', one of Salieu's biggest hits, and with Salieu having made a telling contribution to Gee's own breakthrough, the incendiary 'Party Popper', we can expect the pair to play a crucial part in each other's stories as the year unfolds, even as Gee strives to lay down his own marker with Summer ina Da Winter. There will be more unknowns to face down the road – the road itself being one of them, with the pandemic having seen to it that Gee's experience of performing live remains limited. "It's a weird feeling," he says. "It's not as if I've missed it, because I haven't really done that on a big stage yet. I would love to get on that, but obviously corona has mashed it all up for now." When the prospect is raised of what the energy might be like when he finally does find himself up in front of packed rooms, he grins. "Outrageous! It's gonna be outrageous."
Until COVID-19 eases and lockdowns are consigned to history, though, the central theme of Summer ina Da Winter will remain a timely one; a far cry from the manner in which Mukta vs. Mukta pitted him so relentlessly against himself and his own demons, the core message from the mixtape is one of positivity, and standing tall in the face of adversity. "Light out of darkness – that's the feel. Rising above the hardship, and still having a good time. We've gotta go through the struggle with a smiley face, bro."
We're not being funny...
… but can you become a member please?
It's actually excellent value, and will help us continue to promote new independent artists and labels.
Sign up and you'll receive our physical magazines delivered to your door, our digital editions, exclusive podcasts and playlists and an actual bookmark, as if printing a magazine in 2021 wasn't old fashioned enough.
6-month and full year memberships are available now. Fancy it?