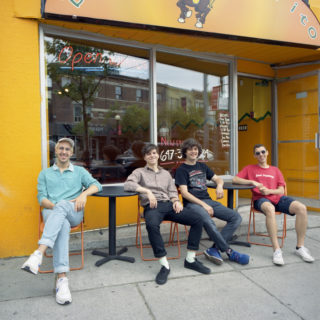 BADBADNOTGOOD: The Canadian band behind hip-hop's latest influence – jazz
There's a dichotomy to the existence and success of BADBADNOTGOOD that is ultimately at the core of what makes the band such a modern treasure. Of course there is the surface level collision of four young, white, classically trained jazz musicians – Matthew A. Tavares, Chester Hansen, Alexander Sowinski and Leland Whitty – collaborating with some of the rap world's most hardened and fearsome performers. However, it's also the head-butting and the solidifying of the classic and the contemporary worlds beyond those musical collisions too.
It was their classical music training, immaculate theoretical knowledge and pristine musical abilities that led them to be found creating instrumental jazz tracks covering Odd Future, but it was the contemporary world of which we live (and they operate) in that transcended those musical explorations beyond practice room larks. Through a YouTube video, a Bandcamp upload and a Twitter account, they soon found themselves contacted by Tyler, the Creator before going on to working with him. A contemporary example of which there seems to be an increasing amount of in recent years, of the jazz world shaking off accusations of stuffiness, preciousness and an antiquated and formulaic set of conventions.
In the ensuing years the band have continued to teeter this line between the classic and the contemporary, playing straight jazz one moment – as on their 2014 album 'III' – and pioneering and experimental hip-hop the next, á la their last LP, 'Sour Soul', a record which the Wu-Tang Clan's Ghostface Killah could be found at the vocal helm, alongside hip-hop royalty like DOOM and Danny Brown. Outside of this, the group has also worked production and remixes for various artists, such as Rhianna, Drake, JJ Doom, Earl Sweatshirt, Freddie Gibbs & Madlib, Talib Kweli, Little Simz and a whole host more. In a further twist of expectation and convention, a group of very young men who were so inspired by hip-hop culture (drummer Sowinski was so taken with the story and concept of MF DOOM that he would himself wear a (pig) mask whilst playing in the early days, before he grew out of it and realised it wasn't very 'him') that they sought to emulate it through the seemingly antithetical musical tools they had available to them, have, in the space of only a few years, become one of the go-to bands/production units in the entire genre.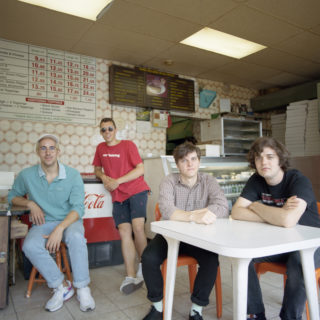 Arriving at album number four (called 'IV') in almost as many years as they've been around, the band find themselves at a juncture in which all their worlds appear to be meeting in one place: silky contemporary jazz, gliding electronics, hip-hop beats, retro soul and esoteric leanings, with the continuing presence of collaborators still a dominating one. On this new album the guests featured are Future Islands' Samuel T. Herring, Colin Stetson, Kaytranada, Mick Jenkins and Charlotte Day Wilson. It's left the band in a unique position of feeling unclassifiable as they continue to evolve and find their own groove whilst still dancing furiously to the influence of others'. As Sowinski says: "I guess people label it jazz but we don't really call it jazz because we use jazz as almost a tool when we're composing and writing songs. But there's also elements of rock music, Brazilian music, electronic music, soul music. It's all over the place. It's really hard to describe… it's very unique, we're proud of it."
Whitty feels the group eschewing the conventions of tradition in the jazz world has been instrumental in them carving out their own space to operate in. "We're not really concerned about keeping the tradition," he says. "We spent a lot of time studying it and using a lot of the tools we learnt from studying it – the theoretical and harmonic aspects. It's stuff we use literally every day. But really, at the end of the day when we're writing, all we're really trying to do is create something that's unique and honest to who we are. We don't really belong in any sort of box or are following any tradition or anything like that."
On their previous album, all initial collaborations with Ghostface Killah were done electronically; a back and forth of emails and file swapping. For 'IV' an altogether different and more physical approach was taken with all collaborators travelling to the band's studio in Toronto to work on the songs. It was this set-up that led the flow and feel of the record much more than any set-out agenda or initial concept, as Sowinski points out. "We used the physical studio vibe to create a cohesion," he says, "to work on it step-by-step together and to get how it feels having the vocalist or musician play right there – to share a vision. It's really important and it's a totally different feeling on this record because of that."
Of selecting who to work with on 'IV', I ask the group if there was a hit list of people they wanted to in the room. "The only person on a hit list, so to speak, was Colin Stetson," Sowinski says, adding, "I went to high school with Charlotte Day Wilson; Sam Herring we did a Future Islands remix of previously so we were in touch; Mick Jenkins we knew and Kaytranada is a good friend of ours who we've been doing music with for the last year and a half – we've done tonnes of stuff with him, so having him on the album for a song and having him contribute percussion and synth lines and picking his brains was super essential."
The role of Colin Stetson in the process and his inimitable saxophone blasts was a particular scoop for the band. "It was a huge honour for us to work with him," says Hansen, and Whitty – himself a saxophonist – also echoes these feelings: "That was really amazing, for me. I've been listening to him his entire career; I'm a huge fan of his. He has just completely changed the approach of how he interprets the saxophone and it was really amazing to stand beside him and be there for his whole process." He then continues to explain what he got out of seeing Stetson play up close. "His general stamina to playing too, he's a super healthy, fit and active guy. Which really reflects in the way he plays – it's a sort of necessity for how intense everything he does is. When you see him live it's almost like everyone is experiencing that with him to a certain extent. At the end of the song when he takes a huge breath, it's like a huge gasp for everybody in the room too."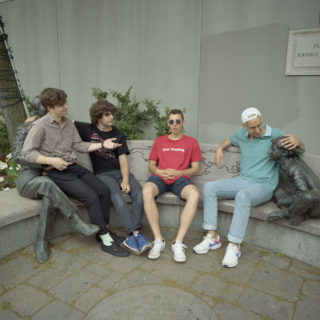 So, from experimental saxophone players to electronic producers, to hardcode rappers, to pop singers, I ask what is the essence at the heart of successful collaboration in the world of BBNG? "It has to be someone we can get along with in a lot of different settings, to have a good time with them," Hansen says. "There's a million super talented musicians out there but finding someone you resonate with, there's not. We've been lucky with everyone we've met. Sometimes it's intimidating when dealing with someone of a certain stature or certain abilities, there are always nerves, but you just have to try and connect with them on a personal level and concentrate on making music. We have been pretty lucky. There have been some things that have fallen through, even just in the meeting stage, but that stuff is out of our hands. I can't ever think of a time in which we've gone in the same studio as someone and it's not worked out. Which is super lucky."
Whilst the group came to notoriety through their interpretations of other people's songs, this aspect of their output is restricted purely to live sets these days. Often to make up for the lack of physical presence of vocalists on certain songs they choose not to perform without them. "I think we're really focusing on keeping things original at this point. The covers we have been doing are just a fun aspect of the live show that the audience can latch onto if they know the songs," says Whitty. "From a production standpoint we're definitely focused on just coming up with new ideas right now."
So, as the group continues to press forward, it leaves the inevitable question of who else are they looking to work with in the future? "I feel like jazz seems to be on the rise right now in terms of popular music," says Whitty, "especially through people like Kamasi Washington and the whole Brainfeeder [Flying Lotus' record label] family, and they've always been a huge inspiration for us, so I think working with anybody like that – Flying Lotus, Thundercat – would be really amazing. Then shooting even higher, I'd say someone like Frank Ocean would be really cool to actually write with."
Gift subscriptions are now available
It's been a long time coming, but you can now buy your pal/lover/offended party a subscription to Loud And Quiet, for any occasion or no occasion at all.
Gift them a month or a full year. And get yourself one too.
Whoever it's for, subscriptions allow us to keep producing Loud And Quiet and supporting independent new artists, labels and journalism.