Bambara – There's horror behind those picket fences
"I'm always trying to read things outside the Southern Gothic tradition, but it's our foundations, you know?"
"No pleasure, but meanness" is a line from Flannery O'Connor's Southern Gothic short story A Good Man is Hard to Find. O'Connor was from Georgia in the American South, and her often gory, always strange fiction captured something unsettling about that part of the United States – a barely suppressed darkness that, once looked at, infuses everything.
Sat in the foyer of a Yorkshire hotel, Reid Bateh – frontman of Bambara, also from Georgia – is picking carefully over those words. He repeats the line out loud. "It always struck me," he says, "the way that the South use meanness, you see, is kind of different, it's a really subtle thing. Meanness in that line specifically is way more intense than what it says. In the South, everything is infused with this real sort of politeness. Saying meanness could mean something truly vile – something awful. I've always tried to work that into a song, and I've not been able to until this record."
Documenting that something awful – that meanness – isn't a bad approximation of Bambara's mission; a mission that's never been realised so successfully as on their fourth record, Stray. In the decade since their formation, Bambara – that's Reid Bateh, his brother Blaze and bassist William Brookshire – have been devoted to documenting the horror that lies behind the white picket fence, and setting it to midnight black, pulverising post-punk. Theirs is a world of hard-up lives, shotgun justice and unreliable narrators, marking them as relative outliers in modern guitar music for their commitment to narrative-driven songwriting, and an almost novelistic approach to lyrics.
The band formed in the brothers' hometown of Athens, Georgia – and there's long been a tension between the metropolitan values of Athens, a liberal college town, and Georgia's wider conservatism (the state voted for Trump in 2016). It is, however, a creatively fruitful tension: the college town famously also produced REM and the B-52s. Reid chews over whether Trump has had any impact on their work, suggesting that "though not in a conscious way", the way that the characters "experience America" on Stray has certainly been shaped by his observations of Trump's America. The band all now live in New York (their last two albums were recorded there) and distance can focus the mind on what's uncanny, what's strange, about where one is from.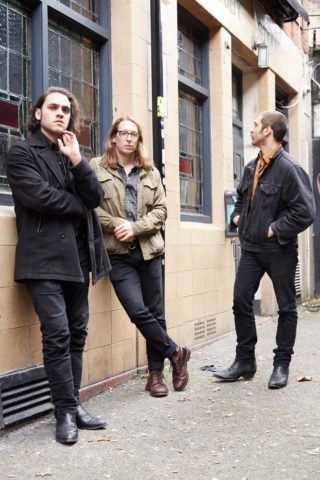 Stray opens with the brooding, Swans-esque 'Miracle', named after the song's fictional heroine who has a tattoo on her lip saying – you guessed it – 'meanness'. "I'm always trying to read things outside the Southern Gothic tradition," Reid tells me, "but it's our foundations, you know? I might not always write that way and I might be more abstract and more poetically driven one day, but this is what I'm into."
But how do you marry that Southern Gothic sensibility with a rock band? For Reid Bateh, the lightbulb moment would be listening to Nick Cave and the Bad Seeds' Murder Ballads. Reid explains that even growing up he had a sense that "lyrics, of bands you hear on the radio or even bands I liked, could be something more". Cave lead to Cohen, Cohen led to Waits. "That was like a world, a little microcosm," says Reid. "Characters overlap and you're immersed in this world overpopulated with dark, grimy characters."
Though their first two records (2013's Dreamviolence and 2016's Swarm) were solid, it was in 2018 with Shadow on Everything that the band hit their stride. That record was written to a brief; that brief being a loose concept album with an overriding Lynchian narrative – and it proved a major creative breakthrough. Joe Talbot of IDLES, who have now invited the band on tour, cited it as his favourite album of 2018. The narrative constraints of Shadow on Everything brought out the best in the group's songwriting, but after that record they were keen to once again try something different. "I wanted it to not have a concept this time," Reid explains, "and not have such a straight through-line of everything. The last record had a story that panned out chronologically; I still wanted this one to be stories but I wanted them to be separate enough where you didn't need the rest of the album to get into the story – they still connect but there isn't this through-line."
Returning to Athens too, and communing once again with their formative stomping ground, also proved central to the record. "The last two were all in New York," explains bassist William, "it's more isolated in Athens – we can really lock our selves away and work constantly." The band operated from an old, isolated cabin, working fourteen-hour shifts before decamping exhausted to futons, and back up again the next morning. Though the band all joke that their personal lives suffered from the experience, they're glowing in their agreement that such intensity was central to creating the band's most focused, most well-realised record to date. "When you're outside in the South there's always the sound of loud bugs and it's like you're immersed in a fluid," drummer Blaze Bateh explains, "and when we're writing songs we want our music to feel like we're in a space. If it doesn't feel like there's an atmosphere the music sounds almost homeless or something."
Discussing the writing of the new record, the word 'obsessive' comes up repeatedly and unprompted from each member. "I'd wake up, write all day and struggle to get to sleep at night," Reid tells me. "No talking to anybody, nobody." Similar to Brian Eno's 'Oblique Strategy' cards – which uses random prompts shuffled in any order – Reid stumbled on a tactic to help force unexpected creative decisions. "I went to a thrift store and bought a bunch of random pictures; other people's photographs," he tells me, "so I ended up with thirty random images that people had taken on their home cameras or whatever. This goes from early on to some bullshit that was probably taken in 2010. But each one was a different world to get into and get sucked out. You look at a wall and you can make connections that aren't there; you can see things thematically. Any time they would be right in front of me, and I'd take a break and there'd be something in one of those pictures, I was always involved in some story or other." Even a dog referenced on the track 'Machete', called Lobo, took its name from a family dog whose name was sketched onto the back of a Polaroid.
What's most striking about Stray, however, isn't its widescreen, cinematic sonics, nor its Southern preacher fervor, but instead it's the body count. Death stalks this record, the imagery is grounded in the mortuary, at one point Reid croons about babies drowning in baths. "I couldn't point to a specific reason for it," Reid says, now fixing his eyes into the middle distance, "but I was obsessed with death at the time of writing. It's something I don't really want to talk about." A pause. "It's… so heavily explored through so many other art styles, but it's hard to say where that comes from. It it's just something else. Obsessing, really."
Loud And Quiet needs your help
The COVID-19 crisis has cut off our advertising revenue stream, which is how we've always funded how we promoted new independent artists.
Now we must ask for your help.
If you enjoy our articles, photography and podcasts, please consider becoming a subscribing member. It works out to just £1 per week, to receive our next 6 issues, our 15-year anniversary zine, access to our digital editions, the L&Q brass pin, exclusive playlists, the L&Q bookmark and loads of other extras.