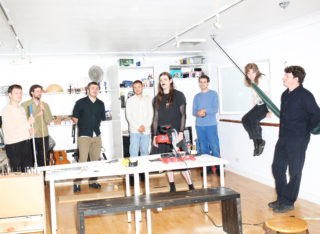 caroline – A band addicted to the sound of a single Mogwai snare drum
Sadboy triumphalism and languid repetition from a tight-knit octet
In a scene that has played out across the nation ad infinitum these last four months, three members of caroline and I are trying to work out whose computer the tapping sound is coming from. Our interview has become a video conference, but after about a minute we resort to audio-only so we can talk over each other in real time, rather than with a 30-second delay. But now the tapping. Jasper Llewellyn, the band's drummer/cellist/vocalist has headphones on and is bearing the brunt of it. "What is that noise?!" "Is it me?" asks Casper Hughes, one of caroline's two guitarists. The other, Mike O'Malley, is silent. "Michael, put it down!" Bickering descends into laughter.
Silliness isn't necessarily what I'd expected from caroline – but then I hadn't known what to expect at all. Before the group signed to Rough Trade at the beginning of this year, their online presence was as ambiguous as it was minimal. There was nothing to stream, nothing on YouTube. The only clues arrived as images accompanying gig announcements: train window vistas, a power plant, a submerged car, shopping trolleys slotted together in a perfect circle. The gigs themselves were often held at "secret locations". So far, so mysterious. Then came a live video for a track called 'Dark blue', released to announce the Rough Trade deal. The clip shows the eight-piece band playing in an abandoned swimming pool, the camera shifting from super close ups – of mouths or ears or cymbals – to distorted reflections in a mirror. The song itself is almost meditative in the way that Slint were, building over eight-and-a-half minutes, slowly introducing new instruments and a sole, melancholic vocal until it reaches a climax; a cacophony of creaking strings and clattering drums. It's a remarkably polished debut, and a bold statement of intent.
Watching 'Dark blue', it's hard to imagine caroline as a "conventional guitar band", but for a while they were just that. When Hughes and Llewellyn, who met while studying in Manchester, moved down to London for their master's degrees, they began experimenting in practice rooms, wanting to develop the time spent playing together at uni into something more formal. They roped in O'Malley – a teenage friend and bandmate of Llewellyn's – in 2017, and then a bassist, and played privately as a four-piece for the best part of a year. Early influences came from country, emo and post-rock. "When we were first playing there was one Mogwai song – not even that, the sound of one, like, snare on a Mogwai song that we were just desperate to emulate." Hughes laughs. "I remember that being a constant reference point, like, 'If we can get our drums to sound like that, the band will be amazing.' It hasn't happened yet."
They decided to introduce a violin player when writing 'Dark blue': "I was listening to a lot of [alternative American composer] Christopher Tignor," recalls O'Malley, "– music where violins were being incorporated but not in a neo-classical sense, more as drones and stuff." Another violinist followed, originally as a stand in but they "couldn't bear to play without either of them." Then came a second drummer, after Llewellyn brought in a cello (he'd learnt as a child). A trumpet player completes the octet. "It was definitely a case of necessity," Llewellyn admits. "When we wanted something else, we got someone else in to do that thing. But then we didn't want to lose that texture from the band, so it just turned into a permanent fixture."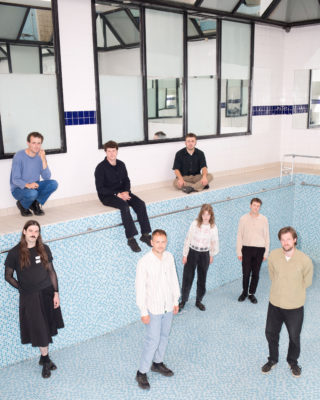 Llewellyn, Hughes and O'Malley remain at the core of the project, but Hughes is keen to emphasise that the others are "band members, not session musicians." They're increasingly involved in the writing process. "As time's gone on I feel like we've developed a kind of shared style together," notes O'Malley. "We'll quickly have shared ideas rather than it being totally directed by us three." It's a process of improvisation and repetition of a basic idea that the band build around. Vocals are sketched out, with Llewellyn forming the words around the sounds almost subconsciously. "It's quite funny, there's a kind of sadboy triumphalism about all the lyrics. We didn't realise it and then our friend pointed it out – they're all really self-assured and demanding, and all from a first-person perspective. But that's not for a reason, that's just how they happen to form. Maybe it reveals something about my personality in some way." He laughs and goes on to explain how this improvisation has spilled over into their live shows: "We've got more up for doing [it] in the live set, which is exciting," he says, adding modestly, "I think we can be really good at it if we work at it more."
It was at one such set in September 2019 that Rough Trade founder Geoff Travis approached caroline's manager and asked to sign them. I ask them what was their reaction to being offered a record deal by one of the most notable figures in independent music?  "It was just funny," says Hughes. "It was a massive shock. I think it was maybe our fifth or sixth gig, something like that. We'd barely played live. We'd been playing together and recording stuff, and then Geoff Travis is coming to our show and just signing us, it's kind of crazy. Mike couldn't believe it though. He refused to believe it was true until literally it was signed on the dotted line."
Unfortunately for O'Malley, it ended up being January before that moment came. "I posted the contracts and they never arrived," says Llewellyn. "It ruined Mike's Christmas." "I was not pleasant to be around at Christmas," O'Malley admits. "I was worried about the excitement that was building and instead of enjoying it with everyone I was being like, 'Let's just wait and see, until it's all said and done, you never know what could happen.'" His scepticism was unfounded, and they started 2020 with a series of bookings: festivals, a headline show, and a slot at the Barbican supporting fellow Rough Trade group Lankum. Like many, these plans have been scuppered by the coronavirus. Then there's their debut album, which they reckon is "probably three quarters recorded", but without being able to meet, it seems unlikely they'll finish it any time soon. Nevertheless, they seem remarkably calm about the future. "There's probably less pressure on us than perhaps there would be for slightly bigger bands who…" Hughes pauses, letting Llewellyn finish the sentence: "for a band who has fans."
After we hang up, I listen to 'May Nothing But Happiness Come To Your Door', the Mogwai song has something in it that caroline want to emulate. While the snare might still elude them, there are notable similarities between the track and 'Dark blue': a willingness to let things play out, long languid repetition with tonnes of breathing space. It's music that invites you to stop and let it wash over you, to play it over and over again and notice its nuances.
Loud And Quiet needs your help
The COVID-19 crisis has cut off our advertising revenue stream, which is how we've always funded how we promoted new independent artists.
Now we must ask for your help.
If you enjoy our articles, photography and podcasts, please consider becoming a subscribing member. It works out to just £1 per week, to receive our next 6 issues, our 15-year anniversary zine, access to our digital editions, the L&Q brass pin, exclusive playlists, the L&Q bookmark and loads of other extras.