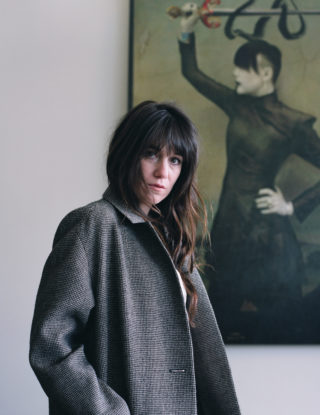 Charlotte Gainsbourg remains grounded, despite being Beck's muse, a Vogue editor and art house cinema star
Une étoile Modeste
Charlotte Gainsbourg began her music career on the cusp of pubescence when she sang 'Lemon Incest' with her father – the late, infamously provocative singer-songwriter, actor, director and producer Serge. In the song's promo video a 13-year-old Charlotte with a short, boyish crop stretched out on a large double bed clad in a man's shirt, while Serge reclined shirtless beside her. Add this to the sumptuous, erotic whisperings of the great man's 1967 duet with Brigitte Bardot, 'Je T'aime…Moi Non Plus', which was actually released two years later featuring Charlotte's actress/singer mother Jane Birkin, and it's clear to see why Charlotte isn't known to stray from controversy.
In 2009 she acted out a scene of genital mutilation in Lars von Trier's The Antichrist, which caused much furious uproar as well as praise. What doesn't make sense, however, is the timid, quiet woman who sits before me, carefully pouring a pot of tea from a breakfast tray littered with discarded crockery. "It's not in my nature to perform," she admits. It's a modest statement from someone with such a prolific body of work in acting and music behind her.
"I think a lot of actors are shy people," she elaborates. "Maybe I'm not shy, but I'm embarrassed by myself. With an acting part it's fine, and with a film crew, at first it's difficult, but then you can forget. With an audience it's completely different because you're there for them, so you have to look at them."
Born in London in July 1971 but raised in Paris, Charlotte first dove into acting when she was 12 years old in the role of Catherine Deneuve's daughter in Élie Chouraqui's 1984 movie Paroles et Musique. Two years later she released her first album, 'Charlotte For Ever' (sic), which was written and produced by her father. She most recently starred alongside Hollywood actress Kirsten Dunst in another Lars von Trier movie, Melancholia, which followed two sisters coping with emotional stress under unusual, life-threatening circumstances. It was released two months before the birth of her third child – son Joe Attal – and she's just finished making a film with one of the British tabloid's favourite indie fools Pete Doherty and model Lily Cole (entitled 'Confession of a Child of the Century'), not to mention her double album, 'Stage Whisper' that was released at the end of January.
With so much going on (and having gone on) in one lifetime, it's difficult to know where to begin, so I ask Charlotte if she'd like to kick things off. "Oh no, I'd never know what to say." She chuckles bashfully and leans forward. "It's always very embarrassing to explain why you've done something and how you've done it. You just want people to listen to the music or go and see the film and nothing more. I don't mind listening to other people when it's very abstract and I know nothing about their lives, sometimes it's interesting, but I wouldn't know what to say about myself."
Perhaps it's best, in that case, to start with the music. After 'Charlotte For Ever' came out it took 20 years before the French singer released a follow-up. "Well, with the first album I was 16 and my father just wrote it for me," Charlotte starts to explain. "I can't even remember talking about it before we did it. Everything was ready and it just meant spending a week in a studio with him. He did everything, he was even directing me behind the microphone. He was like a cinematographer. Then when he died I was 19 and I thought I'll never get into music again. It felt impossible because I'd had so much pleasure with him that I was completely lost without him, so a lot of time passed by and it's only when I met the guys from Air and Nigel Godrich, the producer – we met in Paris [at a Radiohead gig] – and I was about to ask them if they would like to work with me, but they were about to ask the same question because the three of them had talked together and said it could be a good idea.
"So we got together and it still took a year to get in a studio because I was so nervous. It was Jean-Benoit [Dunckel] from Air who said, 'We can't continue just talking about it, we have to do something. Get in the studio and if you don't like it then we won't release it, but still, you have to try'. So he pushed me into it and it was a good idea. But that's why it took me so long. I was so nervous and very unsure that it was legitimate for me to do music or that I had the right to do something, even though I wasn't writing, I wasn't composing. I felt not enough of an artist and I still am not, but I don't care anymore. I can still do what I like to do."
As she smiles triumphantly at having overcome her irrational doubt, I ask why she doesn't see herself as an artist. "I don't see myself as an actress either," she justifies. "I just have difficulties putting a label on myself because I didn't study to do anything, it just happened. I was very lucky to be able to do films when I was so young and for it to continue until now. The music I feel more…er…voluntaires?" She gazes at me questioningly, in the hope of a translation. "Voluntary?" she repeats in a Queen's English so perfect it's hard to believe it's not her first language. "Because I did want it to happen. For films, projects kept coming in and I was just happy being on a set and gradually I understood what I enjoyed about acting, but the fact that I didn't go to an acting school, it gave me no right to be an actress. Before I was embarrassed about all of that. Today I'm fine with who I am."
On her second album, 2006's '5.55', Charlotte not only collaborated with ambient French soundscapers Air, but also Brit-fop joker Jarvis Cocker and The Divine Comedy frontman Neil Hannon. It was a mostly mellow, whispery affair with pared-down, jazzy instrumentation and plenty of piano that was traded for experimentation and far more confident vocals on Charlotte's part with third LP 'IRM' (the French translation of MRI).
Released in January 2010, the record followed a waterskiing accident in 2007 that left Charlotte with a brain haemorrhage that could have killed her, but instead lifted the lid on a well of inspiration, even if Beck, who produced the album, was the one pumping it. The title track, for starters, is an eerie post-punk cacophony of buzzing, echoes and other scanner-like noises the MRI machine makes. The single, 'Heaven Can Wait', on which the two duet, is a determinedly paced, piano-filled eccentric indie-pop number, while 'Vanities' apes brittle Elliott Smith simplicity as Charlotte sings about regressive behaviour over a string section. She says that she doesn't do any writing, but her influence is clear in the retro vibes of the music considering she mostly listens to old records. "I have an old vinyl record player so I go back to old stuff," she accedes, but admits that she "recently discovered Florence And The Machine" with a smile and a slight break in her voice as if she's embarrassed that she might be late on the mark.
Getting back to 'IRM', the strings also appears in the haunting French track 'Le Chat du Café des Artistes' ('The Cat from the Artists' Café'), which is a cover of a Canadian song that Beck chose. "It's a funny thing that I wasn't even the one who came up with the French song," grins Charlotte as she explains just how much Beck led the way.
"He wrote everything and composed everything, but I think the fact that I was there influenced everything," she declares. "I had words here and there, but never whole lyrics. Well, in 'La Collectionneuse' I had a book by this French poet called Apollinaire, and I wanted to pick some of his poetry and Beck loved that idea, that it would be a mixture of things. So at the end of that track I read pieces of poetry that I chose. In the end [the songs] do link, there's something that puts them all together, but it didn't matter if it was things I had in my mind at the time that didn't really make sense. I wasn't looking for a special meaning – it was just what influenced me at the time. I also had a lot of songs by my father from a percussion album that he had made ['Percussions', 1964] because Beck started every song with a rhythm and I felt very attracted to that, so that was another direction.
"But on this album with the new tracks – not the ones with Beck – but the four other ones, it was a completely different process because they were sending a demo of a song that was already written, so I didn't have the same input."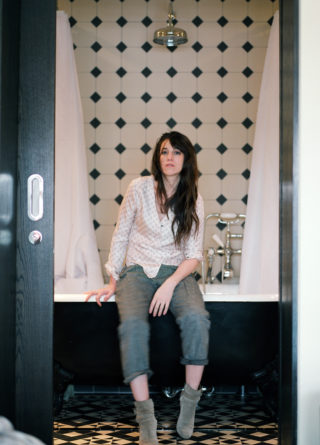 Considering her timid demeanour, 'Stage Whisper' reveals a huge amount of growth since Charlotte worked with Air on '5.55'. She's taken a leap further and ended up knee-deep in electro-pop and jagged tempos. Opener 'Terrible Angels' hints heavily at Goldfrapp, with dreamy vocals over disco beats, while the fantastically femme-electro 'Paradisco' wouldn't look out of place on a Kitsuné compilation. There are subtler sounds on the record as well, such as 'Got to Let Go', which comprises of old-school sythentic noises that throb and whine in an achingly hopeful way, on which her refined tones fall beautifully next to the deeply breathy backing vocals of Noah And The Whale's Charlie Fink. Her collaboration with Connan Mockasin, on 'Out of Touch', is another softy; 'All The Rain' seems influenced by Radiohead in it's jittery rhythms, unyielding drums and spliced vocals.
The eight studio tracks feel very much like an extension of 'IRM' and fit together so well it's hard to imagine they weren't made in the same room, let alone by the same musicians. "With Connan, he came and worked on the lyrics while I was there," Charlotte explains. "For the others the songs were already completed, so it was a funny thing of falling in love with a song that was already done, even if they were done for me. For the Villagers song ['Memoir'], he sang it on a demo that already seemed perfect. It made me nervous, the idea that I may be less good. All the others had vocals on, apart from Connan, who was mumbling. He thought that I would come up with some lyrics," she laughs, as quietly incredulous as is possible.
"With 'All The Rain' with Beck," she elaborates, "that song was almost completed, but he wasn't happy with the song as it was and he wanted to work some more on it, so it was finally completed recently and I really wanted it, I love that song. But apart from that, the others, like 'Terrible Angels', after the tour I went to Los Angeles again and asked him if he could write something with another dynamic, something a little more rough for me to sing with a stronger voice. The tour had helped me go that way. I wanted to try something a little different. He understood very well and it was exactly what I was hoping for.
"Then with the others it was funny because it's as if I went back to a softer voice, something more intimate and not acoustic, but with less electronics. And I think that if I hadn't released the live album now, I would have gone on meeting people and collaborating as I did and having more tracks. It was nice that things just happened and were finalised so we could put them in this new CD, because I didn't want it to be only a live album."
The live side of 'Stage Whisper' features a mixture of 'IRM' and '5.55' songs – a perfect introduction to Charlotte Gainsbourg's repertoire, if you haven't heard anything previously. 'The Operation', one from '5.55', is a hard-hitting number with jabbing piano and scuzzy riffs that hint at Patti Smith, particularly as Charlotte's vocals get grittier and deeper. And the raw 'Trick Pony' from 'IRM' trills a firm piano that doesn't feature on the studio version, along with wayward synths and sleazy riffs.
There's also a live DVD that comes with the album, which Charlotte tells me was a very important part for her. "It's as much a story about the music, as it is visually, because it was my first tour. It was quite magical for me to go through America and Europe and to end with Japan, so I wanted those images to be there and not just as a whole concert, I wanted to pick the best bits. I wasn't proud of everything as live tracks, so I wanted to be able to choose."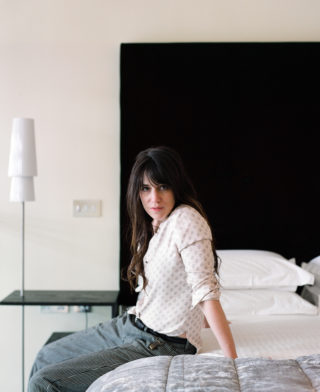 It may sound surprising, but Charlotte only played live for the first time in 2010. "My very first gig was in Paris, which was dreadful and I thought, I'm not made for this. Because it was only invited people with champagne glasses and it was horrible. I was so unhappy to be there that people felt it and it was like being in a dark tunnel hoping to see light. But then in Brooklyn, after I did that terrible show in Paris, Emmanuel, my record company manager said, 'Give yourself another chance in America and then you'll decide if you want to quit or go on'. So I did two in Brooklyn and one in Philadelphia and it was great. Even if I was very nervous, it was lovely."
So why did it take so long to get to that point?
"For my previous album with Air, I remember that people asked me if I was going to tour and I was really questioning myself, being very troubled because I'm quite shy, and also the fact that Air were releasing their own album at the time, which meant that they were going to go and tour straight away and to do this on my own I didn't feel confident enough. But this time Beck prepared me very much in advance, starting to talk about musicians and if I really wanted to do this, how I could. So I had the impression that he was still holding my hand a little bit, and he was because I was able to rehearse in Los Angeles where he came and he knew the musicians and I wanted to be as faithful to the tracks as possible. Even if now I understand that it's a totally different story to go live and to perform, it's nice to be inspired again by the songs but in a different way."
Speaking of performing live, Charlotte made her debut in theatre in David Mamet's 'Oleanna' in 1994, which begs the question, why was she so afraid of the stage?
"It's quite similar," she accepts, "but again, you don't watch the audience. It's the same as a camera that you avoid. You do acknowledge an audience and you don't play in the same intimate way you'd play on screen, so there are similarities, but I did it, I'd say, 18 years ago, a long time. It was a great experience, very, very intense and wonderful.
"Also the other thing was to start that late. Usually you have a band when you're 16 and do gigs. I've never done this before. It wasn't in my culture. I don't think I've seen that many live shows and I've always had a lot of pleasure listening to music but always studio records and very produced. It wasn't something obvious that my parents, who were musicians, my mother still is… they never started with performances, they did it really late in their careers, so it wasn't something very obvious."
In terms of overcoming her fear, Charlotte says that she hadn't really until she saw people's reactions. "Because I had never done it, I thought that I would be judged in a very cruel way, as I would judge myself, and then I understood that people came because they really wanted to and nobody forced them to come. So I was using them and their enthusiasm to feel good about what I was doing. I was still in a bit of a panic and I would still be today, but the fact that I had to do Coachella at the very beginning of my tour was so unreal; to see that field of people, it was very impressionnante… how do you say it? Impressive, But in a nervous way?"
Overwhelming?
"Yes. It was like going over the top." By which we assume she means diving in at the deep end.
Seated in this stylish hotel suite in Shoreditch, London, surrounded by bags of make-up (six in total), with her young son sleeping in the next room and Charlotte positioned elegantly in a loose shirt and striped trousers, it's easy to see why this chanteuse is so well loved throughout the world. Her manners are as mild as her tones, her hair remains long and hiply dishevelled despite her 40 years, and although she didn't lay the initial building blocks of her career herself, she has successfully maintained it on her own. It's no longer a huge significance that her parents were such seminal players in showbiz and Charlotte is quite sure of that.
"At the beginning, yes, sure, I got my first audition thanks to my mother who was meeting with the casting director who told her they were looking for a girl my age – I was 12 at the time. So that first step was thanks to her and to do my first record, yeah of course that was with my father so that's thanks to him, but afterwards I think people would have stopped asking if it was only to do with the fact that I was my parents' daughter. So I think now enough time has gone by that I feel I have the right to be who I am on my own." She beams in relief and points out that even though her father was a very talented musician, she doesn't get compared to him much, although she tries to steer clear of reading about herself in the press. "I like being very naïve about myself and what I do," she concedes. "[I'm asked] to talk about my parents all the time, yeah, but comparisons, no. I, myself, am always influenced by what [my father] has done, he's always there in the back of my head. But people don't need to compare. No. I already judge myself quite hardly, you know, thinking that he's done so much, it's already difficult. So no, people don't put us on the same balance."
All press aside, for now Charlotte is mulling over thoughts of another tour. "Maybe it won't happen, but I'm hoping that with Connan Mockasin we could maybe do a few dates together," she reveals, "I'd love that. And it's been such a discovery for me because we've done a small concert in Paris, so we've met a few times and we've rehearsed quite a lot and the idea of touring with him makes it a whole different story."
And as for the stage, does she still find that prospect nerve-wracking?
"No," she utters softly after a long pause, during which her gaze has searched the entire room for an adequate answer. "Not to the point where I'm petrified and want to step back. Now I want to do it again," she says, finally satisfied. "It was funny, after the tour ended in the UK – I did a festival – and the next day I had to hop on a plane to go to Sweden to shoot a film with Lars von Trier and the switch was from one extreme to another. From the sound of the festival with all the musicians and audience to suddenly the quiet, nearly church ambience of the shoot with Lars, but as soon as I got there I was missing the tour. That shows me that I've enjoyed myself enough to want to do it again. But this album was really an in between for me. I'm hoping now that I've got clearer ideas of what I'd like to do. I'd love to continue working with Beck, continue with Connan and everybody else I've worked with. I like the idea that the story continues."
Please support Loud And Quiet if you can
If you're a fan of what we do, please consider subscribing to L&Q to help fund our support of new musicians and independent labels
You can make a big difference for a few pounds per month, and in return we'll send you our magazines, exclusive flexi discs, and other subscriber bonus bits and pieces
Try for a month and cancel anytime