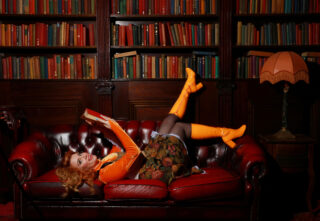 CMAT: the Miss Piggy superfan who's "definitely" Ireland's best-ever pop songwriter
Just don't ask her about Janet Street-Porter
In a quiet corner of a West London café, a flustered Ciara Mary-Alice Thompson rushes in with a spirit of warm chaos, 45 minutes after we'd planned, apologising as if she were late to lunch with one of the girls. She sighs, both exhausted and enthralled from her morning, explaining the drama that had unfurled on her journey in and the hypothetical [redacted] drama that she was sure would unfold later that day. 
"I'm currently suffering a four-day hangover," she says, standing up to order a coffee. "I had to get smashed last night, too – there was legitimately a very important reason for that, but I'll tell you about it later. It's been a hell of a 24 hours."
CMAT has the impression of someone who is followed around by drama, for the good company if nothing else; it's immediately infectious. A Nashville dreamer with a bubbling Dublin drawl, her initials swing around her neck in a swirly font like a forged Van Gogh painting at the end of a faux gold chain, over carefully clashing leopard print patterned shirts, a big furry hat in yet a third shade of leopard print, and a pink fleece-lined dry robe that you'd more likely find on a wild swimming paddle boarder than an exuberant country singer. But while this metropolitan city spot has lacked CMAT's eccentricity until her arrival, the bedlam seems to hug her so authentically that it barely warrants a second glance. 
"I'm sleeping in the studio at the moment," she whispers, theatrically. "There's a mattress on the floor, and there are these two boys living there. It's a boy house. Boy things happen in a boy house. But I found out the place I was staying in London wasn't inhabitable two days before Christmas and had to move out because the mould was literally giving me a cough." Her nose wrinkles, only admitting later that one of these unruly boys is her musical director. "He's a whip cracker," she nods. "One of the best guitarists I've ever met, and he's teaching me how to play, but I woke up this morning, looked to my right and it was just filters and baccy. Le freak, c'est chic. But I used to shred when I was a teenager, so maybe that'll return. Once you've stopped shredding it's hard to go back."
Where muscle memory has failed, CMAT compensates with an encyclopaedic knowledge of shredding guitarists in the Irish tradition, eyes wide as she regales her favourite Irish musicians as though their biographies were in front of her. "Phil Lynott for me is in the top five greatest pop songwriters of all time," she says, resolutely. "Do you call it hair rock? His solo stuff is some of the most beautiful shit. The songs he released close to his death were the mushiest, Gilbert O'Sullivan-style pop music, but totally amazing." She pauses, "I do also love Gilbert O'Sullivan. If Phil is five in the greatest Irish songwriters list, Gilbert is three."
"Who's number one?"
"Me."
Pause.
"You have to say it." She breaks an uncannily straight face after a few seconds. "I don't actually think that… No! Scratch that. I do. Gilbert, definitely. Phil Lynott, definitely. But in terms of pop songwriting, there's a lot of people that go under the radar. There's this guy I know called Luke who isn't even doing music anymore. He's in the top five. Then a lot of those '70s cats. Obviously, they're not writers, but the greatest pop act in the world is The Nolan Sisters. Undoubtedly. Their catalogue is belters the whole way through. Weird structures and performances. Unbelievable production. And they were in it for the girls – choreography, hair, makeup, glittery lights – everything I like about everything."
It's their trappings as much as their music that seals The Nolans' place in CMAT's history books. "Most people are shocked and appalled when I say Connie Nolan is one of my biggest inspirations, because they just think of her as a Loose Women panellist," she says. "It's mad the way musical careers go. Most of my favourite artists only made music for five or ten years and then did something completely different. Mind you, I'd love to be on the Loose Women panel. I love to complain, I love to be around the girls… I hate Janet Street Porter, though. I will happily go on record and say that I hate that woman and if she ever made an appearance I would do absolutely everything in my power to ruin her life verbally. I think I could probably do it."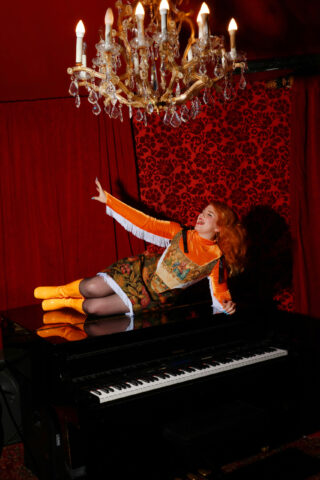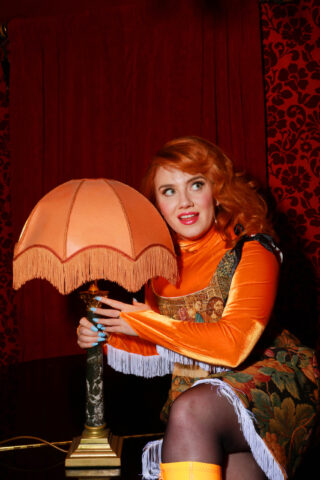 We talk about The Nolan Sisters for another ten minutes, as she dissects her favourite album All Together, eulogises the band's "sexy rebrand" that ended as soon as it began and marvels at 'Attention To Me', a veritable country song "that sounds like a Dottie West fucking slapper," or "groovy" to the untrained ear. It's been joked that the only difference between country music and rock'n'roll is the relationship between an artist and their hometown, and for CMAT it began in Cedarwood Green, two roads down from Bono.
"Oh, Bono's number two," she adds. "I think I'm one of the few people from Dublin who genuinely adores him. He's so delusional about his abilities and his importance to the world that he just seems to be really happy, believing life circles around him. And he's nice to people as a result. He doesn't have the capacity to be jealous because he really thinks he's the best person in the world. That's such a nice trait. I never met him, though."
Her family then moved to a suburb in North Dublin called Littlepace, where she lived for the next ten years. "That was just cement," she says. "It was really village-y. Everyone knew everything about each other. I had pretty a rough time there as a teenager, but it was all self-inflicted by being an emotional cow. I had bad cystic acne from primary school, and really bad mental health, weight issues – I pretty much spent 80% of the time alone in my bedroom with no confidence. But I was also really loud and annoying, so people couldn't even feel sorry for me. I was really pretentious, too, a real fucking snob about music and culture." 
She recalls her meticulously thought-out first day of secondary school, having become obsessed with black-and-white film from a television station that played '40s Westerns in between the news. 
"It still fucking haunts me. I even tried to learn how to do a Transatlantic accent," she laughs. "We'd all been given a locker and I'd printed out a load of pictures of my favourite films, making sure everyone could see me stick them up. I wanted people to know I was different – I thought people would like that. But this guy walked up behind me and said, 'Are you Róisín Thompson's sister?' 'Yeah,' I said, and he literally turned around and announced to the entire hall: 'Lads! Róisín Thompson's sister's a lesbian!' And that was that. So those were my teenage years – me being insufferable and everyone hating me as a result. I maintain the fact that all my particular bullies were justified."
The same bully is partially to thank for CMAT's songwriting prowess, though, alongside Nickelodeon and a fierce competitive streak. "I've always just assumed I was going to be a popstar," she admits, "but I didn't know what songwriting was until this TV show called Unfabulous starring Emma Roberts. She was a 13-year-old girl who wrote 66 songs about her love interest Jake Behari – that was the theme of the show. I was in love with that boy who'd convinced everyone I was a lesbian, and I thought I could do loads better than 66 songs, so I got a guitar for Christmas and started writing all of these Taylor Swift country pastiches. Then when I was a little older, I started doing the same thing with Laura Marling." The earliest examples of these songs can be found on a charity compilation CD made by her school, co-opted by a well-meaning dad who added country production, a pedal steel guitar and skiffle drums to her recordings. "I'm convinced that if I listened back now, I'd think it slaps," she concedes, "but at the time I just remember crying thinking it sounded nothing like Katy Perry."
Time's a healer, and CMAT's debut album sounds nothing like Katy Perry either. If My Wife New I'd Be Dead is the perfect conflation of glossy alt-country and freak folk – somewhere between Caroline Rose and Vashti Bunyan – ready for the barn dance while tipping its hat to the portrait tattoo of Judee Sill on CMAT's arm. Her happy-sad stories of childhood have a life-affirming depth and resilience, while being addictive foot-tappers at their core. "You know how everyone has their teacher? Mine was my old music teacher. She started giving me albums that I needed to listen to, telling me I was going to sing like the McGarrigle Sisters and write songs like Dory Previn. At the time I was performatively into dad rock – all girls who are into music go through that phase to prove they're not like these other bitches – but I revisited Dory specifically a while later. Her, Judee and Connie Converse – they were all I listened to for years."
A distinguishing factor of freak folk is the mystery and underappreciation that surrounded its luminaries, from the tragic disappearance of Connie Converse to Vashti Bunyan's unknown successes. "The only reason this mystery surrounds them is misogyny," she says. "These women only made one or two albums because they weren't a sellable artist – they were women writing women-friendly music while being pummelled by everything in the industry. The only forms of truly acceptable femininity in music are androgyny and fragility.
"I do everything in my power to fly in the face of that. Wearing a pair of ten-year-old brogues instead of glitzy makeup is annoying; I'm a girly girl. I love a bimbo. Bimbos are my life. When people started reviewing my music, particularly in England, the number one comment I got back was that I was novelty, and they don't review novelty music. Obviously, there's an element of humour to my lyrics, but I think the novelty is that I was being a girl. If Father John Misty released a song like 'KFC' it wouldn't be dismissed, but I was because I did it with big hair while setting a man on fire in my music video. Same as Kirsty MacColl, she was dismissed as novelty for her entire career because she released one song with a chip in the title."
An early highlight on the album speaks to a similar feeling – a tongue-in-cheek ode to the film director Peter Bogdanovich, inspired by a podcast uncovering the importance of his wife Polly Platt's role in his successes. "Literally, the film he's most known for, The Last Picture Show – she basically made that film," says CMAT. "She found the book, adapted the screenplay, scouted the location, oversaw hair, makeup, costumes and set design, while he was just plodding the shops." Bogdanovich may have been listening. The day after this interview, it was announced that he'd passed away – a wary shuffle from CMAT's mortal coil.
Beyond everything, CMAT's greatest love is antiquing. Her shoulder even once made it into an episode of Antiques Roadshow. "It's been one of my most prolific and expensive pastimes over the last seven years," she stresses. "I specialise in 20th-century knick-knacks, particularly really camp Charles and Diana memorabilia." She proudly shows me her latest purchase, a black mug commemorating their wedding day, side-profiles rubbishly etched in gold leaf. "I also bought a Year 2000 edition of Miss Piggy, a plush Miss Piggy – a Disney World Store exclusive," she beams. "If anything in a second-hand shop has Miss Piggy on it, it has to come home. That's the rule. This one's in bits – she is absolutely wrecked, her hair is manky and I love her."
True enough, the spectre of Miss Piggy looms over every part of our conversation. As we talk about her desire to live in a place of her own, she stops to check if eBay has any Miss Piggy door knockers, detouring to place a bid on a toothbrush holder. The one current CMAT fan club has turned into a Miss Piggy meme page, and the snobbery that defined her teenage years now only comes out for the Muppets. "It's a whole thing," she promises. "And just so we're clear, have I priced getting a muppet version of myself? Absolutely, yes, I've been doing it pretty regularly for maybe the last three years. The annoying thing is – I'm about to get unpopular here – a lot of artists do puppet music videos really badly. And it's annoying because it's oversaturated by people who don't care about puppetry in the way that I do. They always get the cheap puppets and I can tell from a mile off.
"Let me tell you something," she says, genuinely incensed. "I love musician beef and I'm willing to start one at any given time. And let me tell you why I love musicians beefing with one another. I know a lot of people think it's not smart, it's not clever, it's not dignified – I disagree entirely. I think there has to be conflict because drama is the spice of life, so why not do it in an arena that's so low stakes? Music doesn't matter to the running of the world, and musicians should be fighting with each other at all times. Let me tell you, it would be a joy to make people angry over who I think has the worst puppet."
Photography by Sarah Doyle
Please support Loud And Quiet if you can
If you're a fan of what we do, please consider subscribing to L&Q to help fund our support of new musicians and independent labels
You can make a big difference for a few pounds per month, and in return we'll send you our magazines, exclusive flexi discs, and other subscriber bonus bits and pieces
Try for a month and cancel anytime