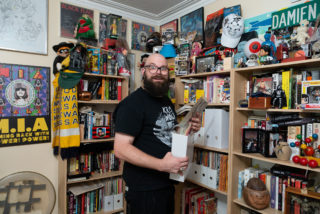 Damian Abraham – inside the Toronto home of the Fucked Up frontman
10,000 vinyl records, a barbed wire bat and a photo of a pissed off looking Iggy Pop
Drakeification. Ask Torontonians – it's a real thing. A native of the city, Damian Abraham remembers a time when Canada's main cultural exports were Bryan Adams and Avril Lavigne. These days, the city has caught up with the modern world's other metropolises. "We have all the cool sneaker stores now," says Abraham proudly. Of course, the repercussion of the likes of Drizzy bringing in the tourist dollar is that it's growing, changing and gentrifying.
Fucked Up's frontman, who has spent almost two decades slicing his head open with a blade and generally orchestrating chaos, grew up heading to punk shows in downtown Toronto. These days he lives just north of the centre. It's not suburbia. "Up the street from me we have a methadone clinic," he says, "a lot of people in the Canadian cannabis community live in this neighbourhood and there's actually two great record stores."
That's where he lives with his wife Lauren, their three children, a dog and a cat. But the family home is also a shrine to self-confessed nerd-dom. There's an eye-popping amount of collectables here, from an estimated 10,000 vinyl records (including an entire section dedicated to Polish punk) to figurines still in their boxes. TV, film, music, art and, Damian's great passion, wrestling ­– there's memorabilia from all corners of pop culture. "In most normal, sane family homes this would be a dining room, but it's our library," he begins. "My number one passion is the intersectionality of all these cultural things. There's a common thread that runs through everything I find cool."
Black Flag signed vinyl (image above, top left) 
This was signed by Henry Rollins when we played MTV years ago, very early on in Fucked Up's career. I now recognise that I was a bit of a punisher. Do you know what I mean by that term, 'punisher'? It describes a person who will come up to you and they're a fan of the band but they want to prove it to you by punishing you with facts about yourself and your own band. I have a touch of punisher in me. When I first met Henry Rollins years ago, I was very excited to punish him. So at MTV, we didn't get to talk to him all day and then finally just before we were about to go on he came into our dressing room and was introduced to us by the producer. I'd brought a bunch of Black Flag records in punisher fashion to get signed. I just started hitting him with weird, obscure things I'd always wanted to know about. He was into it. Very receptive. It was something that was going pretty good. Then we had to go and play live on air. That show was a train-wreck of epic proportions. I was trashing the set, bleeding from the forehead. There's blood everywhere. I think we did $8K worth of blood damage they said. Anyway, Henry Rollins was nowhere to be seen after I got off stage… I've bumped into him a few times since and I always get the vibe that he's weirded out by me. I really fucked myself in my Henry Rollins friendship with my performance that day.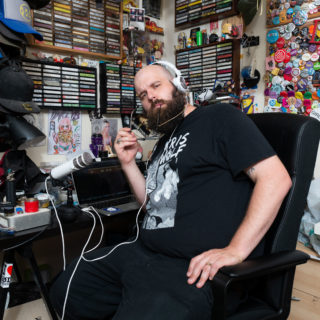 Podcast studio
It's a shared office with my long suffering wife, Lauren. Her area of this room has just retreated. It's a podcast studio. The podcast [Damian does a few, including the excellent series Turned Out A Punk] has come together bit by bit over the years. I got into podcasts on the road. You get so tired of listening to music. You're surrounded by it 24 hours a day. When I was sitting in the van I was just going crazy thinking of things to try to entertain myself. I discovered professional wrestling podcasts, particularly one called Live Audio Wrestling. Then, every time I did a festival, if I saw someone who was in a big band who I also knew had been in a punk band it was my mission to find them and punish them about their old punk band. I've been doing that for years. It's amazing the people you meet who it turns out were in classic, obscure punk bands. Like Nate Mendel from Foo Fighters is one of the best examples. Before that he played in Sunny Dale Real Estate, a hugely influential emo band. Before that he also played in Brotherhood who're the greatest straight edge band ever from the west coast, in my opinion. It was those twin influences of me wanting to punish people about their old punk bands and loving wrestling podcasts ­– I wanted to make something that I was passionate about.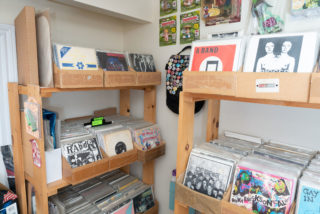 Vinyl record collection 
It's around 10,000. Maybe just less now. Just for space I'm trying to clear a few records. When we moved into the house, for example, I sold 500 and then bought one with all the money. It's ordered alphabetically by country. A lot of punk collectors do it that way. It's such an international thing. For example, I love that I can look through a brief snapshot of the history of polish punk when I go through that section.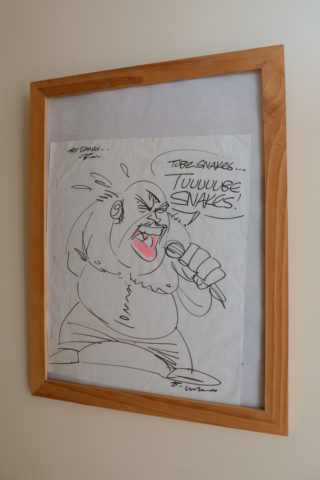 Brian Walsby illustration of Damian
To me, Brian is the most important drummer in modern rock history. He's unheralded. He's also an amazing illustrator. He did the illustrations on, I think, the third and fourth Melvins' singles. He actually roadies now, sells merch and illustrations with The Melvins. In addition to his amazing art career he's also a great drummer. The first band that he was in were from Oxnard, California, called Scared Straight. Scared Straight he would leave to become the roadie for COC and moved to North Carolina. Scared Straight would go on to become Ten Foot Pole and then go on to become Pulley. Two huge bands for the California Epitaph scene. He moves to North Carolina and meets Mac [McCaughan], before Mac does Superchunk and they form a band called Wwax. They do a bunch of records, then that band breaks up. Then this kid comes up to him at a show. And he's like, 'I really want to form a band with you, if you want to form a band with me singing'. And he's like, 'bring me some demos kid, let me see what you've got'. The kid brings him demos and they form this band called Patty Duke Syndrome. They do one record then break up. That kid is Ryan Adams. Then he gets a call one day from Dale from The Melvins and he's like, 'dude, I can't play in that band that I've been playing with anymore, do you want to play in it?' He's like 'what band is it?' He says 'it's that band Nirvana'. Then he says 'no thank you, I don't really like that 'Bleach' record.' Then he's like, 'ok, I'm going to call someone else'. That's when he called Dave Grohl. After all this he did an illustration of me to top it off.
Classic Toronto gig flyers
I've got this blinder of them. This is a Ramones flyer from the first time they ever played Toronto, which was the first place they ever played outside of New York City. It was the first foreign place they ever went to. I got it from an amazing photographer, music producer and drummer as well – Don Pyle. I sang on a record that he did called 'Filthy Gaze'. I think he went to his first punk show at the age of 11. He got into it and got involved in the scene. He picked up one of those flyers way back when. After I sang vocals on that record he was like, 'I've got a gift for you,' and gave me that priceless artefact.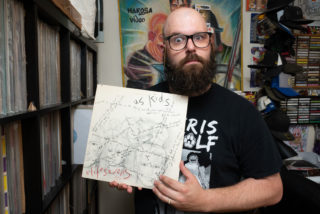 'US Kids' by Lifesavors
They were a Christian punk group from the early to mid '80s. Just a phenomenal band. Really one of those bands whose lyrics I would write or identify with but musically phenomenal. It's punk. Really fast. It's driving. I've got a few Christian punk records from over the years that I've acquired. It's not something that I identify with on an ideological level but I just think it's too good to not have in your collection. This is why going to record stores, looking at stuff and just checking it out is what you have to do. That's a record I would never have found otherwise.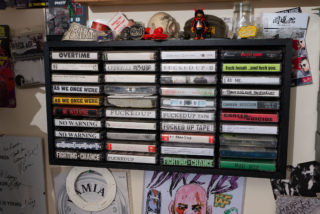 Fucked Up cassettes
Like zines, tapes are another thing I've become obsessed with collecting. Maybe more than records. Especially the hand-copied demo tapes – that is the truest artifact. That's when a band is just getting started. There's something so pure about a demo tape. I love amassing a little bit of an archive of Fucked Up tapes stuff – it's interesting to go back and look at where we were at different times. Plus, finding all the bands that led to Fucked Up. We still make tapes, we're making a mixtape for the new record. We're committed to the format. When tapes came out and you could make a tape at home and sell a cassette at a show it revolutionised music.
Zine collection
I read an interview with Nardwuar once – they asked him, 'how are you so good at researching'? And he said, 'I have an incredible library'. And it's true. The things you can pick up that will be awesome to bring up in another interview… I use it for my podcast, I use it for reference. I'm also just an incurable collector. I love zines and I love the idea of fanzines. How much work that goes into making them – it takes a lot of effort. It's a way of touching hands with the creators – there's a level of personal craft you can feel.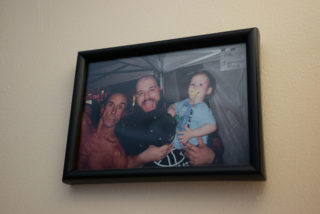 Photo of Iggy Pop, Damian and Damian's son
That was the third time I met Iggy. I met him the first time when I was 14. He did a signing at a Hard Rock Cafe here when he was on a radio show. My friends and I waited outside in like -100 degrees cold. I met him again when we opened for The Stooges. Both of these first two meetings went awesome. He was so cool. The second time, we opened for them at Massey Hall. He invited me on stage, we hung out afterwards and it was one of the best experiences of my life. This photo, however, is from the third time I met him. I was emceeing a Stooges show in downtown Toronto. I guess my son Holden was almost two by that point. I was like, 'last time I met Iggy it went really well so it's going to go well this time….' and then he has no time for me and he was definitely not at all stoked about having to take that photo. As you can tell from the photo. Nor was Holden who was very pissed off and wanted to go home and go to bed. Iggy, I think, was in a similar boat to Holden. But look at me in the middle – shit-eating grin. I was having the best time. I was happy enough for the other two of them to make up for it.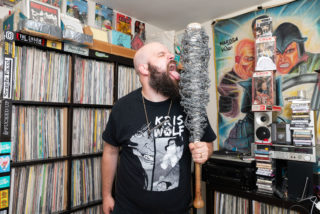 Barbed wire baseball bat
Last year I got to make this TV show about pro wrestling. I went to Japan for a month. I brought this back. It was in my checked luggage. I remember walking through Narita airport with that in my bag just thinking 'what the fuck am I going to say if they call me on this thing?'. It's an FMW barbed wire baseball bat that was actually used in a couple of matches. I got it signed by Antonio Inoki when we were filming with him – he's like Japan's Ric Flair. I got it at a store that is kind of like a wrestling museum but everything is for sale. Incredible relics. I spent a lot of money on it and smuggled it back to Canada. It's covered in blood – not mine.
And back here are CBGB's figures. I think they're meant to be Sid Vicious and Johnny Rotten. But they're just generic – one is called Bad Apple and the other one is Maxx. I love punk music with all its baggage. Part of that baggage is that it started as a commercial genre. This is an example of [CBGB's founder] Hilly Kristal in the later stages of his life looking to cash in on the CBGBs name and logo. I have less of a problem with that than what recently happened with Target. At least this was coming from people who were involved in the culture.
Check out previous My Place features with J Mascis, Baxter Dury, U.S. Girls and more. 
Loud And Quiet needs your help
The COVID-19 crisis has cut off our advertising revenue stream, which is how we've always funded how we promoted new independent artists.
Now we must ask for your help.
If you enjoy our articles, photography and podcasts, please consider becoming a subscribing member. It works out to just £1 per week, to receive our next 6 issues, our 15-year anniversary zine, access to our digital editions, the L&Q brass pin, exclusive playlists, the L&Q bookmark and loads of other extras.