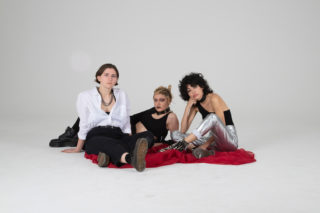 Deep Tan – In search of weirdness, from the Slits to Britney Spears
A London band following astrology, and Mogwai
Less than 5 minutes have passed since I met Deep Tan but I already know that Wafah, lead singer and guitarist, is whip-smart and passionate, and the rhythm section of Celeste and Lucy are a combination of fearsome and laidback. I know this as they've showered me with the full range of their divine information and worryingly they're about to extract mine. "Do you know your rising sign?" asks Celeste. "Oh my god let's do your star sign chart. Right, we need your time of birth and where you were born!" As interviews go, this is far from conventional but that seems to be how Deep Tan operate. "So I am a Cancer sign, Sagittarius moon and Virgo rising," says Celeste. "That is fire, water, earth. The Virgo in me means I am really anal, I also feel like I am the centre of everything, so I have huge ideas and I feel like I am a fiery personality but really I'm just pedantic and all about details."
"You already know what a Scorpio I am," smiles Wafah, which seems like a Scorpio thing to say.
As a Leo, they tell me I seek the public eye, but it's the three friends from Hackney who are revelling in attention right now after releasing two new songs, 'Shimmer' and 'Constant Inconsistencies' on Practise Music, home of fellow buzzy Londoners Squid. "We've been playing 'Shimmer' for a year already and that shows our softer more feminine side but we also have another side," says Celeste. "'Constant Inconsistencies' gives us something faster to kick our set off with but its darker and weirder like us." On the evidence so far she's totally right.
Deep Tan have been kicking around the capital's underground scene for around 12 months now, honing their atmospheric, haunting pop sound with peers like Sweat, Waterbaby and Madonnatron sharing the trio's path. The band have been slowly carving out their own space and these songs feel like the next step. "'Constant Inconsistencies' was a B-side, but we decided to change it to an A side after people heard it," says Wafah, clearly proud of the new direction.
"It's been compared to the Slits and obviously that's cool, but someone also compared it with Joy Division which is unbelievable," says Celeste.
Having already been likened to Foals and Warpaint with their rhythmic, sometimes sparse dynamics, the Joy Division resemblance is an interesting one that sparks passion in Wafah. "It's definitely darker, which I guess is like Joy Division in a sense," she says. "We wanted to write a song about being let down; what it feels like to love someone but they're not there for you – it's confrontational and a bit more punk in its delivery."
I mention that all of their songs seem to be about negative attributes, 'Shimmer' also centred in surface level people whose malice runs deep. I ask if they're dealing in first-hand experiences with friends and enemies? "I would say it's not out of experience," says Celeste. "We don't hang around with awful people. They're not all the same though, these songs, they're not all negative thoughts about people, at the moment we are writing a track about downing a drink." She laughs and Wafah jumps in: "Well, I'm not sure about that anymore." "You're getting a glimpse into our song writing technique here," says Celeste. "We all have our say and then Wafah changes it."
Wafah laughs at the jibe before gently adding, "I would say I make small tweaks."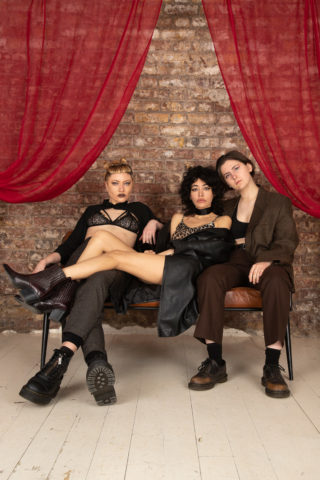 Deep Tan's short lifespan becomes exciting when you begin analysing their output. The new double A single is exactly what you'd expect from a band finding their voice, the exploration of different sounds only natural. "We're always evolving, it's happening all the time," says Celeste. "The song we are working on right now sounds like Britney Spears. It's got a big club beat to it but mathy guitars, it's Britney does math rock!" I can't help sharing in her excitement.
You can trace back Deep Tan's sound and typical subject matter to their debut release, 'Air': a track about deception that seems to float with such an effortless grace you could swear it was produced by a band on their third album, not their first single. Listening to the bilingual song (Wafah sings some of the lyrics in her own language, which is French) it's a character assassination of liars; a take-down of those who produce air from their mouths and nothing else. "Yes it's about that but 'Air' is more of an ethereal thing," says Wafah. "It's a metaphor about islanders who think they can swim but can't actually swim." This feels particularly pertinent right now, Little Britain populated by xenophobia and a fear of leaving our shores and having others joins us. "It's definitely not political," says Wafah, "but I can see how that would be interpreted. It's much more of a feeling – I didn't write it as a comment on the state of politics. I would like to have more French singing though and that may come – we do whatever feels natural to us as a band."
Like the rest of their work, there's a surface level of simplicity reminiscent of early The xx, but with more and more listens the tracks reveal a beautifully layered sound that the band has finely tuned as both artists and producers. Being a Virgo, of course, Celeste's obsessive attention to detail clearly pays off in the studio and in their live performance where nuance builds and textures are vital. "Let me say, myself and Wafah love Mogwai, particularly 'Ex-Cowboy'," she says. "And I would say when we play middle eights, and the parts that we play together, they feel very Mogwai, especially when we play them live. Audiences have told us they can hear Mogwai in those stripped back middle eight parts. Lucy is the creator of the builds and together we love playing as the rhythm section."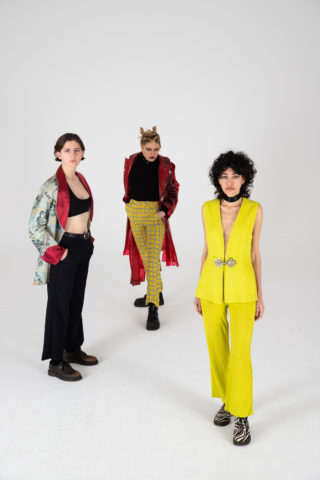 Sharing a label with Squid and a rehearsal space with electronic audio-visual sister duo Waterbaby has been integral to Deep Tan's development, but they also cite bands such as Warmduscher as inspirations, purely for having the balls to produce outsider art that might not be to everyone's taste. "Warmduscher and bands like that are doing weird stuff – like, so weird – but we really like it and can relate to it," says Lucy. "We absolutely love the weirdness of their videos and we'd love to try and create stuff like that."
"It's true," says Wafah. "We absolutely want to be different – the weirder the better."
This community spirit is in evidence for the band's only video to emerge so far: a dive into themes of strength and individuality from Waterbaby that brought yet more layers out of their debut track 'Air' and teased fans on what's to come in the future. It's certainly got less false teeth, two headed babies and general strangeness than the Warmduscher back catalogue, but Deep Tan seemingly prefer to aim for the mysterious over the scandalous.
Working with graphic designer Raissa Pardini on their new artwork, who's striking atheistic is used by other artists like The Orielles and Pond, I ask the band if it's a conscious decision to seek out females in the industry. It's not. "No that's definitely not happening," Celeste is quick to say.
"It certainly isn't on purpose and we've never thought of it like that," says Lucy. "There's a lot of extremely talented women out there right now and although we didn't go out of our way to seek them out it's great that it's happening and it's even greater that we didn't even think about it that way."
We retreat back to conversations of star signs as Lucy explains, "as a Taurus, a Virgo moon and a Taurus rising, I'm a double Taurus, which are supposed to be unbelievably chilled and quite stubborn – maybe I am stubborn about being stubborn!"
As we part ways though, there seems to be an astrological breakdown, with Celeste disagreeing with Wafah. "You're not always the shy one! I wouldn't agree with that…" she exclaims as Lucy tells me, "I think I might be the shy one; maybe there's a competition going on." Celeste tries to have the last word: "Neither of them are shy, in fact none of us are."
"It's all an act, isn't it?" says Wafah, having the the  final word, shyly.