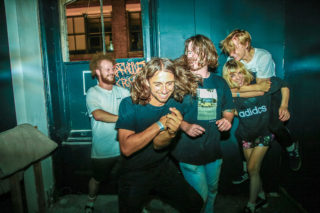 Ditz – You've got to be a shit band somewhere
The Brighton band that Brighton isn't getting yet
"Long sleeves and black jeans definitely wasn't a good idea today," sighs Ditz drummer Jack Looker as he pulls out a seat and joins us at our long table. He's not wrong. Just outside the window, Brighton is roasting in 32-degree heat. To make matters worse, it's also graduation day, so as we peer out of the Hope & Ruin's massive front windows, we're occasionally treated to the sight of a student, wilting in their robes, passing by like characters from Hogwarts who have inexplicably been pitched onto the set of Miami Vice.
Inside our air-conditioned pub, the five members of Ditz are busily devouring plates of vegan poppers and chatting about their new single 'Seeking Arrangement', which has just been released online. Evidently happy about the write-up, the band are now speculating on the reaction in their hometown. "They've said that we're part of Brighton's hardcore scene," says lead singer Cal with a shrug of resignation. "That means people are probably going to be pissed off again."
They might have a point. Ditz are definitely not your usual, run-of-the-mill hardcore kids. Sat together like this, with their contrasting styles and mannerism, they feel more like the cast of The Breakfast Club than a noise band. Meeting via gigs in the city and working behind various bars, the band are a curious hodgepodge of different tastes and characters. When he's not playing drums, Looker, for example, is a driver/roadie and has just come back from a long tour with HMLTD. With a broad grin, he's ever ready to jump in with a story or some gossip from the studio. In contrast, Anton, the band's guitarist, is quieter and seems slightly more reserved than the others. The band's fixer, he's a long-time sound engineer and promoter – his company HotWax puts on shows throughout the city.
Cal and guitarist Caleb go back the furthest, though. "Me and Caleb both lived in Gloucestershire together," explains Cal. "We tried starting bands out there but there was really nothing going on in that part of the world. I mean, the only bands where we were from was the Wurzels."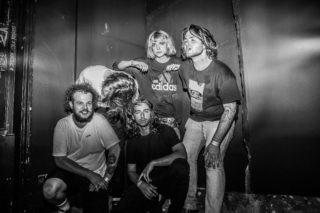 Although they clearly love living here, Brighton, it seems, is yet to take Ditz to heart. The band hasn't played a show in their hometown in ages and the quintet has recently been seeing bigger crowds when they hit the road. "We tend to get a better reception when we play in London" says Cal. "Maybe it's because we've never been a 'shit band' in London. We were a 'shit band' for ages in Brighton before we became a 'good band' – I reckon that's the reason why we kind of get overlooked."
As much as it might piss off the local scene kids, no one can deny that there is more than a trace of Flipper and Black Flag in Ditz's collective DNA. However, they've taken the bone-crushing guitars and chugging basslines of the genre and have morphed it into something that doesn't really sit in any clearly identifiable category. Thanks mainly to a revolving door of drummers in the early days, the band have only released a handful of singles and tracks at a sporadic pace, however 'Seeking Arrangement' is certainly impressive for its brevity besides anything else. Shambling its way forward via wiry, telegraph-line guitars before dropping like a huge slab of squalling noise, the song feels like a one and a half minute quest through twenty-five years' worth of punk, grunge, noise and thrash influences. Indeed, the best way to think of Ditz's sound is like one of those big top tents that's just wide enough to cover all of the various member's tastes and personal inspirations, of which there are many. Asking them what kind of music they all agree on, I'm met with a five-minute barrage of band names and sounds from each member of the band. "I'm a massive indie kid," fires off Looker jokingly, getting his shot in quickly as the voices start to jumble up, "I'm all about big riffs."
"I'm kind of into math rock – I like all the weird rhythms," says bassist Caleb. "I'm a massive At the Drive-In fan as well."
"Yeah, them and Big Ups," adds Cal.
Eventually, guitarist Anton Mocock pitches in: "It has to be Fugazi, right?"
The rest of the band nod sagely.
"I think we aspire to be a band that isn't really definitive of one genre," agrees Cal.
Ditz are one of those rare bands that manage to work despite some clear differences. Cal, Anton and Caleb seem to gravitate towards the more experimental and freeform end of the post-punk spectrum, while Looker and second guitarist Archie are more rooted in classic rock song structures. It's the fact that they've managed to find a way of combining these philosophies into something that clearly works that I find so intriguing. "Me and Jack are quite straight up verse-chorus, verse-chorus kind of guys," Archie tells me as the rest of the band nip out for a cigarette. "Personally, I like working out song structures and things like that. I like that there's a simple, pop element to everything we do."
Pop, especially of the leftfield variety, is also a big influence on lead singer Cal. "I'm pretty into a lot of electronic music," he tells me when they get back. "I'm really into the whole PC music thing like, Charli XCX and SoFar Sounds. I think it's pretty similar to listening to Sonic Youth in a way; the sounds are all about texture. It's all about the whole rather than the different chords and progressions."
In Cal, Ditz has got the thing that any good noise bands needs; a frontman who can really get in your face. The very antithesis of the overly macho, meathead singers that people associate with anything even slightly resembling hardcore, he comes across like Dave Insurgent (the infamous lead singer of Reagan Youth) inhabiting the body of Penny Crayon. Like an angry librarian, he cuts a striking figure as he nonchalantly patrols the front of stage in a beige denim dress, peering out from under a cutesy blonde fringe and cheekily messing with the audience.
Although the five of them are nice and polite to a fault – with Cal even launching into a three-minute diatribe on the evils of littering at one point – the band clearly are not afraid to mess around with their audience. Ditz shows are unpredictable, to say the least, and audiences are at risk of being wrapped up in gaffer tape or showered in chewed up flowers. "The best thing is to get people riled," says Caleb, "like, people come together. Although it's hard work when you're only playing to seven people.
"I think people like being pissed off – it's a catharsis. The only difference between the people on stage and the audience is that the people in the band need that catharsis more often. You have to pick your targets, though. I mean, I had one the other day when I was nicking people's hats. There was this one guy's hat that was like this straw fedora and while on one hand I really wanted to nick it, on the other you've gotta think 'what kind of person shows up to a punk show in a straw fedora?' Eventually, I plucked up the courage to steal it, and you know what, he seemed alright."
"His mate thought it was funny at least," say Alfie.
Please support Loud And Quiet if you can
If you're a fan of what we do, please consider subscribing to L&Q to help fund our support of new musicians and independent labels
You can make a big difference for a few pounds per month, and in return we'll send you our magazines, exclusive flexi discs, and other subscriber bonus bits and pieces
Try for a month and cancel anytime